Click Here for More Articles on NEW YORK CITY
Anti-Bullying Musical 'TAKING WING' to Headline New York New Works Festival This Sunday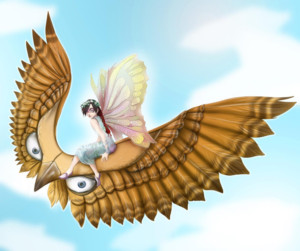 Taking Wing: Legends of Emimencia, a fantasy anti-bullying musical for all ages, headlines the New York New Works Theatre Festival on Sunday, October 15th, at the Duke Theatre on 42nd Street. Only two performances at 2:00pm and 6:30pm.
Featuring Broadway favorites from the casts of Matilda, Disaster!, Newsies, Wicked, and more, this extraordinary musical premieres just in time for Halloween, with costumes encouraged for children and parents alike.
Taking Wing is the story of a little caterpillar named Nya who dreams of becoming a beautiful butterfly fairy, to overcome the bullying of her vain and selfish peers. But Nya must resist the temptation to think only of herself and not of the rest of the magical creatures in her land. In a journey that takes her from the King of the Griffins to an invading army of the Goblins, Nya proves that "it doesn't take goods to do good."
Taking Wing stars Broadway actors Tori Feinstein (Matilda), Hayley Feinstein (Fiddler on the Roof), Travis Kent (Disaster!), as well as Molly Blau, Drew Bolander, Laura Darrell, Anna Frankl-Duval, Emma Lieberman and Charles Osborne.
Produced and co-created by Julie Saltman (Spider-Man: Turn Off the Dark), Taking Wing features a book by Saltman and Johnny Blaze Leavitt, music by Leo Hurley, and lyrics by Charles Osborne. Leo Hurley also directs and conducts this world-premiere production.
For more information, visit facebook.com/TakingWingTheMusical.
IF YOU GO:
TAKING WING: LEGENDS OF EMIMENCIA
On Sunday Oct 15th at 2PM & 6:30PM
At The Duke on 42nd Street, 229 West 42nd Street, New York, NY 10036
Tickets are $25 and are purchasable at www.nynwtheatrefestival.com/book-tickets.