Andrew Rincón receives the 2019/2020 New Light New Voices Award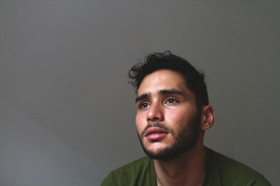 New Light Theater Project is thrilled to announce that the 2019/2020 New Light New Voices Award, their annual literary prize, goes to Andrew Rincón's I WANNA FUCK LIKE ROMEO AND JULIET, chosen from a record-breaking 300 submissions.

I WANNA FUCK LIKE ROMEO AND JULIET will receive its world premiere in the spring of 2020 at the IRT Theater, produced by New Light Theater Project.

"Rincón's script impressed readers with its blend of imaginative theatricality, piercing honesty, and vulnerable humor," says New Light Theater Projects' Literary Manager Jacob Perkins. "New Light New Voices is committed to partnering with emerging writers in order to foster an ensemble-based approach to producing new work. Rincón's script embraces this ensemble-driven practice and maximizes its potential, creating an open discourse between artist and viewer."

Snow in July, comets falling from the sky, the world is thrown into chaos as Cupid rips off her wings and gives up on Love. But her old flame Saint Valentine has a plan to bring her spirits back up and it involves the relationship between two men: Alejandro and Benny. Moving from outer space to Hackensack, NJ, I WANNA FUCK LIKE ROMEO AND JULIET is a Queer Love story of epic proportions that investigates God and mortals, realism and fantasy, and the shame and joy within Queer Love of Color.

Along with Rincón's script, two exceptional finalists were chosen: Ali Skye Bennet's Rafetus and Zora Howard's Stew.

Past New Light New Voices winnersinclude: Ray Yamanouchi's The American Tradition (running January 25 - February 16 at 13 Street Repertory Company), Dan Giles' Breeders, and Anne Adams' Strange Country.

Andrew Rincón is a Queer Colombian-American playwright originally from Fort Myers FL, now based in NYC. His plays have been developed with Rising Circle Theatre Collective, INTAR, Amios, The Amoralists, Pork Filled Productions and The 24 Hour Plays. He was one of six playwrights in Wright Club, The Amoralist's yearlong playwright development program ('15-'16). He was a member of INKtank Lab for Playwrights of Color (2017) and the 2017 Maria Irene Fornés Playwriting Workshop (Chicago). He iswinner of the 2019 Chesley/Bumbalo Grant for writers of Gay and Lesbian Theatre. Company member of Unit 52 at INTAR. Plays include: You Got That Same Kind of Lonely, That Rhythm in the Blood and he is currently developing a new play entitled "I'll meet you outside the airport, ok?", a comedy following a Latina family producing a Spanish Soap Opera in Miami, Florida.

Led by Artistic Director Sarah Norris and Producing Director Michael Aguirre, New Light Theater Project is an ensemble-driven theater company that strives to capture the Little Theater Movement (artistry over commerce; producing new and classic works), supporting independent and emerging artists by providing and promoting growth opportunities through exposure to new audiences. Since 2013, NLTP has mounted over 20 productions that have received critical praise including Best of Theater 2014 (The L Magazine for Picture Ourselves in Latvia), TimeOut NY Critics' Pick (Bubba and Breeders), recipients of the The Flea Theater's Anchor Program, Woodstock Byrdcliffe Residency Fellowship, Chicago Dramatists Grafting Project, and the Access Theater Residency Program. NLTP is a 501(c)3 organization. Follow NLTP on Facebook @New Light Theater Project; Twitter @NewLightTheaterProj; Instagram @NewLightTheaterProject; and NewLightTheaterProject.com.