AnaOno X #Cancerland Returns To New York Fashion Week 2/11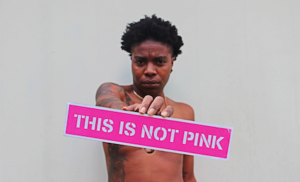 AnaOno, the leading lingerie and loungewear line designed for breast cancer survivors, by a breast cancer survivor, is thrilled to return to Art Hearts Fashion New York Fashion Week this February, a philanthropic-minded runway collective showcasing both emerging and established designers. The much anticipated follow up to AnaOno's ground-breaking NYFW debut in 2017, this year's show will again be held in partnership with #Cancerland: a New York based non-profit dedicated to changing the conversation about metastatic breast cancer through the honest voices of those living with the disease every day. An army of thirty courageous individuals diagnosed with varying stages of breast cancer will take the runway clad in AnaOno's Spring/Summer 2018 Collection, previvor to stage I to stage IV metastatic, showcasing the beauty, strength and determination of those living with the disease while boldly redefining what it means to be a breast cancer patient. AnaOno x #Cancerland 2.0 will take place at Art Hearts Fashion New York Fashion Week on Sunday, February 11th at 1:00pm, at the Angel Orensanz Center (172 Norfolk Street) on the Lower East Side.
AnaOno Designer and Breast Cancer Thriver, Dana Donofree, is honored to send her Spring/Summer 2018 Collection down the runway on a powerful, diverse group of individuals, ranging from athletes to musicians, educators to activists, age 20 to over 50. Encompassing varying stages of breast cancer diagnoses, surgery and reconstruction choices as well as surgical scarring, all thirty patients walking the show are set to bravely expose the reality of breast cancer alongside their own strength and determination in fighting through the battle. Says Donofree:
"We are thrilled to have the opportunity to show that these inspiring individuals walking our runway are no different than any other person walking New York Fashion Week, or sitting in the audience or even riding the subway or walking into your neighborhood coffee shop. We want to show that whether you have been diagnosed with breast cancer or have a genetic marker, have breasts or have none, have visible scarring or even tattoos in place of nipples, it doesn't matter. You are still empowered, strong and sexy!"
Looks going down the runway include a game-changing, debut silhouette from AnaOno, a Flat & Fabulous Bra specifically designed for women who choose to remain flat post-mastectomy - the first of its kind to ever hit the market. Brand new AnaOno Sport and Swimwear collections will also make their debut, shown alongside the brand's signature lingerie and loungewear styles.
AnaOno x #Cancerland 2.0 is proudly held in collaboration with #Cancerland, whose inimitable founder Champagne Joy sadly lost her own battle against metastatic breast cancer in the spring of last year. Says Beth Fairchild, Board Co-Chair of #Cancerland:
"It's such an amazing thing to have these individuals walking the runway at NYFW, and not in just any lingerie, but made specifically for their unique bodies. What an empowering thing to walk that runway and own what you have! Cancer takes and takes from us, but the important thing is that we're all here and we're all alive and we own our new normal. This year is going to be especially difficult because we are forced to carry on without our beloved Champagne Joy. She led the charge for our movement to remove the pink shroud obscuring the realities of living with and dying from breast cancer. We're going to show the world that as patients, we stand together. WE are the dangerous ones and we will no longer die silently."
An otherwise invitation-only event, a select amount of tickets to AnaOno x #Cancerland 2.0 are now open to the public. 100% of all ticket sales will go to directly benefit breast cancer patients through #Cancerland, currently available from $35.00 (General Admission) to $250.00 (VIP Front Row) via EventBrite.
# # # About AnaOnoAnaOno is one of the first of its kind to offer lingerie and loungewear exclusively for those who have had surgery related to a breast cancer diagnosis. The brand's fit, design and technical construction are unparalleled in the market today, and takes the guessing out of bra shopping for patients and thrivers living with breast cancer. All shapes, sizes and surgeries are taken into account, from bilateral to unilateral to FLAP surgery to enhancement. All AnaOno styles are designed with beauty, femininity and utmost comfort, as Founder/Designer and fellow survivor Dana Donofree knows first-hand what it's like to battle breast cancer and wish for well-fitting, comfortable lingerie and loungewear.
The AnaOno mission is to build confidence and redefine what it means to be "sexy" while opening a space for communicate with one another and share stories. Dana's idea for the future of AnaOno is beyond providing beauty and quality in a product, it is about providing beauty and quality in life. As a brand ethos, AnaOno wants those battling breast cancer to know you are NEVER ALONE. AnaOno.com About Dana Donofree: Survivor I Advocate I DesignerIt was the day before her 28th birthday, when Dana Donofree was diagnosed with Infiltrative Ductal Carcinoma. Following a bilateral mastectomy, reconstructive surgery and a grueling regimen of chemotherapy, Dana knew her life was never going to be the same - but she never expected it to change the way it did. A fashion and design graduate from Savannah College of Art and Design (SCAD), Dana had worked with several popular and high-end labels before and during her fight against cancer. When she discovered her body no longer fit traditional lingerie and bras, she took that design skill base and created AnaOno for others just like her. Now, Dana's life is dedicated to bringing beauty, comfort and confidence to fellow people with breast cancer. AnaOno.com About #Cancerland#Cancerland is a media platform focused on changing the conversation about breast cancer through the honest voices of real individuals who are living with this disease every day. Through discussions of topics such as intimacy during and after treatment to the harsh financial realities of cancer, #Cancerland provides a platform to address breast cancer's often ignored realities.
#Cancerland rejects the notion that this disease defines the people who battle it. We are not victims marching to our pink ribbon deaths. We choose to live our lives fully and completely, while accepting the highs and lows of a disease that afflicts 1-in-8 women every year, and kills 114 American people every day. #Cancerland advocates for research into therapies that will extend the lives of terminally ill cancer patients and that will eventually turn Stage IV disease into a chronic condition, not a death sentence. Through our community, we aim to preserve the legacy of #Cancerland founder, Champagne Joy, and her mission to redefine the face of this illness.
All donations support #Cancerland, its mission, as well as trusted breast cancer research partners. 50% of funds raised go directly to research while the other 50% go to create media content that will advocate, educate and change the conversation about breast cancer. ProjectCancerland.org
Art Hearts Fashion is leading the way in combining fashion and philanthropy by raising awareness and funds for great causes all while celebrating the art of fashion. Founded by Philanthropist and Designer Erik Rosete, AHF presents a leading platform for artistically inspired emerging, celebrity and couture designers to showcase their collections in a contemporary fashion week setting. AHF events have been held coast to coast as a national showcase for designers to participate in New York, Miami and Los Angeles Fashion Weeks. www.artheartsfashion.com
Allyson Lynch is proving to herself and to those around her that cancer does not stop her from working towards her goals and setting new ones. Nothing is slowing down her ambitions and that includes feeling like the badass she is, walking down a runway.
Nikki "Trip" Tripplett knew that she would be diagnosed with breast cancer just as her grandmother and aunt did. The diagnosis came when she was 36 years old and brought forth unexpected instances of discrimination and stereotyping. Now, Nikki is fighting back for as long as it takes.
Maggie Kurdika began dancing at age four and continued into a professional career. Following a stage 4 breast cancer diagnosis at age 23, she created the Bald Ballerina social media movement to raise awareness that breast cancer does not discriminate. Maggie is a passionate advocate for metastatic breast cancer, working with various foundations to raise awareness and funding. She travels throughout the U.S. giving master ballet classes and speaking to young dancers and women about metastatic breast cancer.
Bianca Muñiz@bperformer
Bianca Muñiz is a 23 year old singer/songwriter/pianist. She uses music as her medium to share her stories and emotions throughout her life. Bianca was diagnosed with ovarian cancer at the age of 11. Now facing breast cancer, Bianca underwent a double mastectomy in 2016 and continues to inspire through music and her life.
Kiku Collins, a musician you've likely seen and heard on television, has established herself at the heights of pop, jazz and R&B as a trumpet, trombone and flugelhorn artist. She lost her mother to metastatic breast cancer while in her teens, and was herself diagnosed with breast cancer. Collins still receives treatment for her cancer and lymphedema, a condition resulting from of her unilateral mastectomy and node removal.
Emily McLaughlin, MD, FACS is a practicing plastic surgeon in Fort Worth, Texas. A routine part of her surgical practice is breast cancer reconstruction - but when the surgeon gets breast cancer, a big shake up follows. Based on her experience as a patient rather than the surgeon, she founded non-profit organization Fighting Right, and has raised over $200,000 to-date for local cancer charities.
Ericka Hart@ihartericka Ericka Hart is a celebrated activist, writer, speaker and sexuality educator with a Master's of Education in Human Sexuality from Widener University. Ericka's voice, erudite and rooted in cutting edge thought leadership, centers around human sexual expression as inextricable to overall human health and its intersections with race, gender, chronic illness and disability. This voice remains both radical and relatable, pushing well beyond the threshold of sex positivity.
Proof that breast cancer is not age discriminatory, Brittney Beadle got her diagnosis just months after she turned 18, and had her mastectomy on the day of her senior prom. Brittney's M.O. is all about doing what she wants right now, rather than saying "someday I will..." She is absolutely in love with life and looks at every day as a gift. She's very grateful for all the small things such as just getting to look up at the moon at night.
Whether it's traveling across the world or sitting on the couch watching reality TV, Paige More is happiest when with friends and family. An adventure seeker, adrenaline junkie and proud big sister, she took her health into her own hands after testing BRCA 1+ last year and opted for a prophylactic bilateral mastectomy. Paige has now vowed to get involved in the community and be there for as many women as possible.
Related Articles
More Hot Stories For You