Album Review: Everything New Is Old Again… Or Vice Versa With Columbia's New Release Of Old Barbra Recordings - BARBRA STREISAND LIVE AT THE BON SOIR
A Timeless Voice Travels Through Time To This Time… And It's Time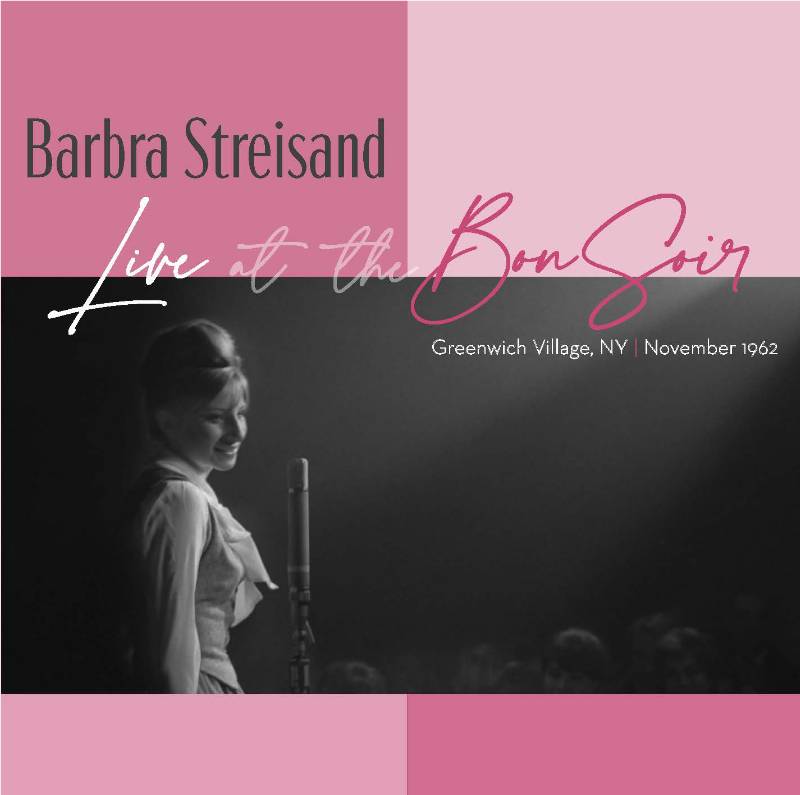 Heigh Ho, dear lovely rainbow tribe, Bobby Patrick, your rainbow reviewer is back in CD-Land to offer another broken-down breakdown of a new music release. So, strap in and get ready, as Bobby goes on the record ABOUT the record.
This week's album entry in the BobbyFiles comes from venerable Columbia Records and since it is November 4th, and those FABULOUS holidays are right 'round the corner - I mean let's be real children, they've been in the shops for over a month, now - Bobby is all a dither because Christmas morning just arrived today... NAY! It is Christmas, Bobby's birthday, Chanukah, my wedding anniversary - every cause celebre and, and, and every gift-giving occasion our little rainbow brain can think of... they've all arrived TODAY. Because this very day my dears - Barbra Streisand LIVE AT THE BON SOIR has arrived as a blessed digital release.
This recording has had legendary status for decades since it was recorded but never allowed out into the world. For all these years, there have been little bootleg recordings of a handful of numbers from this nightclub appearance, there have even been album pressings (little Bobby has owned one of these albums since 1986 - stop doing the math RIGHT NOW!), cassettes, and YouTube postings of the performance that would have been Barbra Streisand's first record, but there was never an actual, official album, and it has been a missing link in many a record collection. Now, that hurtful void is filled and it is (can you believe it) worth the sixty-year wait.
Columbia Records and Legacy Recordings have released a FABULOUS album of 24 tracks recorded over three nights in 1962 when La Barbra performed three different sets at the Bon Soir... ever the professional and ever the creative storyteller, Ms. Streisand did not perform the same songs at every performance. The master tapes from those three shows were considered, by everyone involved with the process back then, as problematic, and buried, and the OG Streisand album was shelved in favor of a new, studio album. With Herculean (what? Bobby Knows Words!?) advancements in technology making it possible to restore them, the masters were taken from our lady's vault and polished up to a sparkly rainbow shine, giving the world this exciting and incomparable album that will make any Streisand fan, any lover of fine music, and anyone interested in the history of the show biz happy. Of course, her performances are exquisite, and most of them are of songs documented on subsequent albums over the years, but there is more to this record album than just the listening experience. Natch, we are talking about LINER NOTES, gorgeously written, visceral liner notes by Jay Landers that paint pictures of the nightclub industry of the day, that tell the story of Barbra's early career, in imagery so powerful that it feels like you are reading a biography in the form of a photo book - In short, dear tribe, Bobby was kvelling. The entire BON SOIR experience, here, is created in one of the most elegant and complete ways that an artist or label could create an album - and even though streaming options are always convenient, this is a presentation that people should acquire as a physical, in-your-hand-CD, in order to enjoy the entire experience. Either way, stream or CD, what matters is that people listen to this music and feel the feels of a thrill more incomparable than can possibly be imagined.
You see my dear ones, over the years, Barbra Streisand has had many opportunities to be many things, to embody many styles of music, to blaze trails as an artist, a performer, and a person. On Barbra Streisand LIVE AT THE BON SOIR, we all get to hear the singer, the actress, at the earliest stage of her career, when she was just eighteen years old, before the establishment began trying to change her and make her mainstream and marketable. Here is a young woman with an artistic vision all her own, and it shows in every song choice, in the way she chats with the audience, in the manner with which she introduces the band, in the interpretations of each song, and in the FEARLESS performances. On many of her subsequent albums, the quirk, the character, and the boldness of Barbra Streisand shine through, but on the BON SOIR album, there is an angel rushing in where we mortals fear to tread, delivering some of the most unfathomably exciting singing you will ever hear my dears... and it's LIVE. She sang this stuff live, and that's the thrill. It's crazy and wonderful and beautiful and full of life, and energy, and artistry, and history, and rainbows, and all the other good stuff, and it simply is not to be missed.
But, dear readers, if Little Bobby can make a heartfelt suggestion: when you go to listen to Barbra Streisand LIVE AT THE BON SOIR (Greenwich Village NY 1962), do what Bobby did and give yourself a special treat. Don't listen while driving the car, don't listen on your headphones on the subway, don't listen while doing housework, and don't read the liner notes right off, don't read the song list, don't put any preconceived notions into your pretty little heads. Brew a pot of tea (everyone knows Barbra loves her tea) and settle onto the sofa in the afternoon sunlight, OR make a pitcher of Martinis and dim the lights as though you are in Bon Soir 1962, OR fluff up your pillows and settle into your bed - get comfortable, press play, and take the journey that 18-year-old Barbra Streisand planned out for her Manhattan audiences some sixty years ago. Get to know the girl who became the legend, and get to know her intimately, in one of the most intimate ways possible: through her artistry. You'll thank Little Bobby when you're done.
And then you'll thank Barbra for saving those tapes, and all the good people responsible for restoring and releasing them into the world. This is a great day for the music industry, so celebrate it and celebrate Barbra Streisand. Attention has been paid... And of course, Bobby gives this one his whole hearted...
5 out of 5 rainbows-put this one in your collection now!
Barbra Streisand LIVE AT THE BON SOIR is a 2022 release by Columbia Records and Legacy Recordings, a division of Sony Music Entertainment. It is available on November 4th on all digital platforms. It is available as a CD HERE
THIS is the Barbra Streisand website
HERE is the Columbia Records website
IMPEX Records Will ACTUALLY Sell A Vynil Version: HERE!
---
Shop BroadwayWorld

Shop this season's new musicals! Get dressed up for a night at the theatre, or just a night at home, with merch from some of Broadway's biggest hits including SOME LIKE IT HOT, KIMBERLY AKIMBO, and more!
---
Related Stories