A Revised GROUNDHOG DAY is Working its Way Back to London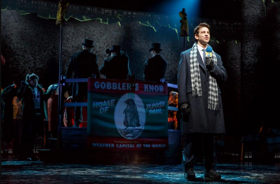 According to the Daily Mail, the clock has yet to stop on GROUNDHOG DAY. The show is currently being revised with hopes for a return to the West End. Director Matthew Warchus says the updated production may feature re-writes of the book by Danny Rubin and new songs by Tim Minchin.
The show has not announced a date for the transfer nor has a West End theatre been lined up. An 18-month National US Tour has been scheduled starting next year.
After 176 performances and 32 previews, Olivier Award-winning Best New Musical Groundhog Day played its final performance at the August Wilson Theatre on September 17th, 2017.
Groundhog Day tells the story of Phil Connors (Andy Karl), a disgruntled big-city weatherman mysteriously stuck in small-town America reliving the same day over and over and over again. But when he gets to know associate TV producer Rita (Barrett Doss), he discovers that a day of second, third and fourth chances just might bring him the promise of a lifetime. It's a classic boy meets girl... boy meets girl... boy meets girl story.
For more, visit the Daily Mail here.
Photo Credit: Joan Marcus