The World-Renowed Dance Company Pilobolus Celebrates 50 Years At Popejoy Hall, February 25
The celebratory program is a milestone in fifty years of groundbreaking dance from the uniquely feisty arts organism.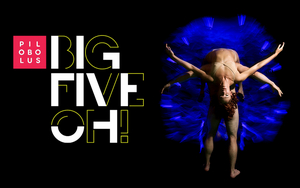 Popejoy Hall will present PILOBOLUS Big Five-Oh! on Saturday, February 25, 2023 at 8:00pm. The celebratory program is a milestone in fifty years of groundbreaking dance from the uniquely feisty arts organism.
PILOBOLUS puts the "Oh!" in Big Five Oh!, deliberately questioning its own givens, and turning its traditions sideways to bring its past into the future. As fresh and vibrant as ever are signature works from vintage classics to trend-setting innovative work in shadow. Tickets to PILOBOLUS Big Five-Oh! are available at www.popejoypresents.com.
PILOBOLUS is named after a barnyard fungus that propels its spores with extraordinary speed, accuracy, and strength. The dance company was founded by a group of Dartmouth College students in 1971 and they continually form diverse collaborations that break down barriers between disciplines and challenge the way we think about dance. Physically and intellectually, the company engages and inspires audiences around the world through performance, education, and creative consultation.
The remarkable company that secured an iconic place in American culture in the early 1970s is still wowing audiences with its irresistible mix of wit, sensuality, and stunning physical acumen. The Wall Street Journal said this about their fifty amazing years, "...proverbial light bulbs of inspiration have gone off with enough frequency for Pilobolus over the past years to make them a household name."
Among the pieces featured in The Big Five-Oh! are:
The high voltage Megawatt (2004), made in the last decade of founder and choreographer Jonathan Wolken's life, exemplifies his later work. BIG FIVE-OH! dedicates this Megawatt to his memory and his everlasting contribution to Pilobolus and dance theater. For this tour, Megawatt has been updated to expand its unfettered exuberance and frenetic expression of life-affirming creative drives and resistance to stagnation by casting dancers in roles that gently subvert stereotypical gender-associated movement vocabulary.
Behind the Shadows: Since Pilobolus's innovation of physical shadow theater at the 79th Annual Academy Awards in 2007, many have copied the techniques and images. A New Medium of expression has been embraced by the international performing arts community. For The Big Five-OH!, Pilobolus will offer a shadow performance unlike what you have seen before and reveal the technique behind the innovation. Dancers spin, swivel, and turn a screen revealing both the amazing composite shadow figures as well as the technique to create them.
The Ballad (2022): The Ballad is a new collaboration with Darlene Kascak, Schaghticoke Tribal Nation member and traditional storyteller and educator. The piece features Ms. Kascak's narration of stories from her own childhood, and a monster, the Wendigo, that has roamed Turtle Island since time immemorial. Ms. Kascak's storytelling and the lessons it offers us leave the audience with a sense of hope, optimism, and awareness of our behavior towards each other and our planet. Dance critic Kristie Spadie says, "The Ballad shows that co-artistic directors Jaworski and Kent are profoundly committed to making dances that create a conversation about social justice, reckon with our country's history, and shine a light on the consequences of how we treat Mother Earth."
PILOBOLUS is led by RENEE JAWORSKI, Executive Director and Co-Artistic Director. She had an extensive creative career working with Pilobolus since 2000 and in 2011 was honored to have been chosen by the founding Artistic Directors to lead Pilobolus into and beyond its post-succession evolution. She served as choreographer and creator for exciting projects and collaborations for stage, film, and video such as the 79th Annual Academy Awards, the Grammy nominated video for OKGo's All is Not Lost, Radiolab Live: In the Dark, World Science Festival; Time and the Creative Cosmos and works with myriad outside artists through the International Collaborators Project, as well as overseeing the daily functioning and long-term planning for the company's creative endeavors. As a teacher, she facilitates workshops and group projects in diverse communities with dancers and non-dancers alike. In 2010, her alma mater honored her with the University of the Arts Silver Star Alumni Award for her work as an artist in the field of dance. She has performed and toured the world with Momix and Carolyn Dorfman Dance Company.
Her fellow Co-Artistic Director MATT KENT began his career with Pilobolus as a dancer in 1996, helping create many pieces, including classics like Gnomen and Selection, a collaboration with Maurice Sendak. In 2011 Matt was chosen by the founding Artistic Directors to lead Pilobolus in its post-succession evolution. He has directed for the stage and screen choreographing on horses, Chinese acrobats, giant Michael Curry puppets, zombies on The Walking Dead, jugglers, break dancers, actors, LED umbrellas, and dancers. He was nominated for Best Choreography by the L.A. Drama Critics Circle for The Tempest directed by Aaron Posner and Teller. Matt loves exploring and executing the ever-evolving work of Pilobolus as it reaches out to an expanding group of artists, audiences, and populations in ever-unexpected ways.
For the most current safety information visit popejoypresents.com/safety.