Interview: Reed Meschefske of TOO MUCH LIGHT MAKES THE BABY GO BLIND at Santa Fe High School Theatre
As a theatre educator, I think it is very important to cover youth performances. This is a continuation of my columns about the wonderful high school performing arts programs in the Santa Fe area.
---
There is something so incredibly special about watching a group of highly disciplined young people coming together to create something bigger than themselves. The collaborative nature of high school drama is like none other, and particularly in programs with strong, knowledgeable leadership (such as the program at Santa Fe High School, led by director Reed Meschefske), the results speak for themselves.
I recently observed a rehearsal for SFHS's upcoming production of Too Much Light Makes The Baby Go Blind and had the opportunity to chat with Mr. Meschefske about his program and methodology. Mr. Meschefske, who has been at SFHS for the last decade, was previously a traveling improv artist and union actor. Since landing at SFHS, he has developed a well rounded theatre program that exposes his students to a variety of approaches to the art.
"I like to mix it up," Meschefske said. "We cover a wide swath of influences and styles." Classes available to students include a Drama 1 course, a History of Film course (which is offered for dual credit with Santa Fe Community College), a Technical Theatre course, and a three year Advanced Acting/Repertory style course. The first year covers monologues/Stanislavskian character work; the second, more external acting skills (the students have lately been working on farce) and in the third year, they develop their text analysis and Shakespearean performance skills. In recent years, SFHS drama students collaborated with the International Shakespeare Center on a production of Macbeth.
"We do four or five full, main stage shows per year," Meschefske continued, "as well as one advanced acting class show." He explained that he generally tailors the selection of the advanced acting show to the skill set and personalities of the students he has in his class. Regarding the main stage productions for the 18-19 school year, the students have already performed a production of The Diary of Anne Frank; after Too Much Light Makes The Baby Go Blind, they will tackle the iconic Kander & Ebb musical Chicago.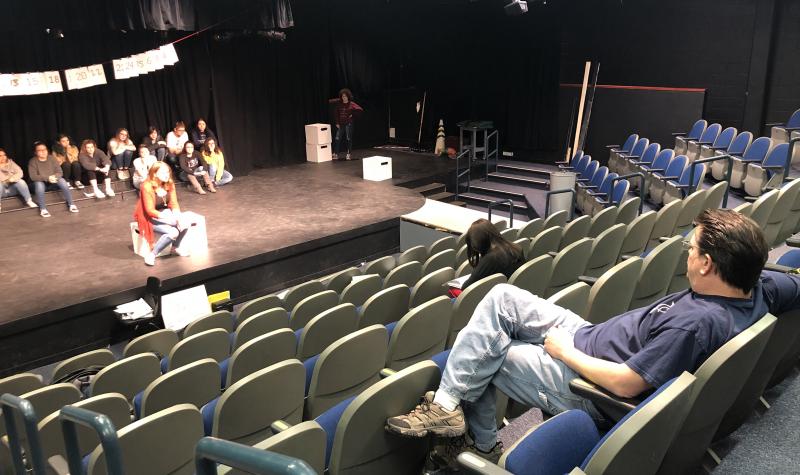 In addition to the productions at SFHS, the students there have had an extraordinary opportunity several times (and will again in 2020) - through the American High School Theatre Festival, they devise and take their own, original work to the Edinburgh Fringe Festival. The class taking the production to Scotland will spend three weeks of the summer, for five to seven hours a day, developing their new play.
When asked what he enjoyed most about working with his students at Santa Fe High School, Meschefske said that he was incredibly proud of his students' dedication - "the fact that the students do it the right way, and trust the process. The best compliment that I can get is when people tell us, 'I can't believe this is a high school show'".
When asked what drew them to theatre, his students' answers varied, but largely centered on two ideas - finding a place for self expression, and a place to belong. One actress named Stephanie said that she enjoyed having a place where students were "able to unleash the chaos."
"I needed a place for an outlet for anxiety," said fellow actress Lily. "Theatre is a place to be someone I can't be outside."
Their production of Too Much Light Makes The Baby Go Blind (which was, in brief, a series of 30 plays to be performed in a random order over the course of an hour - it is both hilarious and poignant, personal and political; I greatly enjoyed the rehearsal I watched, and I highly recommend attending the actual production) runs February 28 through March 2 at 7:33 PM at SFHS (2100 Yucca in Santa Fe). Tickets are available at the door, and the cost of each ticket is $5 plus the roll of a six sided dice. For more info on this production and SFHS theatre in general, go to www.santafehigharts.com