New Exhibition About 'Gods' Opens at the David Roche Foundation House Museum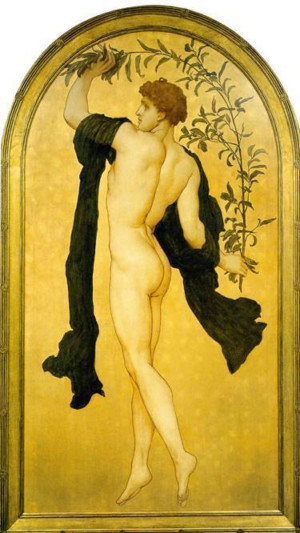 The David Roche Foundation House Museum has borrowed a significant Victorian classical painting from a private collection as part of its new exhibition, The Madness of the Gods: Love, War & Transgression.
Robert Reason, Curator of the David Roche Collection, said the Frederic Leighton 'The Cymbalist', c.1869, has been secured for display in Adelaide for the very first time. Life-size, the painting was commissioned by art collector, Percy Wyndham, for his London home. It illustrates Leighton's superb draughtsmanship and formed one of four panels on the theme of bacchantes, who accompanied Bacchus the Roman god of wine, music and dance. The painting complements other Bacchic images and 80 other works referencing gods and goddesses, which David Roche adored. Leighton had a highly-distinguished career in which he was associated with the Pre-Raphaelites and the Aesthetic Movement; he was also central to the New Sculpture Movement and the Royal Academy.
What do images of ancient gods and goddesses mean to us in the 21st century? Any number of architectural sites and museums with sculptures of gods and goddesses (like the Vatican collections) remain just as popular today, due to their timeless quality of perfection. In an age obsessed with self-image and celebrity image, to look on the perfect human figure is as captivating and powerful as at any time in history. To encounter a love struck figure is not too far from our reality. It offers an engaging entry point and as immortal as the gods were, they were human in all their glorious foibles.
The Roche collection contains a fine selection of 'Grand Tour' objects from the 18th and 19th centuries in marble and bronze of Greek and Roman gods: Zeus, Cupid, Mars, Mercury, Apollo, Bacchus and goddesses: Athena, Diana, Venus and Ceres. Also the semi-divines, whose lives (for better or worse) were inextricably linked to the gods: Hercules, Achilles, Perseus, Ariadne as well as Bacchant and Nymphs. They originally formed a significant part of decorating one's English home and reflected the owner's worldliness, standing, knowledge and appreciation of art and culture.
These works were chosen by David Roche for their visual appeal, provenance and myth. David did not collect antiquities. Martyn Cook, Museum Director of the David Roche Collection, said David did not profess to be a Classics scholar, however he knew a god when he saw one! As Caesar in his school play at Geelong Grammar, he continued to live the role as emperor in his own domain. His house a time capsule of his favourites arranged only as it could be, by a man of the 20th and early 21st centuries.
The title of the exhibition is derived from the writings of Plato, one of the pivotal philosophers of Classical Greece. In Phaedrus he wrote: 'the greatest blessings come by way of madness, indeed of madness that is heaven sent.' Plato noted four types of divine madness: from Apollo the gift of prophecy; from Dionysus, the mystic rites and relief from present hardship; from Aphrodite love, fraught with the highest bliss; and the poetic, of which the Muses are the source. The gifts of Madness allowed humans to experience the best and worst that life could offer. Such fundamental elements of human existence have changed little.
The museum houses the exceptional personal collection of David Roche, who spent his life acquiring more than 3,000 fine European paintings and decorative arts, as well as an eclectic range of other objects. It comprises David's home of 60 years and a new, state-of-the-art gallery. Since the official opening in June 2016, more than 7,000 people have visited the museum. A monthly lecture series with Australian and international speakers will run alongside this new exhibition.
DETAILS:
The Madness of the Gods: Love, War & Transgression
Open until February 2018
David Roche Foundation House Museum
241 Melbourne Street
North Adelaide
Related Articles View More Australia - Adelaide

Stories

Shows
More Hot Stories For You