Theatr Clwyd Announces Cast of All-Female LORD OF THE FLIES; Kate Lamb, Gina Fillingham and More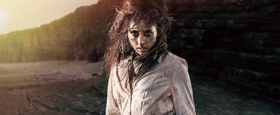 Following the announcement earlier this year of Sherman Theatre and Theatr Clwyd's collaboration, the cast for their co-production of William Golding's novel Lord of the Flies has been announced. The co-production is a creative collaboration between two of Wales' leading arts institutions. In April 2018 Sherman Theatre's Artistic Director Rachel O'Riordan's production of Killology by Gary Owen won the Olivier Award for Outstanding Achievement in Affiliate Theatre, whilst Theatr Clwyd's co-production with the National Theatre of Laura Wade's Home, I'm Darling, directed by Artistic Director Tamara Harvey, is currently running in London.
Nobel Prize-winning author William Golding's chilling dystopian text is given a contemporary reimagining as a group of schoolgirls find themselves stranded on a remote island following a crash landing. The tragic Piggy will be played by Gina Fillingham, who recently starred in the Channel 4 series Kiri and whose theatre credits include The Oresteia (Home, Manchester) and The Skriker (Royal Exchange, Manchester). Joining her will be Kate Lamb, known for her role as Delia Busby in Call The Midwife (BBC) as well as The Taming of the Shrew (Shakespeare's Globe) and After The Party (Criterion Theatre). They will be joined by Lola Adajawho will make her professional stage debut as Ralph, Hannah Boyce as Roger, Matthew Bulgo as Naval Officer, Lowri Hamer as Percyval, Lowri Izzard as Sam, Mari Izzard as Eric, Olivia Marcus as Simon, Laura Singleton as Henry and Leah Walker as Maurice.
Speaking about the production, Director Emma Jordan said "I am delighted to be joining the teams at the Sherman and Theatr Clwyd for their co-production of Golding's masterwork Lord of the Flies. Like many it was a formative influence in my youth and it's wonderful to revisit it most especially in our re-imagining of the story from a female perspective. The exploration of humanity at the heart of the novel holds up remarkably well and our contemporary take on the play reflects a lot on the fractured and frightening world we are inhabiting in 2018. We will be exploring the play in view of what unites us in our humanity and what might delineate us in our gender perspective. I am so looking forward to working with an amazing company of actors and creatives to create a production which will be provocative, exciting and horrifying in equal measure."
Emma Jordan is Artistic Director of Northern Ireland-based Prime Cut. Her extensive directing credits includecritically acclaimed productions of Brian Friel's Lovers, Winners and Losers for the Lyric Theatre, Belfast, East Belfast Boy by Fintan Brady as part of EdgeFest at the MAC, Belfast, Red by John Logan, a Prime Cut at the Lyric Theatre, Belfast co-production (Winner of Best Director, Best Production, Best Actor and Best Set Design at the 2017 Irish Times Theatre Awards and short-listed for Best Director: UK Theatre Awards 2017) and Stacey Gregg's Scorch, winner of 7 awards in Ireland, the UK and Australia. In 2014 Emma was the recipient of the Paul Hamlyn Cultural Entrepreneurship Breakthrough Award and the Spirit of Festival Award at the Belfast International Arts Festival 2015
20 Sep - 13 Oct 2018, Theatr Clwyd, Mold 17 Oct - 3 Nov 2018, Sherman Theatre, Cardiff. www.theatrclwyd.com and www.shermantheatre.co.uk.