Photos: PRISCILLA QUEEN OF THE DESERT Celebrates 100th Performance
On 23 June 2009, Priscilla Queen Of The Desert The Musical, celebrated its 100th performance at the Palace Theatre in London's West End. Audiences, including Kylie and Dannii Minogue, Natalie Imbruglia, Stephen Fry, David Hasselhoff, Kate Beckinsale and Whoopi Goldberg, have been 'shaking their groove thing' at the Palace Theatre since the hit show opened in March this year.
Starring Jason Donovan, Tony Sheldon, Oliver Thornton and Clive Carter, the principal cast are joined by Zoë Birkett, Kate Gillespie and Emma Lindars as the three Divas, Wezley Sebastian as Miss Understanding, Amy Field as Marion, Daniele Coombe as Shirley, Tristan Temple as Jimmy, Kanako Nakano as Cynthia, Steven Cleverley as Young Bernadette and John Brannoch as Frank.
Based on the Oscar® award-winning film, Priscilla tells the story of Tick (Jason Donovan), Bernadette (Tony Sheldon) and Adam (Oliver Thornton), a glamorous Sydney-based performing trio that agree to take their show to the middle of the Australian outback.
Priscilla Queen Of the Desert The Musical is a heart-warming, uplifting adventure of three friends who hop aboard a battered old bus (nicknamed Priscilla) searching for love and friendship and end up finding more than they could ever have dreamed. With a dazzling array of outrageous costumes and featuring a score of dance-floor classics, this new musical is a sensational journey to the heart of fabulous.
Priscilla Queen Of The Desert The Musical , written by Stephan Elliott and Allan Scott, is directed by Simon Phillips, with Choreography by Ross Coleman, Musical Supervision and Arrangements by Stephen 'Spud' Murphy and Production Design by BrIan Thomson. Tim Chappel and Lizzy Gardiner have re-created their Oscar®-winning Costume Designs and the BAFTA Award winning Make Up design is recreated by Cassie Hanlon. Lighting is designed by Nick Schlieper and Sound by Michael Waters.
Priscilla Queen Of The Desert The Musical is produced in London by Liz Koops and Garry McQuinn for Back Row Productions, Michael Hamlyn for Specific Films, Allan Scott, John Frost, Michael Chugg, David Mirvish and The Really Useful Group.
Palace Theatre, Cambridge Circus, London W1
Performances: Monday - Saturday at 7.30pm, Thursdays and Saturdays at 2.30pm, Booking until: 13 February 2010.
For more information visit priscillathemusical.com
Ticket prices: Monday to Thursday evenings at 7.30pm and Thursday matinees at 2.30pm: Until 26 Sept - £59.25, £44.75, £24.75, £20.25, From 28 Sept - £60, £45, £25, £20. Saturday matinees at 2.30pm & Friday and Saturday evenings at 7.30pm: Until 26 Sept - £64.25, £44.75, £24.75, £20.25 From 28 Sept - £65, £45, £25, £20. NB All tickets include a 75p Theatre Restoration Levy. £2.00 booking fee applies for all tickets purchased except postal and personal bookings at the Palace Theatre. Box Office: 0844 755 0016
Photo credit: Dan Wooller

Oliver Thornton, Clive Carter, Tony Sheldon, and Jason Donovan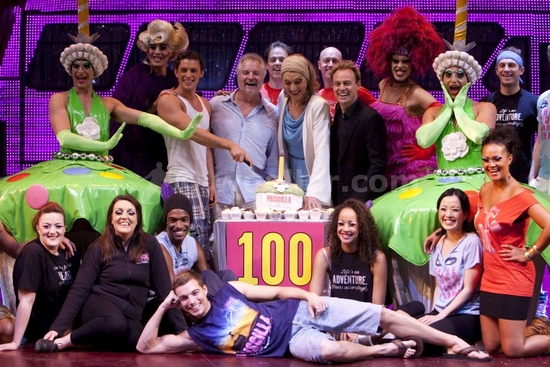 Cast of Priscilla Queen of the Desert The Musical

Jason Donovan

Jason Donovan

Oliver Thornton, Clive Carter, Tony Sheldon, and Jason Donovan