PINOCCHIO Comes to The Albany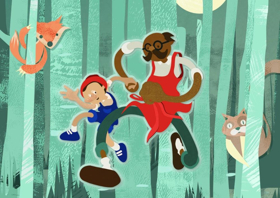 This December, Nearly There Yet, in association with Proteus, present an astonishing new adaptation of Carlo Collodis' Pinocchio. This series of bold adventures is an enchanting visual journey, combining captivating circus skills, music, storytelling and puppetry. Featuring a diverse company, this unique family-friendly production draws on the community spirit of Christmas.
Faced by a stint in the circus with a performing donkey, a terrible and colossal whale who could swallow you whole, and even an anglerfish blues band, Pinocchio takes you on a truly hilarious adventure bubbling with excitement, acrobatics and most of all, magic.
Bursting onto a beautiful hand-crafted set, Pinocchio, played by female lead Floria da Silvia (Light Up, Roundhouse; Brrr, Proteus; The Party, Nearly There Yet) enthrals audiences of all ages as he springs to life at the hands of Umar Butt (Artistic Associate at ARC Stockton; My Name Is, Tamasha theatre company; The Present, BBC Radio 4) as Geppetto.
Within an immersive soundscape and wonderfully tactile performance, audiences are invited to follow Pinocchio as he is led astray by the sly Fox played by Rosie Rowlands (Little Mermaid, Metta Theatre; previously performed on BBC, Channel 4 and National Geographic) and one crafty Cat, performed by Ed Stephen (part of the international arts exchange project On Mass; collaborative partner to John Berkavitch; critically acclaimed national and international Tour of SHAME).
Artistic Director Kaveh Rahnama comments, What I was drawn to the most and what I have focused on in the production is the central relationship between a father who desperately wants a child and a naïve child who has no idea of the expectations thrust upon him. Turning this story into a piece of theatre for children has been challenging, yet extremely rewarding and I feel very lucky to have worked with such an incredible creative team. Our Pinocchio uses circus, puppetry, and very visual storytelling to really transport children and their families to another place.
Pinocchio brings together ARC Stockton and The Albany to champion equality and representation in circus and to build stories with strong relationships at their core.