MAMMA MIA! Extends Booking at Novello Theatre to October 2018; Tickets Now On Sale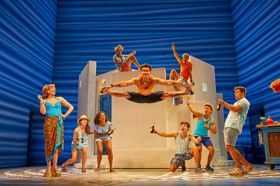 The global smash hit musical Mamma Mia! at London's Novello Theatre is now extending its booking period until 20 October 2018. Mamma Mia! will celebrate its 19th birthday in London on 6 April 2018. The box office for the new booking period (from 4 March 2018) is now open.
The London cast of Mamma Mia! stars Sara Poyzer as Donna, Kate Graham as Tanya, Jacqueline Braun as Rosie, Richard Trinder as Sam, Alasdair Harvey as Harry, Dugald Bruce-Lockhart as Bill, Georgina Castle as Sophie, Christopher Jordan-Marshall as Sky, Bobbie Little as Ali, Harriet Bunton as Lisa, Damian Buhagiar Pepper, and Nye Rees as Eddie, with Caroline Deverill playing the role of Donna Sheridan at certain performances.
Also in the cast are Alishia-Marie Blake, Tabitha Camburn, Adam Clayton-Smith, Katy Day, Katy Hards, Jennifer Hepburn, Stuart Hickey, Mark Isherwood, Matt Jordan-Pidgeon, Tyler Kennington, Robert Knight, Madeleine Leslay, Stacey Leanne Mills, Natasha O'Brien, Alice O'Hanlon, Alexanda O'Reilly, Adam Paul-Robertson, Oli Reynolds, Robbie Scotcher and Katy Stredder.
From West End to global phenomenon, Mamma Mia! is Judy Craymer's ingenious vision of staging the story-telling magic of ABBA's timeless songs with an enchanting tale of family and friendship unfolding on a Greek island paradise. To date, it has been seen by over 60 million people in 50 productions in 16 different languages grossing more than $2 billion at the box office. In 2011, it became the first Western musical ever to be staged in Mandarin in the People's Republic of China. Mamma Mia! is currently on its first ever UK Tour, receiving great critical and public acclaim.
MAMMA MIA! originally opened in London at the Prince Edward Theatre on 6 April 1999, before transferring to the Prince of Wales Theatre in 2004. The musical re-opened at the Novello Theatre in 2012.
The London production of Mamma Mia! has been seen by over 8.6 million people, played over 7,750 performances and has broken box office records in all three of its London homes.
Produced by Judy Craymer, Mamma Mia! The Movie, starring Meryl Streep and Pierce Brosnan, is the highest grossing live action musical film of all time.
With music & lyrics by Benny Andersson & Björn Ulvaeus, Mamma Mia! is written by Catherine Johnson, directed by Phyllida Lloyd and choreographed by Anthony Van Laast. The production is designed by Mark Thompson, with lighting design by Howard Harrison, sound design by Andrew Bruce & Bobby Aitken, and musical supervision, additional material & arrangements by Martin Koch.
MAMMA MIA! is produced by Judy Craymer, Richard East & Björn Ulvaeus for Littlestar in association with Universal.
For more information visit http://www.mamma-mia.com/.
Photo credit: Brinkhoff & Mögenburg
Related Articles
More Hot Stories For You