Guest Blog: Terry O'Donovan Talks TAKE ON ME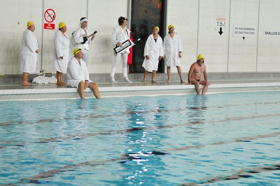 This week, we are in residence at an unlikely setting for a theatre performance: Rossmore Leisure Centre in Poole.
On Friday night, after the sports centre has closed, 60 people will be invited to experience Take On Me - our 1980s-set promenade performance that journeys through the changing rooms, the gym, an aerobics class and the pool.
Over the next few months, we'll do the same thing in five more leisure centres across the country as we create a new company in each location.
The show began life two years ago with seed funding from Harlow Playhouse, followed by a commission from Farnham Maltings and Arts Partnership Surrey's 'not for the likes of me' project. We originally created the production to be reshaped for seven leisure centres across Surrey, with a variety of ways that those who use the leisure centre and people from the local community could get involved.
The involvement of local people was a direct response to the initial creative development period. We chatted with staff members about why they think people come to leisure centres, we spoke with weightlifters and young mums taking part in trampoline fitness classes.
We sweated our way through spinning classes, heard stories with the cleaners, danced in squash courts and fell into pools. We met a fascinating man whose introduction to the sports centre's aerobics class helped him to come to terms with his sexuality.
The more time we spent soaking up the culture of the leisure centres, the more it became clear that these buildings foster communities and offer people the opportunity to connect with people and to make friends, as well as help to keep their bodies in better shape.
We've collaborated with the writer Andrew Muir, and have entirely rewritten one of the main storylines for the 2018-2019 tour. So, this week we're working with the amazing guest cast in Poole, alongside training ushers and production assistants in the artful logistics of site-specific theatre.
Our company of musicians, singers, a BSL communicator and actors will be working out the logistics of how to lead the audience from space to space, alongside rehearsing their immersive scenes with their new cast members.
The rehearsal process in a working leisure centre is certainly the most challenging we've ever encountered. We've made shows in self-storage buildings, in hotel rooms and in cafés; but in those locations, we were able to have focused time in spaces that we could control.
At Rossmore, and in our other partner locations, it is incredibly rare to have any exclusive access to spaces like the pool or the gym. A fascinating challenge, it does mean we're constantly previewing the show to potential audience members.
We'll be having chats with people using the cross-trainers or rowing machines, and at the same time choreographing a movement sequence on the treadmills. We're prepped to ask the gents having a shower if they would mind if a female musician can play the keytar and sing whilst they're getting dressed. They're often very amenable!
Much like the inspirational work of companies such as Slung Low, Geraldine Pilgrim and the National and Queen's Theatre's Public Acts, the conversations with people who live in these communities is central to this production. We've been blown away by the talent, energy and humour we've encountered during our residences at each sports centre.
The guest cast members have been learning lines, practicing the aerobics routines, rehearsing the show's songs as part of their weekly choir rehearsals, and now it's almost time to bring all of the different strands together for the first performances.
Over the next few months, we'll jump into the pool with five more companies of guest cast and team members in a celebration of making the effort to try something new, reaching out to potential new friends and surprising yourself. I can't wait to be surprised by the different interpretations of our show everywhere we go.
Take On Me opens tonight. Find full tour dates and venues here
Terry O'Donovan is Co-Artistic Director of Dante or Die
Photo credit: Justin Jones