EDINBURGH 2017 - BWW Review: THE TIME MACHINE, Voodoo Rooms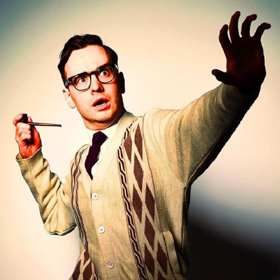 Long before the Delorean or the TARDIS ever graced our screens, the story of The Time Machine fascinated the public with the idea of travelling in the fourth dimension. This new musical based on the H.G. Wells masterpiece is not a straight adaptation of the novel, adding in a neat framing device. Set at Radio Woking in the 1950s, this production features Carrie (Lindsay Sharman), a station producer in the finest cut-glass BBC English mould, and George (Laurence Owen), the writer and performer about to record a musical version of the sci-fi classic.
George narrates the story of a Victorian gentleman scientist explaining to his dinner guests that he has built a machine that enables him to travel through time. Eight hundred thousand years into the future, he encounters two evolved races, the carefree, childlike Eloi and the brutal underground-dwelling Morlocks who both provide for and feed on them. Unlike many other adaptations, this version neatly highlights the novel's often ignored themes of class, casting the two races as the eventual evolutionary results of a capitalist society.
The radio performance is interspersed with 50s style advertising jingles, and features a number of original songs scattered throughout. The score, also by Laurence Owen, is marvellously catchy, backed up by witty lyrics and even a 50s dance number for a finale. As George, Owen makes exceptionally skilful use of the theremin - the most sci-fi of instruments - and carries all of the characters in the story, even to the extent of switching accent several times within the same song.
The standout highlight, however, has to be Lindsay Sharman's manic one-woman radiophonic workshop, using everything from hemp shopping bags to apples to create accompanying sound effects. For all that this production is set up as a radio drama, removing the visual dimension would lose a great deal of her wonderful comedy. In truth, the radio show format is very well suited to the small-scale Fringe performance style, requiring little to skilfully evoke brave new worlds.
With The Time Machine, Sharman and Owen have created a delightful, charming production, bringing a fresh new take to a much loved story. Make the time to see it!
The Time Machine is at the Voodoo Rooms until August 27 at 1.45pm.
Related Articles
Amy Hanson is an Edinburgh-based director and drama teacher. Her theatrical interests range from anything that shouts about politics to the cheesiest of musical theatre. (read more...)