EDINBURGH 2017 - BWW Review: ANY SUGGESTIONS, DOCTOR? AN IMPROVISED ADVENTURE IN SPACE AND TIME, Sweet Grassmarket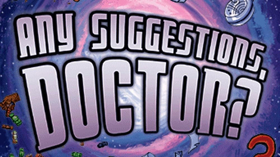 We have several months to wait to see Peter Capaldi regenerate into Jodie Whittaker, but for those needing a Fringe fix of their favourite Gallifreyan, Any Suggestions, Doctor? An Improvised Adventure in Space and Time is offering up a brand new unofficial episode almost every day of the festival.
In an excellent bit of organisation, the performers give out little cards before the show to the waiting audience to solicit potential episode titles, one of which is then chosen from a hat to be the episode of the day. In today's case, the chosen title was "Termination of the Tardis" and the suggested setting was "the sauce mines of Heinz 57". The audience get to pick their chosen Doctor from the cast members and we are promptly whisked off on an adventure through time and relative dimensions in space.
The bubbly and hugely energetic cast did an excellent job of weaving a fairly cohesive story from a rather strange setting, riffing hilariously on everything from baked beans to the weird coloured ketchups of the 90s. Adding to the experience, live music and some impressively quick lighting effects are incorporated, helping the performance feel more like the TV show. The small cast zip between different roles with the assistance of endearingly low budget props - the tiny TARDIS on a string representing the opening credits was especially enthusiastically received.
For an improvised show, it could have incorporated some more audience suggestions along the way, but there were some great comic moments and enough references to both classic and modern Doctor Who to make it clear that the cast are genuinely big fans of the Timelord with two hearts.
With plenty of laughs and a chance to see your favourite sci-fi hero take on an adventure you helped create, Any Suggestions, Doctor? is an excellent Fringe choice for Whovians young and old.
Any Suggestions, Doctor? An Improvised Adventure in Space and Time runs at Sweet Grassmarket until August 27 (not 14 or 21) at 4pm.