Bill Milner To Star With Olivier Award Winner Sheila Hancock in London Premiere of HAROLD AND MAUDE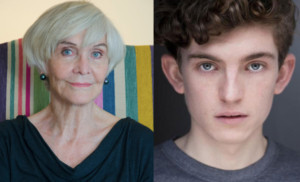 Bill Milner (Dunkirk, X-Men: First Class, Son of Rambow) is to star with the previously announced, Olivier Award-winning West End star Sheila Hancock, in the London premiere of the black comedy romantic drama Harold and Maude.
Harold and Maude by Colin Higgins reunites Sheila with director Thom Southerland after their acclaimed sold-out success with the UK premiere of the musical Grey Gardens in 2016. It will premiere at Charing Cross Theatre, Thom Southerland, Artistic Director, Steven M. Levy, Managing Director, from Monday 19 February and run for a strictly limited run of 6 weeks to Saturday 31 March.
Bill recently appeared in Christopher Nolan's acclaimed WW2 film Dunkirk and played the role of young Erik Lensherr/Magneto (Ian McKellen's character) in the superhero film X-Men: First Class. He made his acting debut in 2007 in the film Son of Rambow. He also starred alongside Michael Caine in Is Anybody There? and portrayed Ian Dury's son Baxter in the biopic Sex & Drugs & Rock & Roll. He has the title role of iBoy, a teenager who suffers severe head injuries after a previous incident, and develops cybernatural powers, alongside Game of Thrones star Maisie Williams in the Netflix oiriginal film, IBoy.
Harold and Maude is an idiosyncratic romantic fable told though the eyes of the most unlikely pairing: a compulsive, self-destructive young man and a devil-may-care, septuagenarian bohemian. Dame Marjorie "Maude" Chardin (Sheila Hancock), is a free spirit who wears her hair in braids, believes in living each day to its fullest, and "trying something new every day". Harold Parker Chasen (Bill Milner) is an 18-year-old man who is obsessed with death, attends funerals of strangers for entertainment and stages elaborate fake suicides. Through meeting Maude at a funeral, he discovers joy in living for the first time. Part dark comedy and romantic innocence, Harold and Maude dissolves the line between darkness and light along with ones that separate people by class, gender and age.
The cast also includes Anthony Cable (The Woman in White, Death Takes a Holiday, Charing Cross Theatre), Rebecca Caine (Flowers For Mrs Harris,Crucible Sheffield, Christine, The Phantom Of The Opera, Cosette in the original cast of Les Miserables), Christopher Dickins (Ragtime, Charing Cross Theatre, War Horse, National Theatre), Joanna Hickman (Off West End Award Best Supporting Actress nominee for Ragtime, Charing Cross Theatre), Samuel Townsend (84 Charing Cross Road, Cambridge Arts Theatre), Anne White (Love in the Past Participle, The Other Palace), Johnson Willis (Dido Queen of Carthage, Salome, RSC).
Creative team: Director Thom Southerland, Designer Francis O'Connor, Costume Designer Jonathan Lipman, Lighting Designer Matt Clutterham, Sound Designer Andrew Johnson, Composer Michael Bruce, Casting Stephen Crockett for David Grindrod Associates.
Sheila Hancock
Sheila's extensive career spans theatre, radio, television and film, and she is also now enjoying a career as a features presenter and as a writer including The Two of Us which won the British Book Award for Author of the Year, and her debut novel Miss Carter's War. Her recent theatre roles in London include Edith "Big Edie" Ewing Bouvier Beale in Grey Gardens, Fraulein Schneider in Cabaret (Olivier Award, Clarence Derwent Award), Mother Superior in Sister Act the Musical (Olivier
nomination); Emmie Packer in Barking in Essex and 'Mum' in The Anniversary (a role played by Bette Davis while Sheila played the daughter-in-law, in the film version); Maitre Suzanne Blum in The Last Duchess (Hampstead), and Meg in The Birthday Party (Lyric Hammersmith). She was in the original London productions of Annie and Sweeney Todd (Olivier nomination), and Rose in Gypsy at West Yorkshire Playhouse (TMA Best Actress Award). In New York, as Kath in Entertaining Mr Sloane (Tony nomination).
Thom Southerland (Director): Thom is Artistic Director at Charing Cross Theatre. His opening season of major musicals included the European première of Maury Yeston's Death Takes A Holiday, the return of his acclaimed multi award-winning Titanic and Ragtime (nominated for a record 14 Off West End awards). He is directing the first ever revival of Andrew Lloyd Webber's The Woman in White at Charing Cross Theatre in December. He was longlisted Best Newcomer in the 2011 Evening Standard Awards for Parade. He was named Best Director at the 2011 The Offies for Me And Juliet at the Finborough. He directed Allegro, Grey Gardens, Grand Hotel, Titanic, Victor/Victoria, Mack & Mabel and Parade (Southwark Playhouse); The Smallest Show on Earth (Mercury Theatre, Colchester & tour); Jerry Herman's The Grand Tour (Finborough); The Mikado (Charing Cross Theatre); Daisy Pulls It Off, Irving Berlin's Call Me Madam! (Upstairs At The Gatehouse); the European première of I Sing!, Divorce Me, Darling!, Annie Get Your Gun, The Pajama Game and sold-out all-male adaptations of Gilbert and Sullivan's HMS Pinafore and The Mikado (Union); Noël and Gertie (Cockpit); the European première of The Unsinkable Molly Brown (Landor); the European première of State Fair (Finborough & transfer to Trafalgar Studios).
Artistic Director of Charing Cross Theatre, Thom Southerland said: "I couldn't be more thrilled to be bringing Colin Higgins' masterpiece Harold and Maude to Charing Cross Theatre for its first ever London production. I am honoured and delighted to be teaming up again with Sheila Hancock on this incredible piece, which dares us to think beyond the obvious."
Harold and Maude is produced by Steven M. Levy and Vaughan Williams. Consulting producer James Cass Rogers.