BWW Review: WOMEN IN POWER, Nuffield Southampton Theatres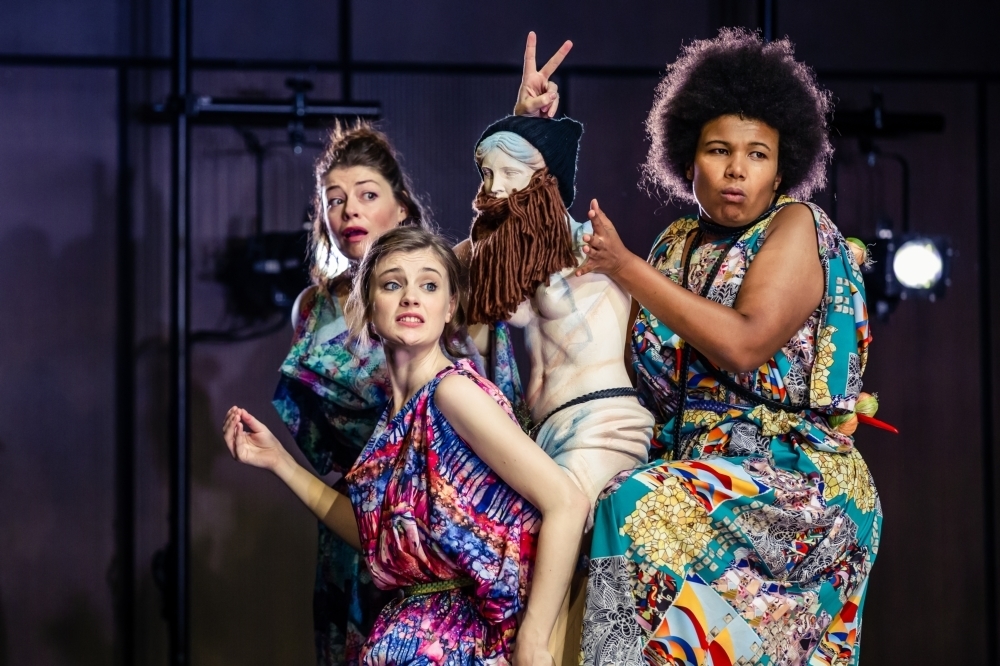 Not man

y of us would consider a play written almost 2,500 years ago to still be relevant - or even entertaining - in modern-day theatre.
But the latest musical comedy gracing the stages of Nuffield Southampton Theatres and the Oxford Playhouse proves us wrong.
Bringing some of the wittiest and most influential female minds together, Women in Power is a raucous, messy, and outrageous update of an Ancient Greek comedy, The Assemblywomen, written by Aristophanes back in 391 BC.
The original tale has aged well, complete with its intended entertaining costumes, phallic jokes, and lewd humour. Just one thing has changed: it's all about the ladies. While the original male playwright had written his piece about men, for men, this new team of seven writers are women, writing a play about women, for women.
This production is not just about performing a story about women in power and forming a government, but in itself it actively demonstrates women in creative power, finally taking the reins and in charge of the messages and audience experience.
Women in Power opens with a group of faux-bearded ladies plotting to infiltrate the Assembly and convince the men of Athens to put women in charge. They don their disguises and get their way, pledging for true equality between genders and classes; all money and possessions are public, monogamy is dead, and women are in charge of the law. What ensues, of course, is chaos.
This musical comedy is an explosion of colour, noise, slapstick, song, and dance. A multi-talented cast career from one character to another, playing disgruntled wives, usurped men, sexually liberated old ladies, and even Plato himself.
We are treated to musical numbers lamenting the loss of beloved household items, before watching a gaggle of women fight over the flesh of a young man.
Carefully choreographed dance moves pair with songs that swing from Chicago-esque climaxes to notes with a hip-hop edge. One of the Greek women breakdances, while another dons a bodysuit to complete a risqué dance with a rubber glove.
Toilet humour is taken to the extreme - to the combined shock, horror and delight of the audience. If there was a 'Marmite' element to this play at all, it would be at this point, which may not be to everyone's taste. Be prepared for the lewd and crude.
The concept is a clever one. What was obviously a laughable idea in Ancient Greece - women taking charge in the world of politics is obviously purely comedic - is perhaps a modern-day reality, but this production tackles issues that still plague us today: sexism, ageism, and the distribution of wealth.
Directed by NST's award-winning Associate Director Blanche McIntyre, this is a celebration of female talent from all sides, with a team of talented writers from the worlds of broadcasting, comedy, politics and poetry weaving their magic to create this raucous reimagining of a female-led government.
This creative assembly of women includes the household names of Wendy Cope, Jenny Eclair, Suhayla El-Bushra, Natalie Haynes, Shappi Khorsandi, Jess Phillips MP and Brona C Titley. Combining their talents and experience, they have created something unique and exciting that truly feels like the culmination of brilliant minds and a near-the-knuckle sense of humour.
The cast put their all into their performance and clearly have the time of their lives along the way. Lydia Rose Bewley - a familiar face from The Inbetweeners Movie and Drifters - steals the show as the sassy and passionate ringleader.
Alongside her are the equally talented Anne Odeke, Alicia McKenzie, Elizabeth Boag, Anna Fordham, and Lisa Kerr, who all combine skilled acting with comic timing and impressive stage presence.
The cast is blessed with an intricate set which fuses traditional Athenian columns and statues with the more modern: a backdrop reflecting the play's ability to combine old and new, ready for the chaos and confusion that unfolds. Jasmin Swan, the designer, has captured the attitude of the performance perfectly in the set and costumes.
Women in Power is a feisty start to Nuffield Southampton Theatres' Bungalow Cafe Festival, which commemorates and celebrates the centenary of some women winning the right to vote.
This is a play that pushes boundaries, resurrects the joy of puerile humour, and asks us to question our own assumptions. It fuses Ancient Greek comedy with the slapstick humour of Blackadder and the crassness of The Inbetweeners, commenting on politics, sexism, equality and philosophy along the way.
It celebrates feminism, classical literature, and sex, but does not in any way take itself too seriously. How can it, when characters have names like Cystitis, and oversized phallic props steal the show?
Women in Power at Nuffield Southampton Theatres until 29 September, and the Oxford Playhouse from 3 to 6 October
Photo credit: The Other Richard

Related Articles View More UK / West End

Stories

Shows