Jo Fisher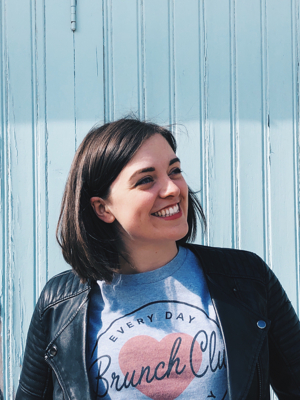 Jo Fisher is a writer and editor based in Southampton, UK. She has been reviewing theatre for three years.
Jo has a first-class bachelor's degree in English and a master's degree in English Literary Studies (distinction) from the University of Southampton, where she was involved in student journalism. She is now a Corporate Writer and Editor at the University, having worked in the Communications and Marketing team for six years. 
Alongside her career and her work as a theatre reviewer, Jo enjoys writing, sharing and performing poetry; one of her highlights from the past year is competing at the 2019 Hammer & Tongue National Poetry Slam Finals at the Royal Albert Hall. She also loves reading and working on her blog, and has taken a number of online and evening writing courses. She has run local theatre review and poetry writing workshops, and regularly attends community writing groups to stay motivated and inspired.
MOST POPULAR ARTICLES
LAST 30 DAYS
LAST 365 DAYS
BWW Review: THE NOISE WE MAKE, NST Young Company

August 28, 2020

Nuffield Southampton Theatres (NST) was one of the first UK theatres to suffer at the hands of coronavirus. After its fall into administration in May, and subsequent closure two months later, youa??d be forgiven for thinking that its days of influence and inspiration were over.
---
BWW Review: WORK_FROM_HOME, New Diorama Theatre online

June 27, 2020

work_from_home is New Diorama Theatre's online theatrical experience. This production is a digital adaptation of Nathan Ellis's work.txt which should have been performed at the 'missing' 2020 Incoming Festival, and was nominated for an Innovation Award at VAULT Festival 2020.
---
We Can't Lose Nuffield Southampton Theatres - It's The Beating Heart of Our City

May 9, 2020

My relationship with Nuffield Southampton Theatres technically started at the end of my final year of university, in a completely untheatrical way, when I trod the boards during my graduation ceremony. I was soon back as a Master's student, however; I bagged a few tickets to see Headlong's 2012 adaptation of Romeo and Juliet as payment for flyering across the University of Southampton's campuses. 
---
BWW Review: MADAM BUTTERFLY, Nuffield Southampton Theatres

March 12, 2020

Sweatpants and slippers aren't the costumes you'd expect to see in an opera. Can a modern version of a classic hit the high notes?
---
BWW Review: A MONSTER CALLS, Chichester Festival Theatre

February 16, 2020

Produced by The Old Vic, in association with Bristol Old Vic, Oliver award-winning A Monster Calls is making its way around the UK on tour, and has just closed its appearance at Chichester Festival Theatre.
---
BWW Review: WHAT'S IN A NAME?, Nuffield Southampton Theatres

November 20, 2019

We all know that you should never judge a book by its cover a?' but should you ever judge a person by their name? This is the question posed to us in What's In A Name?, which has landed at Nuffield Southampton Theatres at the end of its first-ever UK tour.
---
BWW Review: FRIENDSICAL, Nuffield Southampton Theatres

October 22, 2019

This year, the ever-popular sitcom Friends turns 25 years old; and what better way to celebrate than by seeing it memorialised on stage in musical form?
---
BWW Review: FLEDGLINGS, Nuffield Southampton Theatres

October 18, 2019

Change can be tricky - not least when you're a teenage girl going through puberty, loss, and friendship trouble. Written by Tamsin Daisy Rees, directed by Emily Collins, and produced by Holly Mitchell, Fledglings is a touching tale of birds, best friendships and blossoming young women.
---
BWW Review: SH*T-FACED SHAKESPEARE: A MIDSUMMER NIGHT'S DREAM, Nuffield Southampton Theatres

October 14, 2019

William Shakespeare's A Midsummer Night's Dream doesn't really need an introduction. It's a magical, mystical, mirthful favourite.
---
BWW Review: ONE MAN, TWO GUVNORS, Nuffield Southampton Theatres

October 2, 2019

If any show proves that physical comedy is timeless, it's One Man, Two Guvnors, which brings a subversive 18th-century Italian comedy onto the 21st-century stage, and then promptly pushes it down the stairs to uproarious laughter.
---
BWW Review: AMELIE THE MUSICAL, Nuffield Southampton Theatres

October 1, 2019

Almost twenty years after she charmed hearts on the big screen, Amélie is taking to the stage in a bid to change lives and spread joy in the smallest of ways, with the biggest of hearts.
---
BWW Review: ANDY PARSONS: HEALING THE NATION, Nuffield Southampton Theatres

September 29, 2019

At a time of confusion, uncertainty and political chaos, never has there been more to talk about; and never has our country needed more reason for light relief and laughter. Fresh in its first week, Andy Parsons brings his Healing the Nation tour to Nuffield Southampton Theatres.
---
BWW Review: THE WOMAN IN BLACK, Nuffield Southampton Theatres

September 25, 2019

There are possibly no four words more chilling to the avid theatre-goer than The Woman in Black. Having taken the West End by storm, Stephen Mallatratt's adaptation of Susan Hill's classic ghost story is now haunting theatres around the UK on its tour, after celebrating its thirtieth birthday this year.
---
BWW Review: TWO TRAINS RUNNING, Nuffield Southampton Theatres

September 19, 2019

It's Pittsburg, 1969, and the city's Hill District is far from the vibrant, bustling, jazz-soaked African-American neighbourhood it was in its prime. August Wilson's Two Trains Running brings a shabby diner in this threatened community to life, offering a window onto the lives of seven irregular regular customers and, ultimately, the state of America in the sixties.
---
BWW Review: A THOUSAND SPLENDID SUNS, Nuffield Southampton Theatres

June 27, 2019

More than a decade after Khaled Hosseini's best-selling novel was published, the same much-adored story has taken to the stage.
---
BWW Review: THE AUDIENCE, Nuffield Southampton Theatres

May 30, 2019

As the United Kingdom waits to see who will be the next prime minister, a production focusing on the relationship between PM and the Queen could not be more perfectly timed.
---
BWW Review: DEAD DOG IN A SUITCASE (AND OTHER LOVE SONGS), Nuffield Southampton Theatres

May 2, 2019

Opera isn't dead. In fact, it's alive and kicking off thanks to Kneehigh's reimagining of John Gay's The Beggars Opera, which takes on the new and riotous form of Dead Dog in a Suitcase (and other love songs).
---
BWW Review: PRINCESS AND THE HUSTLER, Nuffield Southampton Theatres
March 20, 2019
---
BWW Review: ABIGAIL'S PARTY, Nuffield Southampton Theatres

February 12, 2019

Mike Leigh's iconic class comedy, Abigail's Party, has arrived at Nuffield Southampton Theatres on its UK tour.
---
BWW Review: THE SHADOW FACTORY, Nuffield Southampton Theatres

February 2, 2019

Nuffield Southampton Theatres celebrates the first birthday of its modern city-centre venue with the return of The Shadow Factory; the first show performed at NST City which proved to be a sell-out in 2018.
---