BWW Review: THE YORK REALIST, Donmar Warehouse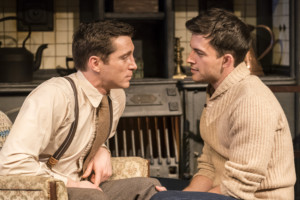 In the Donmar Warehouse's last season, Knives in Hens split opinion in a highly stylised and surreal production. As the title may suggest, Peter Gill's 2001 play The York Realist could not be further from this. Grounded in naturalism both in script and vision, Robert Hastie's production of The York Realist finds an ideal leading man in the remarkable Ben Batt.
Set in 1960's Yorkshire, the action takes place in the family home of farmer George and his aging Mother. Here a warm cup of tea is never far away, even for unexpected arrivals such as John. An Assistant Director from London working on the York Mystery Plays, John arrives determined to convince George to return to rehearsals. Immediately charmed by the place and even more so by its people (or rather one person), this marks John's first of many visits.
But when their play ends, both wonder what will happen next. Even though they already know. A tender love story and study into one man's relationships to the changing world and people around him, you will leave The York Realist wondering (but likewise unfortunately knowing) what will happen after this play ends too.
Peter McKintosh's set feels homely enough that everything has its place. As John's visits become more frequent, he even knows where Mother's hot-water bottle lives. Only two things seem out of place here. Hills and dales are projected against the large back wall, accompanied by light piano music which plays between scenes. The effect feels overdramatic, out of keeping with the realism of Hastie's vision. Less earnest and more Emmerdale.
On seeing George's turn in the York Mystery Cycle, one character remarks how it's "all very Yorkshire". This also seems a suitable description of The York Realist itself, and it's hardly surprising then that good hearted humour abounds in Gill's script. Batt imbues George with a wryness, from his disdain for custard to his discovery of red wine on a trip to London with John. Brian Fletcher also gets some of the biggest laughs, making an impressive professional theatre debut as the quick (or rather slow) of wit Jack.
As time moves on, no-one bats an eyelid as George and John's visits continue; Mother no longer even offers to make up a place for John to sleep. Her unknowing (or perhaps knowing) hints of their relationship garner laughs, though Lesley Nicol does not seem wholly confident in the role. "Someone's missing a good husband", she remarks about their neighbour Doreen, while the audience exchange a knowing look with George at this double entendre.
It's here that Hastie's direction works so brilliantly with Gill's script: balancing what is said and what is not. Moments like this are played for laughs, a short silence following. Elsewhere though, silence shows intimacy. Something as simple as taking the time to show characters making a cup of tea or picking out clothes shows how comfortable George and John are with each other from the off.
But as their relationship develops, silences linger and there's an uncomfortableness. Encouraging George to move to London after the show ends, John is left with a curt response. "This is where I live. Here." speaks volumes; John fills in the gaps, over-analysing and surmising just why. Idealism meets realism, country meets town, and class meets class, as Gill's writing still acutely examines public affairs in this private affair.
At 1 hour 45 minutes, the audience gets just a brief glimpse into this world. Rarely in this short an amount of time though have I experienced such a strong connection to a piece. This is again due in part to Gill's well-crafted script, an unconventional narrative taking place across time, tracing the lows, to highs and then lows again of one character. It is also due to the sublime creation of said character, by Batt.
Self-assured, George carries himself with a quiet confidence. While others find him hard and cold, you can't help but warm to Batt, his moments of vulnerability so honest. Jonathan Bailey is likewise magnetic as John, though for other reasons. Bright eyed Bailey is a shining light and burst of energy, contrasting to the somber George. Sparks fly in their contradictions and connections, with an undeniable chemistry between the two.
In Gill's tender story triumphantly staged by Hastie, Batt delivers a surely Olivier worthy performance. Realistically, tickets to The York Realist will sell out soon.
The York Realist at Donmar Warehouse until 24 March, then at Sheffield Crucible 27 March - 7 April
Photo credit: Johann Persson

Related Articles View More UK / West End

Stories

Shows