BWW Review: THE UNGRATEFUL BIPED, White Bear Theatre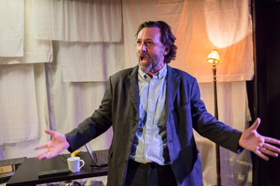 A man talks, no, rants to himself, no, to the world via the internet, of his miserable life, a life dedicated to the pursuit of that misery via an unhealthy sprinkling of debauchery and dismay. If his self-esteem were to sink any lower, it would burrow through his basement flat and reach the actual sewers rather than the metaphorical ones in which he swims daily.
And then, just when you're thinking that there's plenty enough misery-porn in the world already, the balance between the darkness and the comedy tilts and the laughs start to come, initially a little guiltily for sure, but then the absurdities of the world take a grip on the narrative and we can laugh along with our man's misanthropy because, well, he's got a point you know.
Philip Goodhew, who performs his own script, adapted The Ungrateful Biped from Fyodor Dostoyevsky's Notes From Underground, but he's given it a modern and metropolitan makeover. He rails against boneheaded bankers (soft and predictable targets for sure, but on a day the stock market crashed again, who's complaining) and gives us a glimpse of life in the underbelly of London's shiny 21st century world city. The unnamed man may hate himself and all things flesh and blood, but his love of language keeps breaking through, at times with almost Shakespearean control and subtlety.
The show works best in the touching story of his encounter with a teenage prostitute, with points made about modern slavery and how even a heart carapaced by years of internalised hatred can be opened up by the simplicity of unaffected human interaction. There's just a hint that we might topple over into sentimentality, but Goodhew is too fine an actor to fall for that one and the diamond-hard edge of the text is maintained.
As a comedy of darkest hue, this one-man play works well... except for one element that chips away at the back of one's mind. Despite all his protestations of the depths of his depravity, I'm not sure we ever believe that our man is a Savile, a Worboys, nor even a Weinstein. We know what really monstrous men did, we know their faces, we saw them hiding in plain sight. Drama should heighten (or, in this case, lower) our sense of reality - but in this area, maybe temporarily, it's impossible to do so. Alas, the saddest of truths is that we all know too much already.
The Ungrateful Biped continues at The White Bear Theatre until 17 February.
Related Articles View More UK / West End

Stories

Shows