BWW Review: THE THREE MUSKETEERS, St Paul's Church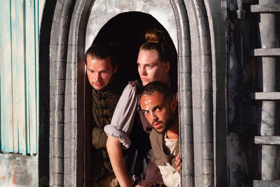 It is 1626 and a young d'Artagnan heads for Paris, determined to join the King's Musketeers. After befriending legendary Musketeers Athos, Aramis and Porthos, the four friends quickly must defeat a plot that threatens to ruin the honour of the Queen and the stability of the entire French state. Set in atmospheric St Paul's Church in Covent Garden, a new swashbuckling version of Alexander Dumas' classic tale The Three Musketeers is a captivating joy to watch.
In a story that is dominated by men, writer Daniel Winter has adapted the tale to reveal women that are multi-layered and intriguing, while still retaining the essence of the original story. The twist of the production is the decision to have d'Artagnan cast as a woman and this also adds another layer of interest. Jenny Horthuis is a convincing and upstanding d'Artagnan who is a female rebelling against social norms to live a life as a Musketeer, barred to her as a woman.
Ailsa Joy is excellent as the evil Milady de Winter. She acts as the story's narrator and reveals her motivations as a rebellion against the patriarchy of society, rather than just because she is inherently bad. Joy is cold, ruthless and clever, with a striking physicality and confidence in the role.
The rest of the hard-working cast prove themselves to be incredibly adaptable, each playing a variety of parts. Bethan Rose Young has a more one-dimensional character written for her as Queen of France and is a little underused as Constance, but finds a highly amusing niche as a variety of exasperated landladies where d'Artagnan and his manservant Planchet journey to various alehouses to find the scattered Musketeers.
Matt Stubbs is both a tortured, proud Athos and a scheming Cardinal Richelieu. Eliot Liburd is a loud and swaggering Porthos, but excels as a petulant, foot-stamping King of France, who is given a larger role than in the original book.
Albert De Jongh, who plays a simpering Aramis, broke his ankle during rehearsals and many scenes have been rewritten and restaged to accommodate his injury. He manages his boot and crutch with aplomb and even has references to his cast written into the script. He also adapts well to a camp and vain Lord Buckingham.
In many ways, the night belongs to Stephan Boyce, who plays four characters, including a statesmanlike Treville and a hilarious version of Planchet. He is endlessly adaptable and able to interact with the audience in a manner than is natural enough to put everyone at ease.
Director Paul-Ryan Carberry make the most of the impressive setting. The audience follows the cast to various sets around the gardens and inside the church to witness the production unfold. In the main, this works very well, but occasionally in the first half, feels too frequent and breaks the flow.
The setting is highly atmospheric and Adam Welsh's sound design is reflective of this, especially for the final scenes at the convent, performed inside the church with haunting choral music and eerie shadows. It is here that Fight Director Roger Bartlett's excellent sword fighting comes to a climax; a battle between Milady and all The Musketeers is impressively and realistically performed.
This is brilliantly inventive and immersive production that will delight both children and adults this summer.
The Three Musketeers is at St Paul's Church until 1 September
Photo Credit: Paul Rutter