BWW Review: THE MELTING POT, Finborough Theatre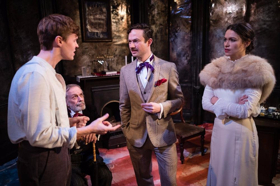 It is chilling to think that The Melting Pot, a play that revolves around anti-Semitism in America and Europe, was first performed in 1908, decades before the atrocity of the Holocaust. The Finborough Theatre production marks the first time in almost 80 years that it has been staged in the UK, with its last production being in 1938 just before World War II.
While this production has some flaws, it is incredibly timely in a post-Brexit world, with American President Donald Trump stirring up xenophobia and normalising prejudice. Baron Revendal's comment, "You Americans are more sentimental than civilised", feels apt.
It tells the tale of David Quixano, a Russian immigrant composer in New York City, who falls in love with a Russian Christian named Vera. David, while haunted by his memories of his family's death in a pogrom, is dedicated to the ideal of the crucible, or "melting pot", of America. He struggles to reconcile his American patriotism with his uncle and grandmother's love for their Jewish faith and heritage.
The play was written by the British son of Russian immigrants, Israel Zangwill. It popularised the term "melting pot" as a way of describing the way that America had come to be a combination of many races, faiths and ethnicities.
Steffan Cennydd gives a dramatic and earnest performance as David Quixano. He brings raw emotion to the scenes in which David has episodes of seeing his family killed in the pogroms, and a charming naivete to the parts in which he speaks about his American ideals.
Another standout performance comes from Alexander Gatehouse as Quincy Davenport, a member of the American idle rich, flippantly spending his father's oil money on cultural ventures. His bravado and stage presence perfectly depict a "playboy millionaire", also in love with Vera and providing a striking contrast to David's humble and honest affection.
Peter Marinker doubles as both Mendel Quixano, David's uncle, and Baron Revendal, Vera's aristocratic Russian father. He's considerably better in the role of the dastardly baron, which he delivers well. Ann Queensberry is impressive in the small role of Frau Quixano, mostly because all her lines are in Yiddish.
Hayward B Morse as Herr Pappelmeister, the German conductor, seems to be the crowd favourite as he managed to draw many laughs from the audience. His execution of Pappelmeister's German accent and lines in German are remarkable.
Max Elton's production makes good use of the cosy Finborough Theatre, with Allegra Fitzherbert's purposely shabby living room set adding to the intimate atmosphere.
The music, composed by Piers Sherwood Roberts, is very lovely, especially when a bit of David's "American Symphony" is played. However, it felt like the show could have benefited from a bit more music.
There are some shaky moments, including some fumbling of lines and language that feels outdated. Having Peter Marinker introduce each scene change feels a bit awkward and some of the costumes don't look appropriately period, especially in comparison to the others.
These issues aside, The Melting Pot is a good production of a great play with a few standout performances. It is frightening to realise that a play written about anti-Semitism before the Holocaust ever occurred feels timely today. It certainly gives its audience much to think about over this festive season.
The Melting Pot is at Finborough Theatre until 19 December.
Photo Credit: Christopher Tribble
Featured BroadwayWorld Events
Check out these concerts...