BWW Review: THE JUNGLE, Young Vic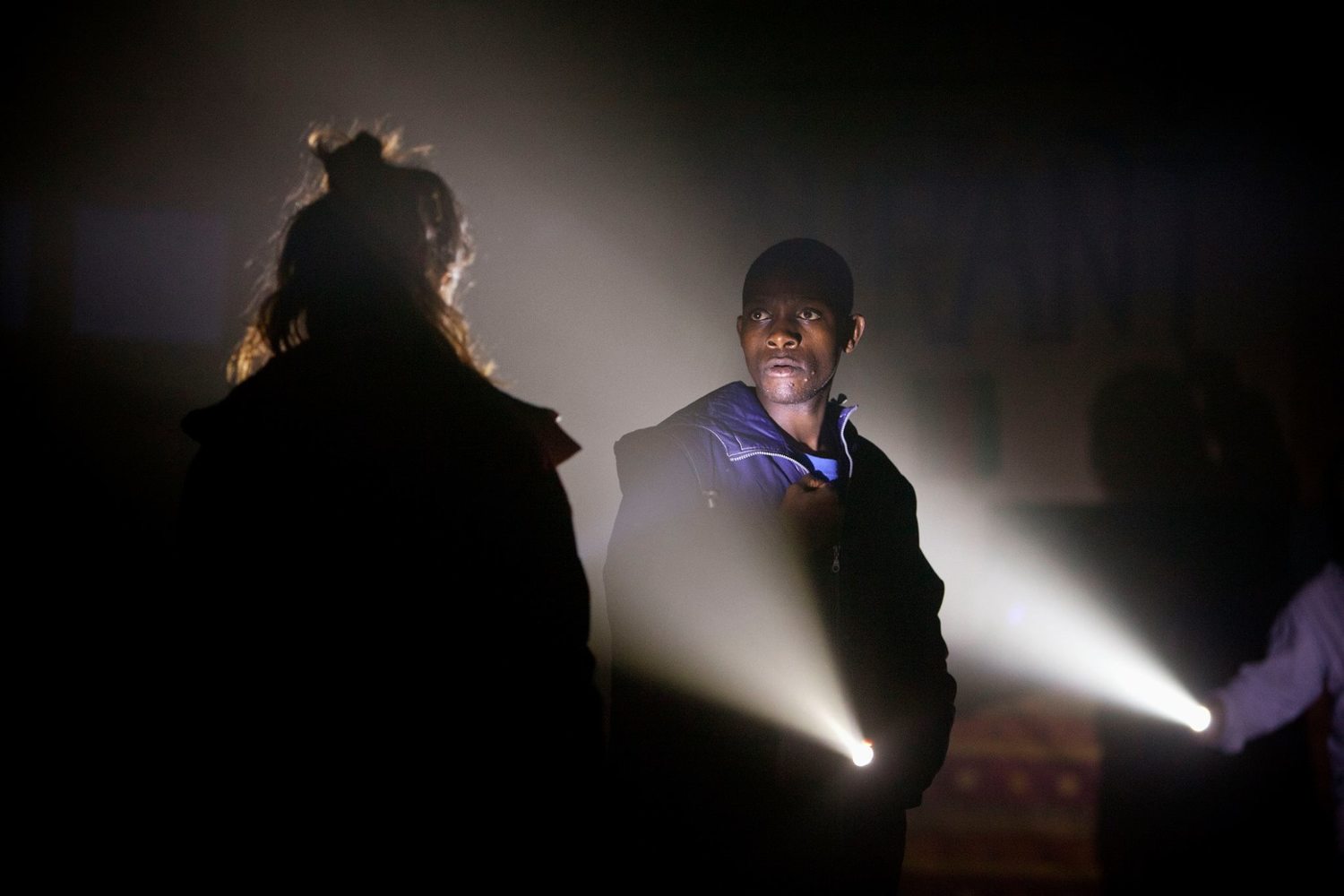 "When does a place become a place?"
"When does a place become home?"
The Jungle is the debut play from Joe Murphy and Joe Robertson, founders of humanitarian theatre company Good Chance. Alongside a team of volunteers, they built their first theatre in the refugee and migrant camp in Calais, in 2015. They conceived it as a place for people to enter and express themselves; "to escape or confront the situations they were in."
Upon arriving at The Young Vic you are presented with your ticket, each of which has a country's name printed on it, (mine was Afghanistan). As well as the country corresponding to the correct entrance point and seat allocation, it also represents the vast cultures and communities that made The Jungle their home.
Miriam Buether has designed a visual masterpiece, turning The Young Vic's main house into an Afghan Café. Bright colours protrude from each corner, and there is a distinct smell of various spices and food cooking. The audience are sat in either a cafeteria-like configuration, or around the sides on cushions. It feels comfortable, yet claustrophobic, homely, and yet unpleasant.
Welcome to the Jungle. It's unlike anything you have ever seen, and so much more than the decrepit structure the media portrayed it to be. It's a thriving, vibrant mini-town playing host to many diverse residents. And it's these people that built this infrastructure; through their hard work and will to survive they created a setting of hope.
In the Afghan Café the different country's representative's debate, fight, celebrate and connect. Formerly oppositions, they now must work together to create a comfortable environment for everyone.
We meet Salar, the owner of the café (which has a five star following on Trip Advisor). There's also Safi, the welcoming Syrian host, acting as a narrator for part of the play. Norullah is a teenager desperate to learn English, and Helene fights for the protection of all of the female refugees. Added to this mix are five eager-to-please, useless British volunteers that perhaps are doing more harm than good.
The residents' unifying quality is that they're all either running to, or from something. The more people that arrive, the more opportunities that are presented, but also, there is then scope for more potential problems to arise.
Stephen Daldry and Justin Martin's direction has enabled action to occur in multiple places without it ever becoming overwhelming. The chorus have a charge to their performance; they move with pace, clear thought and work together to turn The Young Vic into a coalescing, chaotic cacophony of culture.
It's not a perfect play; the ending feels too sudden and there are moments where you tune out, however by placing humanness at its core, it shows the distressful and harrowing struggle of fleeing a country in search of a better life. It speaks of compassion, understanding and empathy, and proves how far having a little faith can take you.
The production is not an easy one to watch. It's uncomfortable and unnerving. But it is a statement: one that says that art can (and will), change the world.
The Jungle at The Young Vic until 9 January
Photo Credit: David Sandison
Related Articles View More UK / West End

Stories

Shows