Review: STRAIGHT WHITE MEN, Southwark Playhouse
Young Jean Lee's provocative Broadway hit runs until the 4 December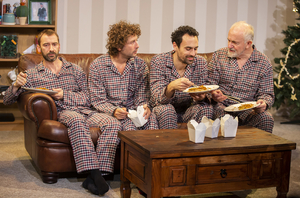 What happens when Christmas Day becomes a playing ground to expose relationships between privilege and identity? Written by Young Jean Lee, Straight White Men is an ambitious study of those who gain the most from the world and their awareness of the power they possess.
From the outset, the sleepy Midwestern family home is doused in rainbow light, with heavy dance music vibrating through the speakers. Kim Tatum and Kamari Roméo both take on the role of Person in Charge, commanding the action on stage with theatrical flair. After introducing themselves with their pronouns and ethnic heritage, the space becomes a place of safety for the audience to critique the unfolding suburban drama.
Simon Rouse is patient and attentive Ed, a father hosting his three sons for the holidays. Ed's sons have all grown up with a college education and each embody a different stereotype of traditional masculinity. Their return home leads them to rediscover their late mother's attempts to remind of their advantages through a revamped version of Monopoly, aptly named "Privilege".
The family dynamic feels earnest as each character slips in and out of youthful hedonism, until the fun is disrupted by Matt's disinterest in staking his claim in the world. Matt (Charlie Condou) is solemnly dedicated to resisting the red-blooded call to action from his family.
Cary Crankson as Drew evokes sympathy as the youngest sibling, insistent on crafting Matt's redemption through therapy and communication. His light humour picks up the pace between sibling tensions. Jake (Alex Mugnaioni) feels most in control due to his powerful physicality and volatile reactions; when he speaks, you have no choice but to listen. Yet he is the embodiment of ignorance, desperate to place Matt into a saviour role as an excuse for his own misgivings.
The lighting and sound (Rajiv Pattani and Mwen) are slick and modern, breathing life into the cabaret front and homely interior of Suzu Sakai's set design. The flashing sign that displays the show's title is bold and suggestive - there is no mistaking that the presence of straight white men is unavoidably felt.
The script has been carefully crafted to dissect white privilege, but it seems an opportunity is missed here by not having the Persons in Charge take control and comment more frequently. The naturalistic approach to direction and movement (Steven Kunis and Christina Fulcher respectively) is truthful enough, but there is a lack of provocation to prevent the audience from slipping into complacency.
An air of anticipation proceeds throughout, with lines being tripped at various moments by all. Ironically, the disruption is a reminder of the script's exploration and criticism of straight white men's freedom. Each of the men on stage get to move through life imperfectly and still reach a comfortable conclusion.
The 2018 debut of Straight White Men made Young Jean Lee the first Asian-American woman to have a play produced on Broadway. This piece is screaming to be toyed with and the Persons in Charge are the perfect catalyst for an audience to form a critical analysis. Yet this London production slips easily into domestic drama and hovers on the edge of unlocking the full potential of Lee's writing.
Matt's lack of drive is frustrating enough to leave you questioning how we begin to confront systemic oppression if those with the greatest social power choose to be passive. How much can be achieved by talking in circles?
Straight White Men at Southwark Playhouse until 4 December
Photo credit: Anna Arthur PR
| | |
| --- | --- |
| Vote Now for the 2022 BroadwayWorld UK / West End Awards | |
| voting ends in | |
Review: JACK AND THE BEANSTALK, Lyric Hammersmith

November 28, 2022

With winter nights growing ever darker and Christmas just around the corner, now is the perfect time to treat yourself to everyone's favourite festive entertainment. Who doesn't love a pantomime? This year, the Lyric Hammersmith's offering is a re-imagining of Jack and the Beanstalk. Nostalgia is thrust into the present with a soundtrack packed full of Beyonce, Billie Eilish and many more.
---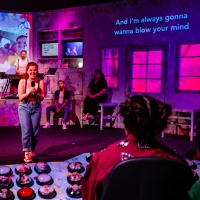 Review: PERFECT SHOW FOR RACHEL, Barbican Theatre

November 21, 2022

This is a theatrical experience unlike any other, crafted with accessibility at the helm. The framework of each unique production is built around empowering disabled people's autonomy; Rachel has every freedom available to her as both cast and audience await her next creative decision.
---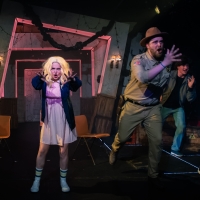 Review: STRANGER SINGS!, The Vaults

October 24, 2022

Nestled deep underneath the Waterloo railway, get ready to be reintroduced to all your favourites, who will have you laughing your way through the chaotic events of season one (yes, that includes a dancing Demogorgon.) Even if you're not a fan of the original, there are enough quirky pop culture references and nostalgic 80's synth for you settle in and enjoy the on-stage absurdity.
---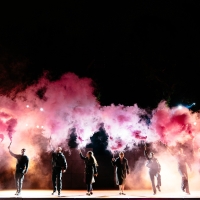 Review: ANTIGONE, Regent's Park Open Air Theatre

September 10, 2022

Nigerian born writer, Inua Ellams, originally turned down working on Antigone due to feeling "no distant kinship with the protagonist." Five years of work later, how could Ellams have predicted that his modern adaptation would feel so responsive to the current socio-political climate.
---
Review: I, JOAN at Shakespeare's Globe

September 2, 2022

Joan of Arc has long been a symbol of female empowerment. Her ascent to patron saint of France is often described as a tale of gender non-conforming rebellion for women to aspire to. Shakespeare's Globe and writer Charlie Josephine (they/he) have dismantled this depiction of womanhood, redefining Joan's experiences through the lens of trans existence. In I, Joan, the protagonist traverses the same war and faith we as an audience are accustomed to, whilst also advocating for and navigating their nonbinary identity.
---