BWW Review: SOUL HOLIDAY, Charing Cross Theatre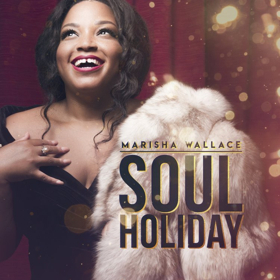 Marisha Wallace delivered a concert just like her new album, Soul Holiday: honest, jazzy, and vocally stunning. Early in the night, she confided to the crowd, "I'm obsessed with Christmas", and it certainly shows. Singing a combination of songs from the album and extra Christmas carols, along with a few musical theatre ballads, she had the audience completely enthralled within just a few numbers.
Wallace did two back-to-back concerts at the intimate Charing Cross Theatre, based around her first album, which was released last week. The style of the Christmas songs ranged from soul to jazz to proper Southern Gospel. But her interludes between songs were almost as good as the singing itself; if she ever wants a different career, Wallace could be a motivational speaker.
The atmosphere of the concert was rather fun. The audience was very reactive to Wallace, clapping and singing along and doing whatever else she asked them to do. She obviously knows how to work a crowd and her good mood was infectious.
Highlights of the night included a very upbeat "Joyful, Joyful" from Sister Act II, a dance-filled "The Little Drummer Boy," and a country music-inspired "Blue Christmas". Her "I'll Be Home for Christmas" was very poignant after a discussion of how much she's missing her family back in the States this holiday season.
Her heart-wrenching performance of "I'm Here" from The Colour Purple earned a much-deserved standing ovation from the crowd. If London ever gets a full-scale production, they know where to look for their Celie.
Her encore, "White Christmas", had the audience dancing and clapping along. One of the most memorable moments of the show was when she yelled, "Have an all-inclusive Christmas!".
Tyrone Huntley was a special guest at both concerts, and their duet of "This Christmas" showed off both their voices beautifully. Rachel Tucker was also a guest at the 5pm concert.
In between songs, Wallace talked very openly about personal topics, from the cyst she had on her vocal chords to her grandmother, who inspired her love of singing, her struggle with cancer and her catchphrase, "Look at God!". Wallace discussed religion frequently, but in an inclusive way and urged everyone to believe in themselves, for good things will follow.
The theatre itself was lovely, with a decorated Christmas tree at the back of the set. Wallace wore two gorgeous gowns and was accompanied by four brilliant musicians and three back-up dancers. The concert was also beautifully lit in a way that added to the atmosphere.
Wallace is a diva in the best sense of the word. This concert proved that she is equally as good at playing herself on stage as she is as a character actress and that her charisma is only matched by her impressive vocals.
At one point, Wallace told the audience, "This gift that I have, I have to keep sharing it with you." If the tremendous success of her first year here in London is anything to go by, she will be sharing her talents with an adoring audience for many years to come.
Dreamgirls is currently booking at the Savoy Theatre until June 2018.
Soul Holiday is available for purchase on iTunes.
Read our interview with Marisha Wallace about Soul Holiday and playing Effie in Dreamgirls