BWW Interview: Marisha Wallace Talks New Christmas Album and Solo Concerts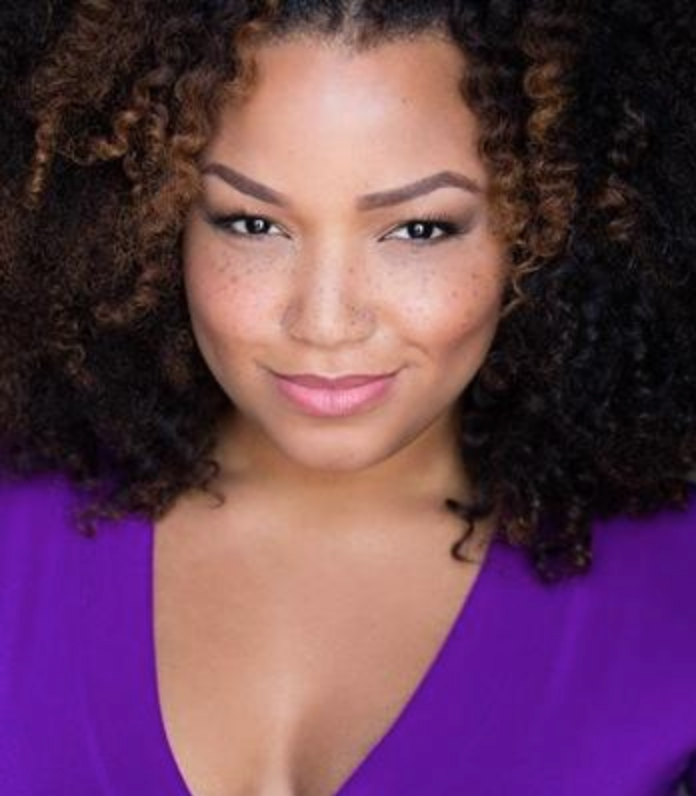 Marisha Wallace is taking over the role of Effie White, alongside Moya Angela and Karen May, in the West End Dreamgirls from 20 November, after being one of the Effie alternates. She's also performing two London concerts at Charing Cross Theatre on 3 December to celebrate the release of her debut album, Soul Holiday.
When did you first discover a love of theatre?
I didn't really discover theatre until high school. I grew up singing Gospel music in choirs with my mom and my dad. Everybody in my family is musical, so that's where I got the love for music.
In high school, I had this amazing teacher who said, "I think you might be better at this than just the average person". She took me to see Aida in Raleigh [North Carolina in the United States] on tour and it changed my entire world. I was like, "This is what you can do?".
She was so instrumental: she took me to my college auditions, she prepared me for those auditions, she drove me there herself. I went to this school and I didn't get in because I was going for opera, for vocal performance. It was crazy because I found out I had a cyst on my vocal chords and I had to go get surgery. I ended up falling into a musical theatre major because I could wait a year and recover. And from there, the rest is history.
What was your experience like studying musical theatre?
I went to East Carolina University for musical theatre. The program was sort of a diamond in the rough. It was kind of new, maybe only a couple of years old. It always was known for a good acting program and that combined with an amazing new voice teacher they had gotten that year and then Michael Tahaney, the MT teacher, was just great. It was small because it was only 15 people per year in the program, so it was very exclusive. The training was amazing. What I use now, I still use from college, which is crazy.
You've done work both on Broadway and in the West End. Are there a lot of differences between the two?
The difference I think is that if you're in the West End for the type of music that I sing - Gospel music, R&B, that type of musical theatre - they don't really have it, so they're just blown away. They're like, "What am I feeling? What's happening?".
So how people were about The Colour Purple in New York is how people are about Dreamgirls here. Because people hadn't heard singing like this on Broadway in that capacity. London is supposed to have reserved audiences, you know, but they're going crazy. It's kind of a phenomenon. The fact that we're still getting standing ovations a year later is crazy.
I also feel like in the West End, they take a little more risk because they can. The shows that I've seen here, they're very risky and I like that. They're making art; they're not as worried about the commercial success of it, which is cool.
I love Broadway too. Broadway's different because the calibre of the talent is so crazy high. It's definitely more competitive than the West End. You've got the best of the best of a whole country versus the UK, which is so small.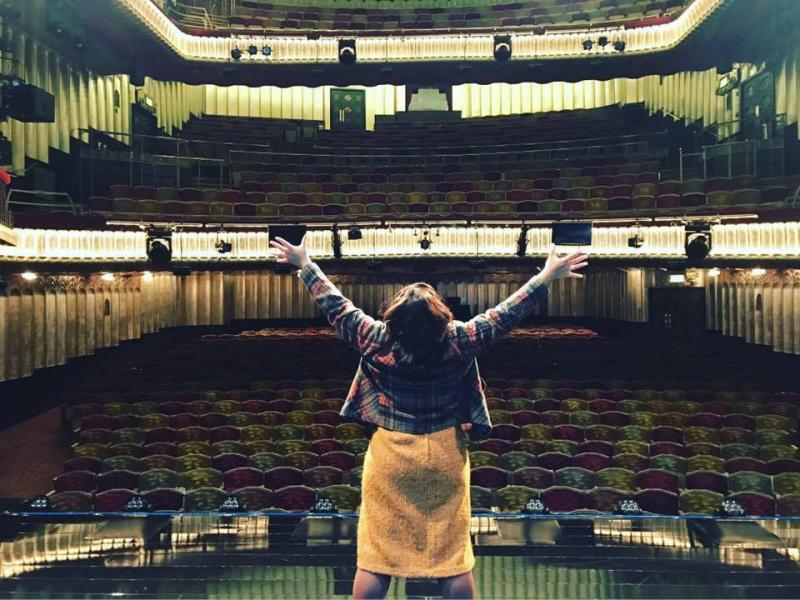 You went from playing Eggie White in Something Rotten! to Effie White in Dreamgirls. How did that feel?
I always knew it was going to happen. Because I played Effie when I was 21 [at the Dallas Theatre Center] and then I was up for the last tour actually, the Apollo Theatre tour years ago. I was up to be the standby and I didn't get it.
But I was like "You know what? It's always going to happen." This role has followed me around my whole life. I would win competitions with it, singing the songs.
I remember one day Casey [Nicholaw] and I were doing Something Rotten! and we were in tech. And every time we would stop, I would sing Dreamgirls for him just to entertain everybody. I was just joking, but then I told him he should do Dreamgirls and he was like, "I could never do it as good as the original, I'd never do it". Literally a month later, he said, "I'm doing Dreamgirls!" And I was like, "How dare you??".
Then we wrote that part into the show, Eggie White, literally three days before we opened. Because Casey was like, "This part of the show needs something else, something to take the omelette number over the top" and then he was like, "I got it; you're going to sing 'I'm Telling You' inside of an egg." I was like, "You're kidding". Then the MD gives me the new sheet music, and it says, "And I am telling you, I'm not going to be an omelette". And that's how it was born.
From there, it's been crazy because I wasn't even supposed to be here in London and they had two other alternates who lived here. Everything kind of went up in the air for this cast and then I came on opening night and I've been here ever since.
Is there something about Effie that speaks to you?
She is an underdog and I feel like I'm an underdog as well. I come from North Carolina where nobody comes from. I didn't come from money; I never had all of the things like people who go to Juilliard, whose parents have the money to send them to New York. I've done everything on my own. I started at a theme park and I worked my butt off for the last ten years to get to this point.
I think that's the part of Effie that resonates with me, that "Nothing is gonna stop me". When she says that in "I Am Changing", I literally want to cry every night. This is my motto for life: nothing is going to stop me. Sometimes you're misunderstood because you're so driven. I think that's Effie's Achilles heel too because of course she loves Curtis, but she also loves her career and she wants to be a star. And someone is trying to take that away from her and she's like, "No, I'm not going. I'm going to be a star".
We've all had those moments where you had to be in the background and watch other people steal your dream, but then you rise from the ashes and take control of your life. That's what I love about Effie.

Was it hard being an alternate to Amber Riley? Did you feel like you had to win the audience over?
Oh my god, every night! Because Amber Riley is a big name and when I would go on, people were excepting to see Amber Riley, as they should. She's not a robot, so she would be out sometimes. Only a couple weeks ago, I came out and the whole audience went "Oh". I thought, okay well I'm going to show you. So every night, it's kind of cool because it gives me fire to be like I'm going prove to you that I'm good.
By the end of the first act, they're going nuts. Because they're rooting for me and they're like "I'm so mad Amber's not here but I love her"! I know everyone wants to know, how do you turn them around so quickly? You have to be so confident in who you are as a performer and what you bring to the table and not waver. When I'm saying "You're gonna love me", I'm actually saying it to the audience.
What's it like stepping from being an alternate?
There's a bit of nerves because it's mine now. But I feel like I took so much ownership of it in this past year. I was on for Effie a lot. It's going to be cool to just take it over. And of course, there's nerves because I have to do this every day. There aren't days where I don't have to come to work and do the show. But I love the challenge and I love routine.
So, that was what was really hard about doing this gig. I've been doing eight shows a week for seven years, for my whole life. But this was like some weeks I would do eight shows, some six shows, some one show. It was just all over the place, so it'll be nice to have a routine.
It's wonderful to see a musical like Dreamgirls with such a diverse cast be widely embraced here in the West End
It's so meaningful because this is one of my favourite shows and this role is one of my dream roles. For people to love it after 35 years is absolutely crazy. The music still stands up; people still go crazy for this music. It's timeless and that's a big testament to Henry Krieger and how well he and Tom Eyen wrote the script and the score. They knocked it out of the park.
Are there any dream roles that you'd like to play? Particularly any that haven't been played by an actress of colour before?
I would love to play Fanny Price. I know she's white, I know she's Jewish, I get it. But how amazing would it be to have a black girl play that role? Because one, I'm funny and I can break your heart. And two, I just love those songs so I would love to play Fanny Price. And I always think it's funny, she's the funny girl. So wouldn't it make sense if she's the only black girl? It would make it a little extra funny, like no wonder she's standing out!
Besides that, I think my dream role hasn't been written yet. I want to do an original piece. I've done a lot of original musicals in my career, so it's kind of different to be stepping into one that's already a built thing. I'm excited to do an original musical that is tailored to all of my strengths and I'm not stepping into anybody's shoes. I'm very excited for that when it comes someday.
What do you hope that people who see Dreamgirls take away from the show?
I think that they'll take away that they should never give up on their dreams. No matter if it's a man in the way or people doubting you or even you doubting yourself or thinking you can't do it because you made mistakes. But I think just to rekindle that fire and that dream. Dreamgirls, the show, was not my dream; that was Henry Krieger's dream. So I always say, what is my dream? What's going to be my legacy that I leave behind?
You also have two solo concerts coming up for the release of your debut album, Soul Holiday. What inspired this album?
Last year, I did a concert at the W Hotel kind of on a whim and it went so well. We put our own soul twist on Christmas music. I always feel like Christmas music is so hokey. I thought, what if we made a Christmas album that you would actually want to listen to when it's not Christmas?
I've always loved Amy Winehouse and all the artists that come out of here, like Joss Stone and Jessie J. And I was like "I'm in London and I want to make that sound". I thought, what if I got together their musicians and then make the album? I literally got Amy Winehouse's drummer, Annie Lennox's guitar player and Gregory Porter's bass player. And the drummer has also played for George Michael and all these amazing artists that I love.
It was a complete departure from theatre. I'm really a singer at heart, that's my thing, I love making music. I love theatre, but it's different because theatre has so many regulations; you have to do it every night the same. You can't really spread your wings like you can if you're making your own music.
So I got them together and we went to a studio in a basement in a London and made this album. We did it live. I wanted real instruments, a real sound. I'm so sick of autotune, of robot-sounding music. I thought, let's make some real music that has some cracks and bumps and you hear the breaths. The human voice has been so tuned and made robotic, that it kind of lost its soul.
I think that's part of Effie too because in the story in Dreamgirls, Curtis wants to make the music more disco and synthesised and she's like "I want to keep it real". That's kind of where the idea came for the album: let's just make a real album. It's so amazing, you guys are going to love it. I keep listening to the songs. It's so strange because I hate listening to my voice, but I really enjoy this album!
What kind of music can we expect?
We have some smooth Amy Winehouse-y stuff and then we have some Gospel, like "Joyful Joyful" from Sister Act 2. I did all the voices, all the choir and the backup and the lead. We have "Do You Hear What I Hear".
And then we did a cover of "I'm Changing" from Dreamgirls, but we changed it and I did it with these guys that I've just talked to you about. It almost sounds like a Whitney Houston song or Eva Cassidy. It's amazing what we've done with that song, but it still has its essence just with a new spin. I think people will love it.
What was your favourite part of making the album?
My favourite thing was when we were in the studio and we were just coming up with different ways to do it. I'm going to release some of the backstage footage of that. But just to say, "Okay let's try this, let's try that" and then we would play it and you would get chills because, that's it.
Working with these guys who have worked with some of my favourite artists and to have them respect me as an artist was mind-blowing. It was getting to see myself in a different light. Like Dreamgirls is not the be-all, end-all of my career, but I have another arena that I could go into as well. I was like okay, maybe I could be an artist as well.
Any other fun features of the album?
My album is coming out on mini vinyl. You're going to be able to purchase the album on a 7-inch mini vinyl. On one side, it'll be "Do You Hear What I Hear" and on the other side our remix of "I Am Changing" and inside, you get a digital download of the full album. If you want to play the record on a record player, you can, but if you want to download it onto your phone, you can do that. Or you can just have it as a collector's item. I thought it was cool to harken back to the times when we used to play music on a record player.
What can you tell us about your concerts?
I've gotten the guys who played on the album to play for the concerts, so that's really exciting. I have a couple of tricks up my sleeve, a couple of guests I can't announce quite yet. It's going be a great night where we celebrate the holiday season, but also celebrate real music and getting back to the soul.
I feel like so much has happened in our world this year and that we need a good helping of joy and soul and love. When you leave, you will feel revived, like you can get through the next day. That's what music does: it heals you and builds you up.
Live music is dying. That's why I love theatre so much because people are like, "I haven't felt anything real like that in a long time". Everything is digital now. You watch Netflix, you watch everything through a screen, and you don't really have to feel it.
Is it more nerve-wracking doing an intimate concert and being yourself or doing a big West End role like Effie?
I think doing my concert is where I thrive. Every time I've done one, people who have been in shows with me are like, "This is what you should do with the rest of your life". I get to be myself; I'm in complete control of it. I love being with an audience and taking them on a ride. I'm actually really excited to finally do it here in the West End.
Any plans for another album if this goes well?
This was kind of my test album to see if I wanted to do an album of my original music. I thought, let me figure out how to make an album first, and Christmas albums are great. Now that I've done that, now I can make my own album.
These guys that I've been working with are all on board, so we're going to make some really cool music. I'm so excited because this is everything I've wanted to do. When I came here, I was like, if I could work with Amy Winehouse's producer, Mark Ronson, that would be amazing, and working with these guys is the next best thing.
Finally, any advice for aspiring performers?
I always give the advice "Keep going". No matter what people say to you, no matter the roadblocks that come your way, just keep going. Don't let anyone deter you. It's the ones who just keep going that make it. All my friends that I started out in the business with, who have been working at it, are finally getting what they deserve. I think it just takes time. It's the ones who give up that don't get to see the fruits of their labour.
The other thing is you have to create your own opportunities. I didn't wait for permission for someone to say, "Do you want to do an album?", I just went ahead and took it upon myself to do it - and that's what you have to do. You can't wait for someone to make you a star, you have to make yourself a star.
Marisha Wallace's Soul Holiday concert is at Charing Cross Theatre, 5pm and 8pm on 3 December
Dreamgirls is currently booking at the Savoy Theatre until June 2018
Related Articles
Nicole Ackman recently returned to her native Raleigh, North Carolina after living in London and New York City. She studied communications and history at Elon (read more...)