Review: SINGIN' IN THE RAIN, Birmingham Hippodrome
A faithful recreation of the much-loved 1952 movie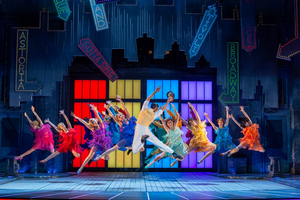 Often cited as one of the best movie musicals ever made, the 1952 romantic comedy Singin' In The Rain, starring Gene Kelly, Donald O'Connor and Debbie Reynolds, has a special place in many people's hearts. It was first adapted for the West End stage in 1983 and since then there have been multiple productions. The current UK tour, directed by Jonathan Church, is a revival of the 2012 London production and faithfully recreates the movie, following Betty Comden and Adolph Green's screenplay almost to the letter and including all the songs by Nacio Herb Brown and Arthur Freed that originally featured. If there's a scene, a line or even a visual gag that you love in the film, chances are it's also in the stage adaptation.
Set in 1927, Singin' In The Rain takes us back to the time when Hollywood was just beginning to make "talkies", a change which proves problematic for silent movie stars Don Lockwood (Sam Lips) and Lina Lamont (Jenny Gayner), due to Lina's eye-wateringly bad speaking voice. Fortunately, Don and his friend Cosmo (Ross McLaren) come up with a plan to have Don's new girlfriend Kathy (Charlotte Gooch) do the speaking for Lina - something that the spoiled Lina doesn't take kindly to.
It's clear from the start that no expense has been spared on this production. The sets by Simon Higlett are stunning, transporting us with ease from the Monumental Pictures studio to glamorous movie premieres and star-filled parties, all beneath the ever-present Hollywoodland sign. They are enhanced by Tim Mitchell's lighting, which draws audience gasps in Act 2's Broadway Ballet when the backdrop erupts into an array of neon signs. Of course, the show's pièce de résistance is Act 1's closing song "Singin' In The Rain", where beautifully-lit rain cascades down and drenches the stage, while Lips sings, dances, and kicks up as much water as he can, delighting the audience (with the possible exception of anyone in the first five rows who didn't read the "may get wet" warning!)
The cast are solid throughout. Lips is convincing as the smooth-talking, fast-footed Lockwood, and his smooth voice is well-suited to Brown and Freed's gentle pop melodies. McLaren excels in physical comedy and elicits smiles whenever he's on stage, even if just in the background. His energetic rendition of "Make 'Em Laugh" is delightful, and he and Lips' performance of the tongue-twisting, tap-dance-heavy "Moses Supposes" is a show-stopper.
It turns out to be Gayner, however, who steals the show as vain starlet Lamont, maintaining a hilariously shrill Brooklyn accent and showcasing great comic timing during the classic scenes where she first tries to film scenes using a microphone. She gives a wonderfully off-key performance of "What's Wrong With Me?", encapsulating Lina's moment of self-doubt while remaining comically self-obsessed.
Meanwhile, Gooch gives us a polished version of Kathy, with her clear, pretty voice shining on the ballads like "Would You", but she doesn't quite embody the plucky underdog spirit of the movie's Kathy and isn't so easy to root for. Still, when Lips, McLaren and Gooch sing "Good Morning", their voices come together beautifully and their dancing is perfectly in sync.
It's the dancing, more than the songs, which sets this musical apart. Andrew Wright's choreography shines, whether it's in Don and Cosmo's manic attempts to impress during "Fit As A Fiddle", the stunning ensemble pieces during "Ballet", or the gorgeous "Singin' In The Rain (Reprise)" where the whole cast come together with brightly coloured umbrellas to give us an unforgettable finale. The orchestra (who we catch just a glimpse of for a moment when the back of the set retracts at the beginning of Act 2), provide perfectly-paced accompaniment throughout.
The show does feel at times like it sticks a little too closely to the film. Act 1 is an hour and a half long and could do with tightening up, and it would be nice to see a slight change to the ending to give Kathy more agency in the final showdown with Lina, rather than allowing her to be used as a pawn. In a similar vein, the scene where Kathy and Don first meet would benefit from restaging, as it feels uncomfortably predatory when Don clutches at her and prevents her from getting help from a policeman.
Overall, though, this is a likable show that will please both fans of the film and newcomers. It's a colourful, nostalgic treat that all ages can enjoy, and the rain moments are undeniably magical.
Singin' In The Rain at Birmingham Hippodrome until 11 June, then touring
Photo credit: Manuel Harlan