BWW Review: QUEEN OF ROSES, London Cabaret Club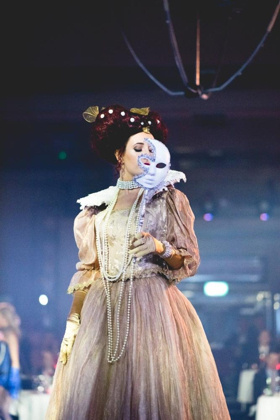 As part of their fifth anniversary, the London Cabaret Club presents their new show Queen of Roses as a celebration of the reigns of Elizabeth I, Victoria and Elizabeth II. Originally a pop-up club at the Arts Club in London, they now have a permanent home within the beautiful Bloomsbury Ballroom. It is a pity the quality of the show does not match up to its surroundings.
The first act is the weakest element of the show, which goes from a shaky ballet routine, restricted by the limits of the stage, to an odd Elizabethan Kung Fu fight scene that inexplicably moves to Queen's "We Will Rock You" and then to an awkward rendition of Ed Sheeran's "Perfect".
The act is saved by an excellent version of Jessie J's track "Queen", where Queen Elizabeth I, played by a focused Alicia Morgan, performs a sensuous striptease down to a red and black lace camisole. It is not quite a burlesque act, but has purpose and shows poise and confidence.
Act II improves as it moves onto the reign of Queen Victoria. A very powerful version of Sia's "Chandelier" accompanies an impressive aerial routine, followed on by Scottish drummers and an Irish dance to Ed Sheeran's "Shape of You". Influences of Victoria's British Empire are demonstrated further by a distinctly modern, but entertaining Bollywood routine.
Act III moves to Elizabeth II, beginning with the Queen and her sister jiving during the Second World War. We merge into the punk era and then to Ravel's "Bolero" performed to another impressive aerial acrobatic act. The show's finale of Elton John's "I'm Still Standing" shows great energy from the cast, along with some good choreography.
There are some strong performances from classically trained dancer Sally Jayne, Cyr wheel performer Billy George and Denis Remnev's aerial routine in and around a Victorian bath. The violinists and cellist are all impressive, as are the drummers.
The main problem of the show is that it seeks to be successful in every genre, from dance to song to performance, and yet shows some serious weaknesses. Certain vocalists are pitchy and unable to reach the notes they need to be truly professional, some routines lack imagination and flair and sound levels fluctuate repeatedly. Gaps between acts are filled by loud, recorded modern pop songs: this really disrupted the flow of the show and could have been filled better with live music or by the underused compère.
Overall, the look is not rich or glitzy enough; costumes often look flimsy and cheap and large headdresses in one section have to be held on by performers. Lighting relied on a lot of pink and red and could be more dramatic. In essence, it doesn't feel decadent enough, and the use of a dog as part of one act seems gimmicky and rather distasteful.
Tickets vary from £25 show tickets to a £145 VIP package which includes 'premier' seating, a five-course dinner, and an awkward meet and greet with the cast members. Much is made of the British heritage element of the show, including overly sweet cocktails and a menu which is supposed to reflect gastronomy inspired by key highlights of the reigns of each queen. However, dinner itself was mediocre with tiny portions of often cold and under-seasoned food.
Successful cabaret often depends on a certain amount lubrication of the audience, but there was such an obvious reluctance from the waiting staff to provide tap water, it was both frustrating and a too blatant attempt to make you spend more money.
Queen of Roses has some strong musicians and performers in a lovely venue, but it's not enough to create a spectacular show.
Queen of Roses is at the London Cabaret Club until 6 December
Photo Credit: London Cabaret Club