BWW Review: PERICLES, National Theatre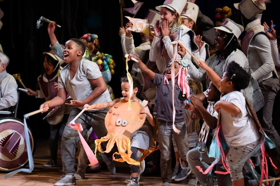 You know the National Theatre, don't you? Slabs of grey concrete, a shrine to the many fans of Brutalist architecture and - if we're betting without the Barbican - one of the most intimidating buildings in the country.
You know Shakespeare too? The guy who wrote all that stuff with "Sirrah" and "Prithee" in it and people with foreign names that are hard to pronounce - the stuff you didn't understand and didn't like at school.
Well, you do, because you don't think that way - but we're the exceptions, not the rules. If a National Theatre is to be national, it needs to reflect the nation it serves, but also to retain its heritage, its focus, its leadership. It needs not just to open its doors to its public (and it's very nice indeed - once you're over that physical and psychological threshold) but to embrace its public - and, as Helen Nicholson's programme note happily confirms, it needs to learn from the kaleidoscope that is UK 2018.
Pericles (adapted - very adapted - by Chris Bush with music by Jim Fortune) is the first production to emerge from the NT's Public Acts programme, the "Open Sesame" movement which fosters that embrace. It's not unique though - Chickenshed have been producing shows like this at Christmas for years, the impact on audiences and participants very much the same. It's no less laudable an initiative for that.
All this background stuff matters, because the scale of the ambition and the extent of the achievement requires context, but those five stars above is no "ruffling of the hair, didn't they do well" patronising of the production by a reviewer sympathetic to its ethos and indulging in a little virtue signalling. It's a solid five-star show that transforms its challenges into opportunities (as all those management development courses insist upon) and delivers an unforgettable theatrical experience for everyone involved on either side of the fourth wall.
We first meet Pericles, blinged up but bored, at home in Tyre but longing to see more of the world. Soon, banished by his father, the King, to avoid his homeland being targeted by the ruthless Antiochus, he gets his chance, renouncing his wealth to the destitute - but duplicitous - Cleon and Dionyza, rulers of Tarsus. He's off again, washing up this time (literally so) on the shores of Pentapolis, where he woos, without really wooing, the Princess Thaisa.
But home calls Pericles, his instincts telling him that his people need him, so he sets sail - straight into a tempest that takes the life of Thaisa, but spares his infant daughter, Marina. Back again in Tarsus, he surrenders Marina into the dubious care of Cleon and Dionyza and returns to Tyre to steady its wavering polity and rule well.
But Marina is bullied and, at 16 years of age, is only saved from murder by pirates who deliver her into the hands of Boult, King of Mytilene, an island dedicated to the pursuit of pleasure on which Marina survives through her wits and talents as a singer and storyteller.
Will father and daughter be reunited? Will the wanderers discover the true nature of home? Will we see our lives reflected in these make-believe worlds far away in time and place? Well, yes, yes and yes.
If Bush's adaptation turns the plot from something Shakespearean to something more Dickensian, the sentimentality is kept at bay and we never lose sight of the play's provenance - the original lines interpolated between songs and more contemporary speech are wonderfully poetic and insightful, and given full value by a professional cast who know exactly how to speak such timeless truths.
Ashley Zhangazha is so broad as young Pericles that you wonder if he's going to topple into Ali G territory, but the prince's journey is beautifully portrayed, a man struggling to discover his true self through humble learning rather than assertive entitlement. He sings the catchy songs well, and he needs to, because Naana Agyei-Ampadu's voice is half pop diva and half West End lead - he's not the only one who misses Thaisa when she drowns.
Audrey Brisson also leaves us wanting more as Marina, a girlish, vulnerable physical presence, but possessing an iron soul and talent to match. And what fun Kevin Harvey has with Boult, Mytilene's Frank N. Furter-ish Lord of Misrule. Should we be scared of him - he threatens but also protects Marina - or should we rejoice in his willingness to let people live as they choose? Fly Davies's splendid design work for Mytilene's Pleasure Dome lends a visual uncertainty to the narrative equivocation.
Underpinning such marvellous work from the professionals (or Members of Actors' Equity as the programme sensitively, and correctly, describes them) are the massed ranks - hundreds - of participants drawn from community groups. Emily Lim's direction miraculously manages to keep a grip on this cavalcade of humanity and never loses sight of the story.
There are too many to name here, but, as representatives, a shoutout to the superb Faithworks Gospel Choir, to the sensational London Bulgarian Choir, to the Youthsayers Ska Band (in Two Tone monochrome) to dancers, cheerleaders, actors and singers. The extraordinary ordinary people who fill the stage, fill our senses, fill our hearts with what our home can be.
If theatre does anything, it shows us that there is no such things as people, only persons, each individual with their own hopes and fears - actors, Equity members or not, bring those people to life. The always present low hum of those who would deny the rights of such persons to individuality has grown louder and louder in recent times - "asylum seekers", "illegals", "migrants", "disabled", the all-purpose "minorities": "The Other" presented as an anonymous mass, a threat to be feared.
Theatre explodes such poisonous thinking - and, to its immense credit, our National Theatre has done it spectacularly with this boisterous, bold and brave production that will surely have a life beyond its stay on the Olivier stage - as will Public Acts.
Read BWW's interview with community participants
Pericles completes its run at the National Theatre on 28 August
Photo James Bellorini.
Related Articles View More UK / West End

Stories

Shows