Review: JULIE, National Theatre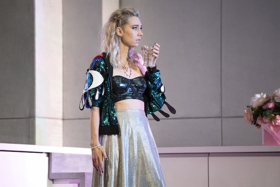 Polly Stenham's updating of Strindberg's Miss Julie moves the action to contemporary London, and finds both contempt and sympathy for this new version of the idle rich. But, shorn of its 19th-century context, the play struggles to make the class transgression feel dangerous, nor does this 85-minute piece dwell long enough on subjects like racism or sexism.
Julie is celebrating her 33rd birthday with a lavish but emotionally empty rave in the family townhouse, surrounded by gormless hangers-on. She's been stood up by her workaholic father and so seeks solace downstairs, with housekeeper Kristina and chauffeur Jean.
Stenham's Julie initially suffers from overfamiliarity: the poor little rich girl with standard-issue daddy issues. She's insulated and blinded by her wealth and white privilege, yet is childlike in her loneliness, still scarred by discovering her suicidal mother's body.
There's also a slightly uneasy glamorisation in Carrie Cracknell's production. Though her drinking, drug-taking and attempted seduction clearly come from a dark place, Vanessa Kirby - in a shimmering silver skirt and midriff-bearing top - is occasionally framed like a fashion shoot, the beauty dancing barefoot amidst destruction. Even blood is artfully adorned.
But Kirby - who has experience enriching this type of character after The Crown's Princess Margaret - begins to layer in interesting elements, from Julie testing her power in petulant outbursts through to her frank carnality.
Most effectively, she conveys a desperate need and inability to moderate her reactions that suggests more serious mental health issues. There's a memorably horrifying moment involving a pet, and finally a chilling surrender to the void.
The flipside to Stenham and Kirby creating this empathetic version of Julie is that it rather unbalances the play. Her fragility, combined with a less assured status in this modern version of upstairs/downstairs, means she never really squares up to Jean; she's a victim from the start.
Likewise, there's less detail in Jean's portrait, and Eric Kofi Abrefa can't quite reconcile the contradictions. There's an interesting hint of ambition when he steals a fine wine with swaggering assurance, but we don't really feel the spark between Jean and Julie, so their grand plans of running off together ring hollow. Jean's rather bland venality is too apparent throughout.
It would have been fascinating to see the play's sexual politics explored further - particularly in this charged moment - but though there's a shrewd point about society heaping more shame on women than men when it comes to failed relationships, the idea isn't really developed.
There is however sly exposure of Julie's racial assumptions. She's surprised that Jean, originally from Cote d'Ivoire, is educated enough to recognise Aristotle, and her liberalism has limits. She likes to think she and the Brazilian Kristina - who's supporting a son back home and is studying independently, in contrast to multiple-dropout Julie - are friends, but her actions prove that's a guilt-ridden fiction.
Thalissa Teixeira is outstanding as Kristina - initially wry, warm, practical and quietly driven, and making her relationship with fiancé Jean feel real and lived-in; later movingly betrayed and the sharp deliverer of hard truths.
Tom Scutt's stylish set places the action in a giant kitchen, where everything is hidden away behind identical soft-close cupboard doors: surface is all. A screen rises to show the party upstairs, and then a dreamlike roof garden.
A large ensemble plays the partygoers, choreographed with perhaps too much precision by Ann Yee. It's hard to read true hedonism or abandonment here; the most effective moment is when Julie seems to leave her body and stands watching herself, dismayed by what she sees.
Tonally, Cracknell's production is slightly uneven, though Stenham's blunt, even intentionally awkward text might be at the root of that. Some lines drew perhaps unintended audience laughter, and the climax is slightly subdued. It doesn't grip throughout the way this piece needs to.
As satire, there isn't much to surprise or shock here. That money and privilege might also be accompanied by unhappiness isn't ground-breaking, nor is the idea that inherited wealth saps purpose. If more sleek in appearance than execution, there are still moments of power and poignancy, but the tragedy doesn't feel fully earned.
Julie at National Theatre until 8 September
Photo credit: Richard H Smith