Review: DESCRIBE THE NIGHT, Hampstead Theatre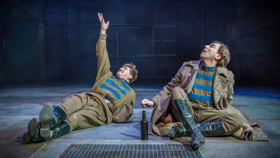 American playwright Rajiv Joseph's latest certainly doesn't lack for ambition, spanning 90 years, three countries, and mixing history and fiction in its form to make a point about, well, mixing history and fiction. Storytelling through to the pertinent "fake news" abounds, but this near-three-hour show is ultimately more compelling in its ideas than in its drama.
We begin in Poland in 1920, when the Russian writer Isaac Babel first meets Nikolai Yezhov - a Red Army soldier who'll later become head of the Soviet secret police and "Stalin's bulldog". They are real figures, as our elements of their story, but a witty opening scene establishes Joseph's theme: when both try to describe the night, they do it very differently. So is there such a thing as objective truth, and does it have intrinsic value?
Later scenes visit the pair in Moscow, introducing Yezhov's wife Yevgenia, plus two more plot threads that eventually connect: a young KGB agent tracking a woman in 1980s East Germany who longs to cross to the West, and a journalist on the run after witnessing the Smolensk plane crash in 2010 that killed key members of the Polish government.
The connecting item is Babel's journal, where he reflects on real events creatively - something he makes distinct from his work as a wire reporter. Although even the latter involves subjective choices, deciding what to write into history and what to omit.
Communism's greatest weapon, notes Yezhov, is the "magic marker": the pen that draws a black line through unwanted facts. One compelling scene involves the young KGB agent - who has more than a suggestion of Vladimir Putin about him - doctoring his own origin story, from bullied kid to judo champion. Thus the mythology is born.
There's also plenty of absurdist dark comedy in this play, well drawn out in Lisa Spirling's production. One man accuses another of insubordination for being alive when records say he's dead; there's a magnificent sight gag involving a filing cabinet; and in a standout sequence, a seemingly apocryphal soup involving leeches bursts into grisly life.
There are several such recurring motifs, which help bind an unwieldy work, and many scenes are predicted or paralleled. It makes this feel like one epic tale - in which the telling of tales is itself interrogated, whether viewed as creative writing, performance, fortune telling, espionage, or state propaganda.
But it also distances us from the people in Joseph's drama, some of whom are thinly written. It's credit to Spirling's cast that we engage enough to stick with them through the running time, even as Joseph seems more interested in neatly paying off his structure (with one thesis statement and one Dickensian reunion too many).
There's superb work from Rebecca O'Mara as a wistful Yevgenia, plus her marvellously eccentric but shrewd older incarnation. David Birrell makes Yezhov amusingly literal and diffident, while hinting at his emotional undertow, and similarly impresses with a distinct elder version.
As Babel, Ben Caplan is the principled heart of the piece, though the play only really allows him to show passion (and that's for his work) towards the end. Steve John Shepherd effectively portrays the thug learning how to consolidate power, Siena Kelly fills in the gaps of his target, and Joel MacCormack and Wendy Kweh convey the terror of living in a totalitarian regime.
The latter is also reinforced by Richard Hammarton's shifting soundscape - from plaintive cello to the whir of surveillance tapes or sudden horror of the pounding at the door - plus Johanna Town's evocative lighting.
Polly Sullivan's set mixes trees with chandeliers, filing cabinets with Soviet apartment blocks, the domestic operating alongside both dream and nightmare - matching the fluidity of the unreliable narration and its storytellers.
Yet the play itself is hamstrung by its diligent research. Though it will likely make viewers keen to read further, and certainly shows the vulnerability of truth, some of its analysis feels overtaken by (Trumpian) events. Admirable ambition, but perhaps a focussed edit would allow it to speak to the heart as well as the head.
Describe the Night at Hampstead Theatre until 9 June
Photo credit: Marc Brenner