Review: DEATH OF A HUNTER, Finborough Theatre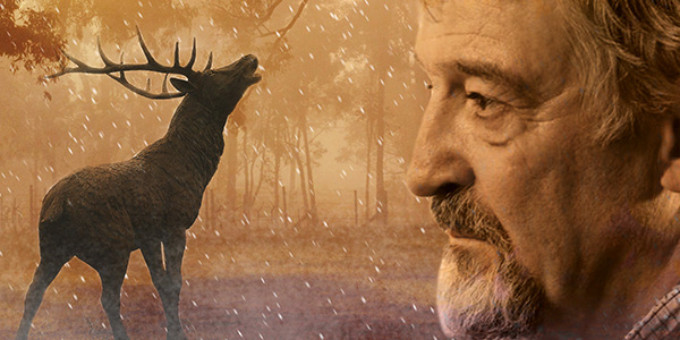 Death of a Hunter sees Ernest Hemingway fighting his demons at once in the last harrowing hour of his life. Unable to write like he used to, he questions the ghosts of his past and examines the path that's lead him to that point. Finborough Theatre premieres the English language version of Rolf Hochhuth's piece in a new adaptation by Peter Thiers (in a translation by Peter Sutton).
"I'm not sick, I just can't write anymore while plenty of other people do" Hemingway moans as he contemplates the decision to end his life. Delusional and paranoid, the writer is crippled by guilt and memories as he paces up and down his home study in Ketchum, Idaho. He recalls his past, the reasons why he loved or hated his ex wives, the duty he felt towards his children.
He discusses his celebrity and fame, and unashamedly recollects his achievements, admitting that they add up to nothing in the end. His mind is clouded with paranoias: he's sure the FBI and CIA are hiding in his garden and his house is bugged in the hopes to catch him in flagrante for tax evasion or such. Edmund Dehn portrays the novelist exactly as one imagines him at the final stage of his life.
Short-tempered and clipped with unkempt hair and a creased button-up, it feels like Hemingway himself has come back from the grave. He commands the space with his stream of consciousness and, as directed by Anthony Shrubsall, his constant pacing, sitting down, and marching around the traverse stage, sprinkled very simply with fishing nets and books by Holly Maples, seems just right for the occasion.
The piece, first performed in 1977 in Salzburg, paints a strikingly different picture from the image the author himself gave to the public, but remains true to the character. The traces of the swashbuckling, tough, hard-drinking, no-nonsense war hero are there but are blended with the signs of depression and delusion highlighted by the man himself.
The Hochhuth-Thiers-Sutton script manages to keep the spirits up with irony and humour retelling small anecdotes out of Hemingway's life which land impeccably and profoundly in Dehn's hands. The actor couldn't be a better fit for the character: from his looks to his walk, he is one with the writer himself.
Shrubsall's production is a whirling descent into the soul of one of the greatest American authors. He succeeds in depicting him as a man but never lets the audience forget his stature. He has Dehn being seized by a failing mind but at the same time lets him keep his dignity in a sensible and vivid portrayal.
Death of a Hunter runs at Finborough Theatre on Sunday, Monday, Tuesday until 17 April.