BWW Review: CINDERELLA, Hackney Empire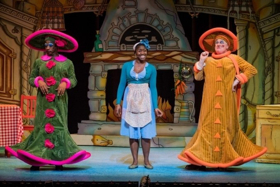 Hackney Empire can be counted on to deliver a hilarious and naughty panto every year, but Cinderella also has heart. This fun and fantastical production caters to both children and adults with its contemporary humour, talented cast, and impressive staging. Hackney's diverse reimagining of the classic fairy tale is one not to miss this festive season.
It's always wonderful to see a well-known tale played out with a diverse cast, especially when there are so many children in the audience. In addition, this show's Cinderella isn't a passive princess; she's feisty, stands up for what she believes in, and wants to change the world. Even Prince Charming is a bit of a do-gooder who wants to bring equality to the realm when he begins his reign.
The show is hilarious, as every panto hopes to be, but also has a lot of relevant, up-to-date humour. Adults will appreciate jokes about Twitter and the Kardashians and the abundance of political references about Brexit, deportation, Donald Trump and Theresa May.
Conversely, a seemingly random scene about the Ugly Sisters' bedroom being haunted drew lots of laughs from the audience, who also appreciated when the Sisters brought a man from the audience up on stage. There's plenty to entertain those who attend without children, as well as those who do.
The music of the show is a mix of original songs by Steven Edis and popular covers. Some of the best include the Ugly Sisters' "Holding Out for a Hero" and the Prince and Dandini's "Somebody to Love". The use of "To Make You Feel My Love" later in the show is clever, and the performance of "Despacito", with some interesting new lyrics, drew lots of laughs.
Another highlight is the tap number led by Stephane Anelli as Dandini, as well as the adorable children's ensemble. Several set-pieces also win attention, such as the hot air balloon and the flying carriage.
Aisha Jawando was simply wonderful as Cinderella and definitely the star of the show. Her voice is stunning and she brings a charming enthusiasm to the character. Amidst the craziness and showiness of a panto, she stands out as pure talent.
Susie McKenna plays Countess Anastasia, in addition to writing and directing the show. She's a wonderful antagonist, and draws almost immediate vocal reactions from the crowd - after being booed on her entrance, she wryly points out, "I haven't even done anything yet". Tony Whittle and Kat B are also hilarious as Cinderella's stepsisters and work very well with each other.
The other great duo of the show is Stephane Anelli as Dandini and Chris Jenkins as Prince Charming. Chris Jenkins is a decent Prince Charming; while his voice falters a few times, he acts the part of the starry-eyed, lovesick prince while avoiding being annoying or contrived. He also has lovely chemistry with Aisha Jawando.
Darren Hart plays an energetic and sympathetic Buttons, who makes the audience laugh but also feel sorry for him and his ill-fated love. He certainly knows how to work the crowd and has some impressive dance skills. He also works surprisingly well with the mice puppets, which are a nice touch.
On the other hand, Krysten Cummings's Fairy Godmother has somewhat lacklustre vocals alongside her large personality and while Peter Straker delivers a wonderful solo, his Baron Hardup is otherwise forgettable.
While an overall very strong panto, Cinderella does have a few hiccups. The switching between verse and natural dialogue is quite jarring; it felt like one or the other should have been chosen. The lighting is sometimes overwhelming, with frequent bright flashes of light to cover scene changes. Costumes, aside from the Ugly Sisters, are overall unimpressive; however, the drag costumes are amazingly outlandish.
Cinderella certainly lives up to Hackney Empire's reputation for producing great panto. Despite a few minor setbacks, its talented cast and creative script make it appealing to all ages. This production is a solid choice for a Christmas show this season.
Cinderella is at Hackney Empire until 31 December
Read our interview with Aisha Jawando and Darren Hart
Photo Credit: Robert Workman