BWW Interview: Aisha Jawando and Darren Hart Talk CINDERELLA at Hackney Empire
Aisha Jawando recently played Martha in the original London cast of Motown the Musical. Her West End credits also include The Lion King, The Book of Mormon and Beautiful. This Christmas, she stars in the title role of Hackney Empire's Cinderella.
Darren Hart is a Hackney regular and is also known for television appearances in Justin's House and Gigglebiz. Additionally, he has done film and theatre work. He'll be playing Buttons in Cinderella.
What was your first theatre experience?
Darren: My first experience was being part of youth theatre. I didn't really go and see much as a kid, but when I was 12 or 13, I joined a youth theatre in Stratford. So my first exposure to theatre was actually creating my own shows in the youth theatre. I kind of got to do it before I saw it.
Because I was part of a youth theatre, we kind of progressed up the ranks. As I got to 16 and was leaving school and I went on to do A-levels at college, my drama teacher was very keen for me to pursue it a little more passionately. They were like, "You've got something, go for it."
As I turned 18 and left college, I went back to the Stratford theatre and did a panto. I was a character that had no lines and basically was part of the production and it was very much a learning experience. An actor got injured in the last two weeks of the run and because of my youth theatre experience, I was always learning and listening and picking up lines and the director was like, "Do you know it?" So that night, I went on and did the part and played the character for the rest of the run. And it kind of just snowballed from there.
Aisha: I was part of a local dance school, which is near where I live now, and we used to put shows on once a year. They also had a modelling agency that I was a part of as well. So from a young age, I'd also been doing modelling shows for them, meaning I've been exposed to the stage from when I was about six or seven.
I knew friends from the dance school who had gone to Urdang Academy, and performing is something I'd always wanted to do. So once I finished secondary school, I literally applied to two performing arts schools. I didn't really know too much information, but I knew that's what I wanted to do and the road I wanted to go down.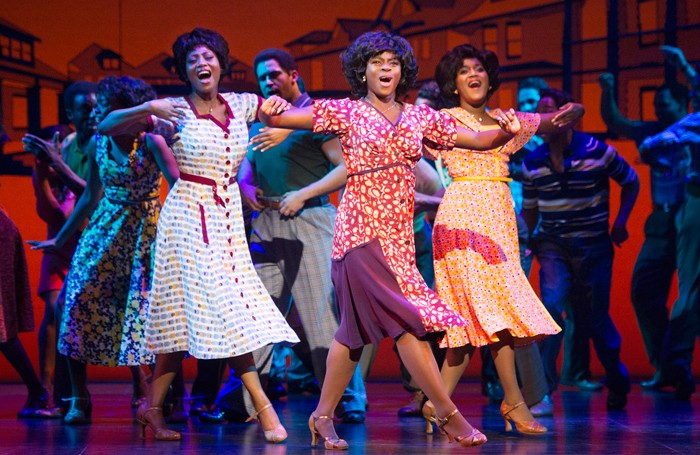 Since then, you've been in some amazing West End shows like The Lion King, Motown and Beautiful. Was that always your goal?
Aisha: I feel like it's just the beginning really. It's part of my dream, I would say, part of one of my goals to achieve that. Of course, there's so much more that I want to do and I'm so grateful for what I've done so far.
Being able to do it over seven consecutive years, it still dumbfounds me and I know it's a complete and total blessing to be doing what I love, as for now. But there's more than I'm still aspiring to. I know that because this happened, there's nothing that can stop me from dreaming.
Tell us about your characters in Cinderella
Aisha: Of course, you have your traditional Cinderella. She's poor and she's looking for love. She loves everyone and she's never mean to everyone. And her stepsisters are mean to her and they pull jokes on her along with her stepmother.
But for me, Cinderella is a fun girl. She's a girl-next-door who's just happy to be around everyone and to see everybody smiling. So I want to portray that, but I also want to portray the fact that she's got some fire behind her. She's very strong and she's very strong-headed. She knows she's got morals and she sticks by those morals.
She's grounded, is what I want to portray. As beautiful as being in the gowns and having your prince and the ones you love is, I want to show people that actually being a princess comes along with a lot of other responsibilities. Once you're a princess, you have people to care for and people you have to listen to and be empathetic and just be loving. It's not all flowers and butterflies. You have a duty and you're a princess now, so you have to carry yourself like that.
Darren: Buttons is a best mate; he's a friend who's there for you without even realising it. He supports Cinderella and he's been there right from the get go. He's fun and he's the friend who if you're feeling down, he'll come with a funny joke or a crazy move to make you laugh or smile. He's also a sweet guy; he's got a love in him that he hasn't really told many people about.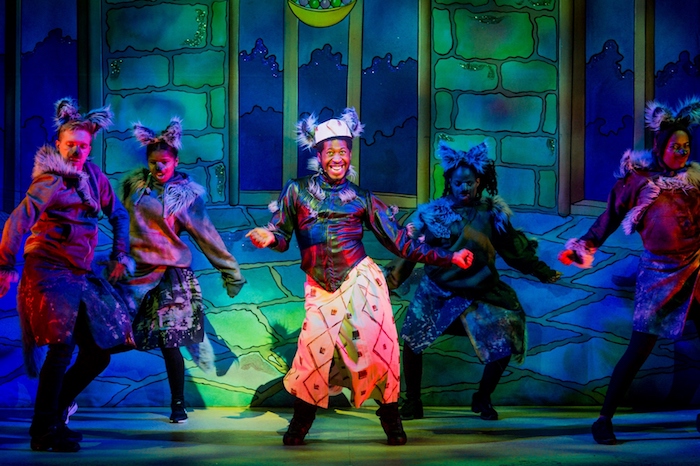 Do you have much panto experience? Are you finding it very different?
Aisha: This is my first panto. I think the last time I actually watched a panto, I must have been in school. It was quite difficult at first because it's a different skill. It's not only intimate acting; it's inclusive acting. I find that a bit difficult.
The team has been so helpful with helping me find that and also encouraging me, just letting me know I'm doing a good job. Also just looking at everyone else who has done panto before helps, so it's really nice to be around people who are familiar with panto.
Darren: I've done panto at Hackney as well as at Theatre Royal Stratford East. They're my two panto homes that I've worked at. There's a different skill set that you have to learn or use when you do panto, and I think it opens up a different side of you as a performer. And I feel when you're learning that it's a skill that potentially should be taught more. Because the really opening out to an audience, the bigger performance is unique.
But it's about really being clear in the intention and playing it on a far larger scale than you would ever be able to do, especially when you're doing TV. I love doing it, but I totally believe that it's a whole different skill set to use.
Did you go to pantos growing up? Or any recent ones you've particularly loved?
Aisha: If I'm honest, I didn't. I think I went to one and I think it was on a school trip, so the memory of that is very vague. I've never been to panto because usually, I'm always working over Christmas.
Darren: It's funny because Cinderella has a really special space in my heart for a couple of reasons and for life experiences. This is my third time doing Cinderella. I've been Buttons once before and now I'm going back to it. So I just have really fond memories and it warms the heart doing it - I'm looking forward to doing it again.
What do you think makes Hackney pantos special?
Darren: I think what makes Hackney panto special for me is that a lot of pantos have that kind of celebrity pull. They will get a TV star and that's the ticket price and that's why you're paying to be there, because you want to see that particular individual.
What Hackney does is they put all that into a story. They go, "This is the story we want to tell, this is the production we want to do". It feels sometimes like being in a West End musical, the amount of work we have to do to make it happen, because we're not relying on just one person to sell it. We have to sell it, we all have to drive it and we all have to play our part.
And what Susie McKenna has created, what she writes and brings to the table, is genius. I just love that when you come to a Hackney panto, you get a lot of heart. I hope and pray that when people look at the stage, they see someone who reflects them. Young girls can look at Cinderella and go, "I want to aspire to be like her". And they can look at Buttons and go, "I've got a friend like him" and look at the Uglies and go, "They're mean and cruel and people are mean and cruel in the world and I know people like that too".
They can really identify with the characters and their story, but also take something greater, more than just "I went to a panto and got a celebrity's autograph". They've got a story and a performance that hopefully will stay with them. Because it's a lot of kids' first experience at the theatre and we just want to make sure we show them that it's a beautiful thing and something to be treasured and looked after.
Aisha: I think what makes Hackney panto stand out is the diversity. They can do a panto as traditional as Cinderella, but cast different ethnicities in it, which I find completely amazing. I know last year they did Sleeping Beauty and my friend was cast as a princess and she also is a black woman and I found that really beautiful.
It could be someone who's Asian, someone who's Latino. Just the fact that they're willing to include the diversity within the panto, because the diversity of Hackney is actually quite big. You can walk down the street and see so many ethnicities. It's nice to have the area of Hackney reflected within the panto.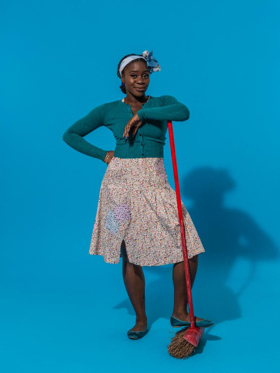 Is it particularly meaningful for you as a black actress to play Cinderella and have kids coming to see that?
Aisha: Absolutely yes! Actually not many people know this, but last year I had a friend's stag do and everyone had to go dressed up and I thought, "You know what? I'm going to go as Cinderella."
I bought the Cinderella dress on eBay and I bought a petticoat and everything. And I had family friends being like, "Oh my gosh, my daughter's in love with you." And they're a white family and I was a black Cinderella. But the fact that they were like "Oh my god, it's Cinderella." I felt on top of the world.
A couple of months later, I heard, "Oh yes, so we want to give you the role of Cinderella" and I was like, "Are you kidding me?" I never in a million years thought that that would happen or someone would take the risk. I mean, there's the Cinderella movie with Brandy and Whitney, so it has crossed somebody's mind at some point.
Even just trying on my costumes, when they were nowhere near finished, I was holding back tears. So I think for me, it's a dream come true. Even if I wasn't performing in front of everyone, just to have one show as Cinderella is incredible.
Darren, you've done work across theatre, television and film. Is there one medium that you prefer?
Darren: I love them all if I'm really honest. But I love a live audience. For me, as a performer, you can't beat that feeling of giving something that you can instantly know if it works or not. Knowing that you tried to reach an audience and you've taken them on an emotional journey with you and they've got it. Or you've said a joke and they've laughed and you've got it.
So I love that side of it, of course. Any performer would tell you the financial benefits of doing TV or other parts of the industry are greater. But I like doing those as well, because it does feel like a different art form. With the cameras, you're trying to tell the story for a lens.
And I just love the whole art of being creative wherever I can be. If you look at my CV, I do football shows, I create and put stuff out. I'm always looking for another platform to use the skills that frankly I've been blessed with and just put stuff out there to entertain people.
How have you built your love of football into your career?
Darren: I've got great management, firstly, who look after all my acting stuff and allow me the freedom to be creative, which is a beautiful thing to have. So they support my creative choices. And Football Weekly sort of found me and I'd also been doing my own stuff beforehand, so they'd seen my work, and we've now created a partnership where it's going to be on Freeview.
We're now building it up and I'm going to more events now. I've been invited to the Football Black List Awards, so just building a network. And I love football, I'm a big sports fan, and it's a passion. I went to school with many boys who have now gone on to play professionally, and I just decided that my stage was not going to be a football arena, but was going to be a performing arts arena. And I just love being a part of it all. It kind of blended together for me in a beautiful way.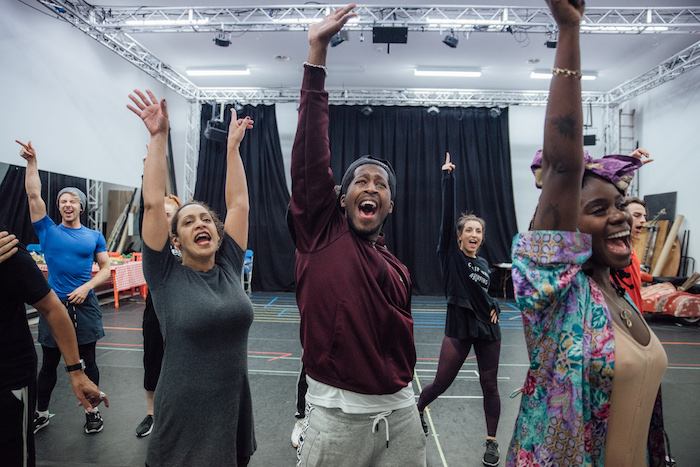 What are your plans for the future?
Aisha: I've got a quick holiday and then my next job, which is top secret right now. But the casting will be released on 17 November, so then it will be known publicly what I'm doing next!
Darren: There's nothing concrete as yet. I like going into the new year with everything as an option, so throw it all at me.
Do you have any dream roles you're dying to take on?
Aisha: I just want to be in a Marvel movie. I literally want to be Black Panther or I want to be Nubia in the next Wonder Woman. That would make me really happy. That's my dream at the moment, for now.
Darren: There's so many. I would love to be in EastEnders, to have a long-running character on a soap. I'd love to do movies and work with people I respect, like David Harewood. For me, I just want to do it all. I'm literally just ready for it. I've got the kit bag ready, let's go for it.
Finally, any advice to budding performers?
Aisha: If you can, go to drama school. I was blessed with a scholarship - if not I wouldn't have been able to go. So obviously hoping that for people who don't have the ability to pay, there are scholarships. Just keep at it as well and put in the effort. I mean, I prayed for days like this. But also, you put the work in. Go to extra classes and do what you can at home. Be the best you can be.
There's nothing wrong with healthy competition and seeing someone who's ahead of you and saying "I've seen you in this class, I've seen you're really good at this, could you help me?". And vice versa. My thing is just continue to be the best that you can be and that requires a lot of effort and a lot of work. Of course, rest when you need to rest. Keep striving and do what you can.
Darren: Do it because you love it. It's a beautiful industry to be in, if you love it and you get paid to do it and you get to use those skills. If you're doing it for the fame, it can be dark at times because you get told you're not good because of a look or something you can't change - sometimes ability has nothing to do with why you don't get the work. It can be hard if you're not in it because you love it, so that would be my advice to anybody out there. If you love it, then go for it.
Cinderella is at Hackney Empire 18 November-31 December
Photo credit: Robert Workman, David Monteith-Hodge, Alastair Muir