BWW Review: CASANOVA at Sadler's Wells
Northern Ballet's Casanova runs at Sadler's Wells until May 14 (then touring)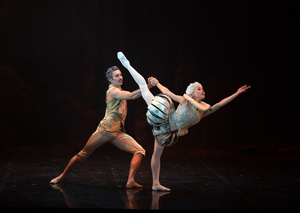 Five years since its premiere, Kenneth Tindall's Casanova remains a distinctive and highly engaging addition to Northern Ballet's repertoire. It's danced with confident storytelling by its cast and Christopher Oram's set design is glossy and slick and of course, it's pretty hot. However, this is all about seduction not smut. It's only foible remains the heft of the narrative.
Some assumptions first. Everyone has heard of Giacomo Casanova and the connotations his name conjures up, but do you know his story? I did not and so can only implore you to invest ten minutes in reading the programme notes because you're missing a treat if you don't. There is a wealth of visual appeal in this production but the action is at times relentless and could disengage without an understanding of the plot and its many characters.
Kerry Muzzey's score brings a heavy, melancholy and fine sense of drama but as the plot develops it becomes a little repetitive and Casanova's liaisons with his various lovers lose their individual identity.
Joseph Taylor holds a commanding stage presence as the protagonist. A tall, well built dancer, he emotes through his whole body. Minju Kang as Bellino and Saeka Shirai as Henriette respectively are neat, nimble dancers who effectively convey the heartaches they endure. Kang is especially elegant and fluid in her dramatic moment where she reveals she has been masquerading as a boy to Casanova. Her warp speed chaîné turns are done with a memorable musicality and flair.
The early Masquerade ball is a great success of choreography, staging and set all coming together effectively. It's a striking scene, corps dancers in fitted black corsets, structured skirts and black pointe shoes seductively partner their masked counterparts. The golden pillars of Oram's set and the majesty of Muzzey's score complete the sense of occasion as Casanova's intrigue for one of his early conquests, a cellist named Balletti, is realised.
The first Act is done with clarity and precision, the audience only awaiting the action to heat up bar a minor dalliance with two sisters who cost him his career as an aspiring priest. However, they won't be disappointed by Casanova's encounter with Abigail Prudames' sexy nun, M.M. (and mistress to the Sean Bates' Cardinal who wafts around with pleasing regality) which is the climax of Act One. Taylor is commanding and authoritative in this tantalising, athletic pas de deux while Prudames is a lithe and supple partner in virginal white corsetry.
Oram's set should be just as celebrated as the cast. The golden pillars that slide into various formations to indicate the church, a masquerade ball, a Venetian backstreet and more are so seamless and accomplished. Eye-catching too are the golden church pews and the various thrones and furniture that house the action.
Act II brings further pleasing aesthetics and costuming but the plot becomes increasingly dense with characters coming and going. The parallel lives of Bellino and Henriette are so similar and intertwined it's difficult to decipher, despite the both dancers conveying their troubled lives with convincing sincerity.
Casanova is a unique ballet and, ultimately, is worth seeing because there is nothing any other British ballet company has in repertoire to compare for sheer originality. A simplified version with half the characters and more room for the ensemble scenes to breathe would lift this already successful production to new heights but there is still plenty of appeal in Tindall's choreography and Oram's ingeniously creative set and costuming. If you've done your homework, then this will be a hugely satisfying evening - classy, accomplished, inventive and finely danced.
Northern Ballet's Casanova is at Sadlers Wells until May 14
Photo Credit:: Emma Kauldhar