Vikki Jane Vile
Vikki Jane Vile has been reviewing dance for ten years, specialising in Ballroom and classical dance. In 2018, she became a member of the Critics' Circle for Dance.
She prides herself on being a Strictly Come Dancing connoisseur since it's inception and has appeared on BBC radio as an expert on all things Strictly. Vikki also writes for Dancing Times magazine and has previously written for CultureWhisper and LondonDance.com. 
MOST POPULAR ARTICLES
LAST 30 DAYS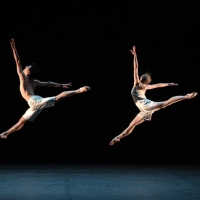 Review: EK/FORSYTHE/QUAGEBEUR, Sadler's Wells
November 12, 2022
---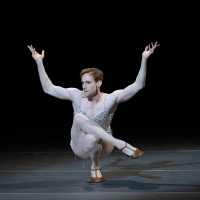 Review: MEN IN MOTION, London Coliseum
November 9, 2022
---
LAST 365 DAYS
BWW Review: SWAN LAKE, Royal Opera House
March 11, 2022
---
BWW Review: ROMEO AND JULIET, Royal Opera House
January 13, 2022
---
BWW Review: THE FORSYTHE EVENING, Sadler's Wells
April 2, 2022
---
BWW Review: DON QUIXOTE at Deutsche Oper
December 10, 2021
---
Review: UNITED UKRAINIAN BALLET'S GISELLE, London Coliseum
September 16, 2022
---
Review: EK/FORSYTHE/QUAGEBEUR, Sadler's Wells

November 12, 2022

Time for the annual treat that is an ENB mixed bill at Sadler's Wells, on this occasion featuring a couple of lockdown greatest hits, and a bold new production of The Rite of Spring. 
---
Review: MEN IN MOTION, London Coliseum

November 9, 2022

Ivan Putrov's annual celebration of the male dancer returns to the Coliseum with a diverse programme of work, old and new. "Ballet conjures up an image of tutus and pointe shoes," he says, keen to showcase what else the art form can offer since 2012.
---
Review: ZOONATION: MIXTAPE, Sadler's Wells

October 10, 2022

A celebration of ZooNation and their greatest hits from the last 20 years was always going to pack a punch, but Kate Prince's Company of charismatic hip-hop dancers can do wit, comedy, pathos and poignancy too.
---
Review: UNITED UKRAINIAN BALLET'S GISELLE, London Coliseum

September 16, 2022

Comprising over fifty Ukrainian refugee dancers, the United Ukrainian Ballet's debut in London was always going to be a moving and courageous showing.
---
BWW Review: WILD TANGO at Peacock Theatre

May 17, 2022

Save for COVID, German Cornejo and his company of Tango dancers have thrilled audiences with their sultry, authentic displays of the much loved Ballroom dance for countless seasons in London. It may have been predictable but it was enjoyable and well executed. Now for their return post-pandemic, they are trying something new, but unfortunately it's a much poorer vehicle for displaying the talents of highly skilled dancers.
---
BWW Review: BALLET BLACK at Theatre Royal, Stratford East

May 16, 2022

Cassa Pancho's Ballet Black turned 20 last year and to mark this milestone they celebrated with a double bill of two works seen at the Barbican earlier this year and now touring; one an out and proud affirmation on their journey as a company and the second a tribute to their ancestry and heritage.
---
BWW Review: CASANOVA at Sadler's Wells

May 12, 2022

Five years since its premiere, Kenneth Tindall's Casanova remains a distinctive and highly engaging addition to Northern Ballet's repertoire. It's danced with confident storytelling by its cast and Christopher Oram's set design is glossy and slick and of course, it's pretty hot, this is all about seduction not smut. It's only foible remains the heft of the narrative.
---
BWW Review: JEWELS at Staatsoper Unter Den Linden

April 22, 2022

With the closing months of Staatsballett Berlin's 21/22 season turning its attention to some full length classics including Sleeping Beauty and Onegin, an alternative is offered in the form of George Balachine's plotless ballet, Jewels. It's a celebrated neo-classical work which can be seen in the repertoire of companies across the world. With its dazzling costumes and featuring music from Stravinsky and Tchiakovsky, both traditionalists and contemporary fans can find something to enjoy in its beauty.
---
BWW Review: THE FORSYTHE EVENING, Sadler's Wells

April 2, 2022

Just under a year ago, English National Ballet debuted one of the first post-COVID programmes of new work entitled Reunion. It was a delight to be back in the theatre even if it was socially distanced and we were all masked up and tested within an inch of our lives, as a result it was lovely but sanitised (literally).
---
BWW Review: SWAN LAKE, Royal Opera House

March 11, 2022

​Some nights at Covent Garden feel heavy with a sense of occasion and this particular performance of Swan Lake, taking place a week after opening night, was certainly one of them. Liam Scarlett's Swan Lake is not even 4 years old as a production in the Royal Ballet's repertoire but it already has history. Tragically, Scarlett took his own life last year after allegations of sexual misconduct that were never upheld. This run of his interpretation was on it's second outing in March 2020 and has some particular unfinished business with a sweep of exciting debuts still to be enjoyed over the course of performances which run until May. Two of those debuts are from young Principals Anna Rose O'Sullivan and Marcelino Sambé, and what a memorable pairing they are.
---
BWW Review: ROMEO AND JULIET, Royal Opera House

January 13, 2022

The opening night for MacMillan's Romeo and Juliet, a production much loved by the audiences of Covent Garden, saw another dubious opportunity for Artistic Director Kevin O'Hare to take to the Opera House stage and announce "significant changes" to the billed cast. Cue much sighing from the near-full auditorium as it was revealed Marianela Nunez and Federico Bonelli would be stepping in for an isolating Natalia Osipova and Reece Clarke. As replacements go, it's not bad. 
---
BWW Review: DON QUIXOTE at Deutsche Oper

December 10, 2021

A little over a year ago, I attended a performance of Giselle from the Staatsballett Berlin whilst in the knowledge that the next day Corona restrictions would mean a premature end to the run. Fast forward to this year and performances are going ahead under strict "2G" regulations (you must be recovered or vaccinated and wear a mask at all times). Favouring Victor Ullate's (after Petipa) crowd pleasing Don Quixote over the Christmas tradition of Nutcracker this year, the company tackle the challenge gamely although this particular performance lacked the magical feel that going to the ballet at Christmas should give. 
---
BWW Review: STARSTRUCK at Glasgow Theatre Royal (Streaming)

December 2, 2021

Anyone who enjoys that unmistakable Singin' in the Rain aesthetic, the razzle dazzle of Hollywood and dreamy Broadway scores will have a very happy hour watching Scottish Ballet's Starstruck. Gene Kelly was originally asked to choreograph a work for Paris Opera Ballet in 1960, the piece, Pas de Dieux, was celebrated as a "breath of fresh air" at the time, and was widely acknowledged as bringing the "American style" to Europe. In this opulent re-imagining, new audiences can enjoy a slice of joyful nostalgia.
---
BWW Review: BALLET BLACK, Linbury Theatre, Royal Opera House

November 9, 2021

Celebrating their 20th anniversary this year, Black Black return to the Linbury Theatre with a double bill of new work, and in signature style you'll be hard pressed to leave without your heart feeling a little fuller than before. Cassa Pancho's company has always been small, at present featuring eight dancers (not including one currently on maternity leave) and over the years this has allowed audiences to become familiar with their individual faces, styles and techniques. Needless to say, there is a warm familiarity in going to see a Ballet Black show and this latest programme is no different. 
---
BWW Review: BIRMINGHAM ROYAL BALLET - CURATED BY CARLOS, Sadler's Wells

November 7, 2021

There's a particular anticipation for this new triple bill from Birmingham Royal Ballet. In a programme that feels like the start of a new chapter, after being first trailed in Autumn of 2019, Artistic Director Carlos Acosta finally has the opportunity to share his Curated ... works to a London audience. It's an evening that feels distinctly current and contemporary but with the added star power of Acosta himself taking to the stage once more for a fleeting pas de deux with guest ballerina, Alessandra Ferri. 
---
BWW Review: GISELLE, Royal Opera House

November 6, 2021

Sir Peter Wright's Giselle is one of the Royal Ballet's most recognisable productions and offers the most coveted of roles for any ballerina. But it is Natalia Osipova who treats opening night audiences to her take on the role - and what a captivating and very complete experience it is.
---
BWW Review: AKRAM KHAN'S CREATURE, Sadler's Wells

September 24, 2021

​Akram Khan's third work for English National Ballet finally debuted after numerous COVID-related false starts to a vocal Sadler's Wells audience this week.
---
BWW Review: 21ST CENTURY CHOREOGRAPHERS at Royal Opera House

May 21, 2021

Continuing the week that dance returned to the UK, the Royal Ballet favoured a contemporary focus with a mixed bill under the banner title, 21st Century Choreographers. As if the occasion needed further anticipation, earlier that day both immediate and upcoming promotions were announced, with First Soloists Fumi Kaneko and Mayara Magri making the step up to Principal. As at Sadler's Wells the night before, there was giddy applause and foot-stamping as we were welcomed to the performance and a spontaneous standing ovation before anyone had danced a step: heart-swelling stuff. 
---
BWW Review: REUNION - ENGLISH NATIONAL BALLET at Sadler's Wells

May 18, 2021

Before we get to the main business of the dancing, let's focus on what tonight is really all about: the moment the lights go down and there is an announcement, "Welcome to this performance of Reunion by English National Ballet", and followed by that unique sound of applause and cheering from a socially distanced audience that lasts nearly a minute. If you didn't already have a lump in your throat from the sight of a velvet curtain and an overpriced glass of wine in a plastic cup, you will now. 
---
BWW Review: REMEMBERING THE OSCARS, Online

March 28, 2021

Strictly Come Dancing's golden couple, Aljaz Skorjanec and Janette Manrara, return for a socially distanced iteration of their latest big budget production. The pair have toured every year since 2017 with homages to Fred Astaire and the silver screen before this tribute to the Oscars became a COVID casualty in 2020. Timing this year means, once again, hopes of live performances have been quashed, but never ones to sit back, Skorjanec and Manrara are offering fans an abridged version for streaming, featuring an elaborate cast of singers and dancers.
---