Vikki Jane Vile - Page
Vikki Jane Vile has been reviewing dance for ten years, specialising in Ballroom and classical dance. In 2018, she became a member of the Critics' Circle for Dance.
She prides herself on being a Strictly Come Dancing connoisseur since it's inception and has appeared on BBC radio as an expert on all things Strictly. Vikki also writes for Dancing Times magazine and has previously written for CultureWhisper and LondonDance.com.
MOST POPULAR ARTICLES
LAST 30 DAYS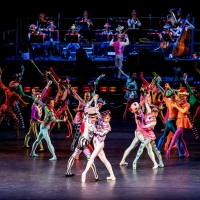 BWW Review: THE ROYAL BALLET: BACK ON STAGE, Royal Opera House
Posted: Oct. 11, 2020


Strictly Come Dancing 2020: Meet The Cast
Posted: Oct. 16, 2020


LAST 365 DAYS
BWW Review: SWAN LAKE, Royal Opera House
Posted: Mar. 7, 2020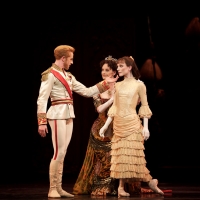 BWW Review: MAYERLING, Royal Opera House
Posted: Jun. 13, 2020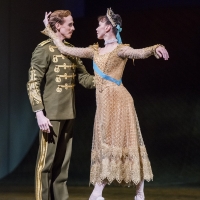 BWW Review: ANASTASIA, Royal Opera House
Posted: May. 17, 2020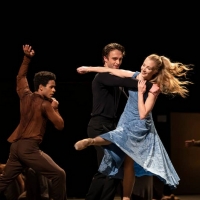 BWW Review: THE CELLIST / DANCES AT A GATHERING, Royal Opera House
Posted: Feb. 18, 2020


Strictly Come Dancing 2020: Meet The Cast

October 16, 2020

Strictly Come Dancing is going to look very different to any of its previous 15 years, as producer of the annual sequinned extravaganza, Sarah James, explained when she recently addressed the media to reveal how the Coronavirus-friendly edition of the show will work.
---
BWW Review: THE ROYAL BALLET: BACK ON STAGE, Royal Opera House

October 11, 2020

The Royal Ballet returned to the stage for the first time in seven months on Friday night. Yes, I could contextualise about how this was bitter sweet and dampened by social distancing but, the dance was too stupendous to give any time to that so let's not and just marvel about how wonderful it was to see them again.
---
BWW Review: EMERGING DANCER 2020, English National Ballet HQ

September 24, 2020

English National Balleta??s Emerging Dancer marks the companya??s first live performance since lockdown and the opener to their newly curated Digital Season as a response to the current COVID-19 restrictions. The annual award sees six dancers from the most junior rank of the company perform a classical as de deux in three pairs, and historically a contemporary solo, although this year saw three first duets featuring original choreography (presumably for bubbling/distancing reasons).
---
BWW Review: BIRMINGHAM ROYAL BALLET'S CINDERELLA, Birmingham Hippodrome

August 28, 2020

Birmingham Royal Ballet looks a lot different today than it did ten years ago when this performance for David Bintleya??s Cinderella was filmed. A return to a familiar classic makes for heartwarming quarantine viewing, as well as an opportunity to watch fine dancers who have since retired.
---
BWW Review: CINDERELLA IN-THE-ROUND, Royal Albert Hall

July 10, 2020

There were few greater joys in dance in 2019 than English National Ballet's Cinderella-in-the-round, which played to full auditoriums for 10 days last summer in London. After recent events, it already feels like a lifetime ago, so it's a particular treat to relive it now, as the last of their series of Watch Parties.
---
BWW Interview: Sander Blommaert On His 100th Instagram Ballet Class

July 7, 2020

Sander Blommaert, a multi-award-winning ballet teacher from Elmhurst Ballet School, and former Royal Ballet First Artist, has completed a run of 100 free online ballet classes throughout lockdown.
---
BWW Review: LIVE FROM COVENT GARDEN - DANCE, Royal Opera House

June 30, 2020

The third installment of Live from Covent Garden is the first to feature two ballet performances instead of one, and all the stronger for it. The result is a more rounded experience for arts fans and the choice of pas de deux more satisfying than those seen before.
---
BWW Review: MANON, Manchester Opera House

June 27, 2020

The latest installment from English National Ballet's series of a?oewatch partiesa?? is Kenneth MacMillan's emotionally demanding Manon. This filming shows a recent performance from late 2018 in Manchester with a stellar cast, most notably Alina Cojocaru in the title role with excellent and memorable support from Jeffrey Cirio as Manon's brother Lescaut, and Katja Khaniukova as Lescaut's mistress.
---
BWW Review: LA FILLE MAL GARDEE, Royal Opera House

June 14, 2020

The Royal Opera House continues to treat us to a fortnightly fix of ballet and what relief this latest edition is. After some rather sombre, heavier narrative works, the froth and joy of Frederick Ashton's La Fille Mal Gardée is balm for the soul. Balletomanes will want to pour over this 2005 recording which features Marianela Nunez' debut in the central role of Lise with Carlos Acosta as Colas.
---
BWW Review: MAYERLING, Royal Opera House

June 13, 2020

Kenneth MacMillan's Mayerling is the vivid dramatisation of the life of Crown Prince Rudolph and his death alongside his young mistress Mary Vetsera in 1889. A staple of the Royal Ballet's repertoire since its premiere in 1978, it is known for the rigorous demands on the central male dancer, but is demonstrated faultlessly in this 2018 performance starring Steven McRae with Sarah Lamb as his teenage lover.
---
BWW Review: ENGLISH NATIONAL BALLET - SWAN LAKE, Liverpool Empire

May 28, 2020

The next lockdown treat courtesy of English National Ballet comes in the form of Derek Deane's Swan Lake. This production last ran over the 2018/19 Winter season with this particular performance seeing Principals Jurgita Dronina and Isaac Hernandez in the leading roles.
---
BWW Review: ANASTASIA, Royal Opera House

May 17, 2020

The latest ballet to feature as part of the #OurHouseToYourHouse series is Kenneth Macmillan's Anastasia, the true story of Anna Anderson who claimed to be the youngest daughter of Tsar Nicholas II and the only survivor of the Russian Royal family's assassination in 1918.
---
BWW Review: THE ROYAL BALLET - THE WINTER'S TALE, Royal Opera House

May 3, 2020

The second opportunity for online audiences to enjoy some Royal Ballet repertoire over lockdown is Christopher Wheeldon's adaptation of The Winter's Tale. First premiering in 2014, it has proved popular with ballet fans and has subsequently been programmed in 2016 (this recording) and 2018.
---
BWW Review: ENGLISH NATIONAL BALLET'S DUST, Milton Keynes Theatre

April 30, 2020

I've written about Dust, Akram Khan's work for English National Ballet World War One programme, Lest We Forget, several times. Somehow, each time, even knowing what's coming, it still packs a chilling, earth shattering punch both through the screen and on stage.
---
BWW Review: MATTHEW BOURNE'S SWAN LAKE, Sadler's Wells

April 23, 2020

It's no understatement to say Sir Matthew Bourne's Swan Lake changed the dance landscape back in 1995 when it first premiered. Any Swan Lake is a juggernaut of a production but Bourne's added layers of storytelling, engaging new characters and unique reimagining for a 21st Century audience cemented a?oeiconica?? status, a word I use sparingly but it's fully justified here. The first in a sequence of Bourne's work to be seen on screen during this time of lockdown which will see releases of Romeo and Juliet and The Car Man, as well as this 2018 production of arguably Bourne's best-known work.
---
BWW Review: ENGLISH NATIONAL BALLET - BROKEN WINGS, Sadler's Wells

April 23, 2020

Admirably enhancing their "at home" offering, in addition to regular live streams of company class and chair-based dance classes for those with limited mobility, English National Ballet now bring us Wednesday Watchalongs, a weekly opportunity to experience key work from their back-catalogue for no extra cost.
---
BWW Review: THE SWAN, Birmingham Royal Ballet Home From Home

April 14, 2020

Since taking the lead as Birmingham Royal Ballet's Director just three months ago, Carlos Acosta certainly hasn't had the easiest time of it. His ambitious first season of programming - featuring Don Quixote, Romeo and Juliet, their popular Nutcracker and a exciting Curated by Carlos bill featuring Alessandra Ferri - is on hold for now thanks to Coronavirus, but Acosta has not shied away from trying something new. Quickly shifting into Home From Home mode, Acosta and co. have experimented with performance and social distancing to create a specially adapted version of The Dying Swan, or as it is known here as simply The Swan.
---
At The Home Barre: The Best Online Ballet and Contemporary Dance Classes

April 8, 2020

The dance studios and weekly classes are all long gone, so what are budding dancers doing to stay in shape now? Luckily, the dance community are a highly disciplined, generous bunch. While we all indulge in some heavy isolation snacking, it's this lot's job to remain fit and healthy. Fortunately for us, they're imparting their knowledge through a selection of live streams, so we can stay home and stay rond de jambe ready.
---
BWW Review: RICHARD ALSTON DANCE COMPANY - FINAL EDITION at Sadler's Wells

March 9, 2020

Richard Alston is a man who doesn't need reviews any more. With a choreographic career spanning over fifty years ("entirely lacking any strategic plan" by his own admission), there is not much that hasn't been said. Alston is also adamant that this Final Edition is a celebration and not a funeral but there are moments in his generous mixed bill that feel heavily bittersweet. With the company closing after 25 years due to funding restrictions, Alston's work could always be guaranteed to bring quality additions to the dance calendar and its absence will be sorely felt.
---
BWW Review: SWAN LAKE, Royal Opera House

March 7, 2020

Enough words have been given to the controversy surrounding this run of Liam Scarlett's Swan Lake, its first revival since a largely triumphant premiere in 2018. I don't wish to dwell further here, and instead want to focus on what was one of the most memorable nights at the theatre in quite some time thanks to some virtuoso central performances, a faultless corps de ballet, and the transporting set and costumes of John Macfarlane.
---