BWW Review: BEAUTIFUL - THE CAROLE KING MUSICAL, Edinburgh Playhouse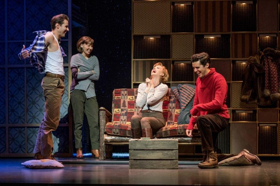 About to enter its fifth year on Broadway, Beautiful - The Carole King Musical examines Carole King's remarkable transformation from schoolgirl to superstar, her relationship with husband and songwriting partner Gerry Goffin, and their close friendship and playful rivalry with fellow songwriting duo Cynthia Weil and Barry Mann.
This first UK tour pleasingly maintains the high production values of the West End version, which recently completed a run of more than two years at the Aldwych Theatre, and again strikes a generally successful balance between jukebox musical and biographical journey.
The show opens with Carole King at the piano on the stage of New York's Carnegie Hall, playing "So Far Away" from her most successful album, Tapestry, released in 1971. As is often the case with this type of show, the audience is then taken on a journey back in time, to explore King's teenage life.
Much of the first half is devoted to a jukebox style showcase of King's early compositions. A talented ensemble appear variously as The Righteous Brothers, The Shirelles and The Drifters, and the hit songs keep coming. Aged 17, King marries her lyricist partner Gerry Goffin after becoming pregnant, and we are introduced to songwriter friends and contemporaries Weil and Mann. There are some pleasant scenes featuring the four characters, but it all seems just a little shallow at this point.
The second half holds the attention more, as King's marriage starts to unravel, and she makes the decision to leave not just Goffin but then also Weil and Mann behind, and heads to Los Angeles.
Bronté Barbé is very good indeed as Carole King. At 18 years old, Barbé was one of the ten finalists in the 2010 BBC One Over the Rainbow talent series, and both her acting and vocals are excellent in what is her biggest role to date. The audience wants to hear Carole King's songs performed well, and she hits the mark every time.
Kane Oliver Perry wins sympathy as Goffin, and much of the warmth of the production can be attributed to Amy Ellen Richardson (Weil) and Matthew Gonslaves (Mann), who are well matched playing the couple that everyone would like to have as neighbours and confidantes.
Douglas McGrath's book doesn't court much controversy, but this is a true story after all, and it's pleasing that it resists the temptation to sensationalise for the stage. The songs are the real star of the show, and any musical which boasts "(You Make Me Feel Like) A Natural Woman", "Will You Love Me Tomorrow", "I Feel The Earth Move", "The Locomotion", "Up On The Roof", "You've Got A Friend" and "One Fine Day" is unlikely to fail.
Beautiful succeeds as a biographical story of one of the world's greatest songwriters. It has a warm heart, and it's very pleasing to see a touring production which practically matches the first-class experience offered by its recent West End predecessor.
Beautiful - The Carole King Musical runs at the Edinburgh Playhouse until 2 December, and continues on UK Tour.
Gregor is a Principal Teacher at a large secondary school in Edinburgh. He has loved musical theatre since the age of eight, and enjoys seeing (read more...)