BWW Review: ALL'S WELL THAT ENDS WELL, Jermyn Street Theatre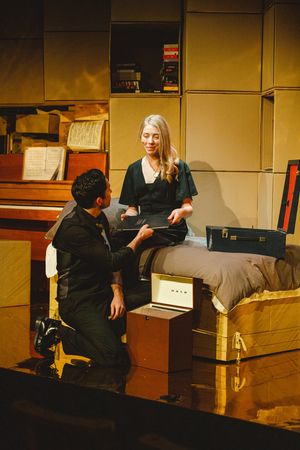 Intrigue, passion, rejection, deception, and incurable illnesses populate Shakespeare's All's Well That Ends Well. One of his most famous problem plays, it essentialy sees Helena chasing after her beloved Bertram in pursuit of love. Director Tom Littler scales down the narrative and assembles a cast of six to present an exceptionally instinctive and nostalgic production. He places the action in a cryptic era, using music as a vehicle and memories as the main narration instrument.
Hannah Morrish is Helena, the protagonist and mind behind the story. She's matched with Gavin Fowler as her difficult lover, who's flanked by Robert Mountford as his not-always-faithful friend. Miranda Foster and Stefan Bednarczyk are the more senior characters, taking on the roles of the Queen and the Queen's counsellor Lafew among others. The cast is topped off with Ceri-Lyn Cissone, who plays Diana and Dumaine as well as accompanying Bednarczyk at the piano.
There isn't a weak link in the company, with Foster delivering an astounding performance. Her characterisations are impeccable and versatile, juggling fine comedy and razor-sharp drama seamlessly. Littler shines a peculiar light on Bertram, stressing his less than noble sides and minor sleaziness in Fowler's portrayal. He is bratty but lively, establishing a connection with Mountford's Parolles immediately before tearing it down because of his treachery.
The latter steals the scene. From slipping a join to young Helena before leaving for Paris to his recurring visual gags, he earns the favours of the audience instantly as he steps on the stage. The direction triumphs in exploiting the intrinsic comedy in the text while keeping the show tonally homogeneous. The crowd laughs when the Queen appoints Bertram as Helena's future husband before Littler has her imperceptibly break in the face of his refusal, which creates a continuous swinging of directive inflection.
The detailing is simply impressive both visually and sonically. Matt Eaton curates the sound design, alternating a rock score that includes the likes of Fleetwood Mac to piano accompaniment carried out by the actors. Neil Irish and Anett Black take care of the set: piles of cardboard boxes that will reveal a different colour scheme to alter the mood in Act II envelop the characters and hide music sheets and vinyls. Thus, Littler manages to give a soberly cool and indie vibe to the show, making All's Well That Ends Well a relatively modern and piercing tale while maintaining a rather classical slant.
The approach to the text and the grander core intentions of the production feel like a breath of fresh air for the material. Littler succeeds in reviving Shakespeare's lesser performed plays with style and verve, offering a new take on what is historically quite a cynical and unconventional plot.
All's Well That Ends Well runs at Jermyn Street Theatre until 30 November.
Photo credit: Matt Pereira
Related Articles View More UK / West End

Stories

Shows
Cindy Marcolina is a reviewer for BroadwayWorld.com, a script reader, and a huge supporter of new work. She's also usually the one wearing red glasses (read more...)