BWW Review: 17C, Old Vic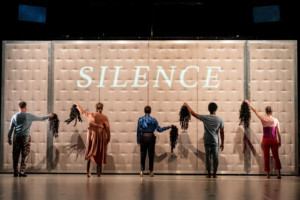 Most people will associate Samuel Pepys with the Great Fire of London, but there were more to his extensive diaries than that. In fact, he would note down pretty much anything that happened during his day - even if it only resulted in an entry about his bowel movements! Annie-B Parson and Big Dance Theater have taken this larger-than-life character as the starting point for their current show 17c, which aims to give his long-suffering wife Bess a bit more of an input - as well as sharing some of Pepys' more colourful stories. It is at the Old Vic as part of Dance Umbrella for only a few days.
This year Dance Umbrella celebrates its 40th anniversary, and is showcasing several other dance-based productions at various London venues over the next few weeks. It also offers talks, workshops and opportunities for professional development, as choreography of all kinds is celebrated across the capital.
Big Dance Theater have been performing for over 25 years, combining dance, music and literature to create unique pieces of theatre; 17c was actually first performed in America last year, with this being its UK première. It's a slightly bizarre mix of narration, skits and choreography, attempting to draw parallels between Pepys' obsessive diarising and people's social media habits today - things haven't really changed over 350 years, apart from the technology we use to document even the most mundane events. This is cannily accentuated by the "Restoration book club" vloggers and the use of cameras and screens across the stage.
There's also #MeToo and feminism to consider, as the unabridged editions of Samuel Pepys' diaries reveal how he openly groped and raped women, not to mention how he burned his wife's own diaries when he found them - and seemed to take great pleasure in doing so. This is where elements of choreography come in: to give Bess a new voice. There isn't as much dance and movement as you might expect from a show that's part of a major dance festival; it seems almost unsure of what it wants to be, with the concise 80-minute running time perhaps working against it slightly.
Aside from Kourtney Rutherford and Elizabeth DeMent's thoroughly entertaining book club vlogs, the show is at its best when "Sam" and Bess are interacting, as well as when it sticks to a short and snappy selection of scenes. Paul Lazar's central moment, wherein Pepys describes his long infatuation with his wife's maid (Deb Willet), goes on for far too long - the piece stagnates while he sits in his armchair, and doesn't quite recover its early energy from there until the end of the show.
On the whole, this is rather a challenging piece - though not without its enjoyable moments. It's safe to say that 17c is far from your average night out at the theatre.
17c is at the Old Vic until 29 September
Picture credit: Manuel Harlan

Related Articles View More UK / West End

Stories

Shows