BWW Interview: Sandy Grierson Talks OTHELLOMACBETH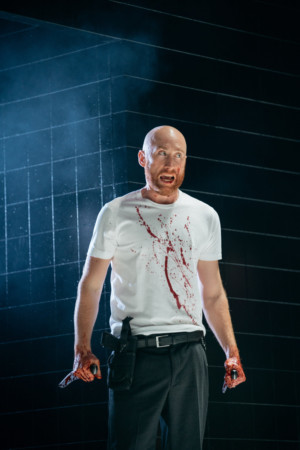 Sandy Grierson returns to the London stage in othellomacbeth, taking on the roles of Cassio and Macbeth in one show. No stranger to doubling, Grierson previously played the roles of Faustus and Mephistopheles in the Royal Shakespeare Company's acclaimed production of Doctor Faustus in 2016, the parts decided with the lighting of matches.
Taking us through his thoughts on and experience with Shakespeare, Grierson shares Jude Christian's vision of the two plays and just why they chose (and to an extent needed) to "f*** with them a bit".
What was your first experience with Shakespeare?
I think it was playing a non-descript sprite in A Midsummer Night's Dream. I wanted to do drama when I was 7 or 8, and I went to the Edinburgh Acting School. And I was a sprite in this bright orange and green outfit. And of course, I was delighted!
Since then, what's your relationship to Shakespeare been like on stage?
Well I actually did that play again with Headlong, playing Puck. More recently, I've done work at the Royal Shakespeare Company. I played Ariel (another spirit) in The Tempest, in the What Country Friends Is This? Season in 2012.
Funnily enough though, recently it's been more Marlowe than Shakespeare for me at the RSC (Doctor Faustus, doubling as him and Mephistopheles).
But coming from a devising and new writing background, Shakespeare was never the primary reason for me getting into acting. I don't really have Shakespeare parts that I want to tick off, like some actors do. But I do enjoy it when it comes.
And now two have come at once in othellomacbeth. How familiar were you with those two plays?
I haven't had as much experience of Othello as I've had with Macbeth. I knew it, but I'd never tackled it in any kind of work setting.
With Macbeth, I was involved in Dunsinane by David Grieg when it toured around the UK and I played Malcolm. That was a fantastic play, it's a sequel to Macbeth. And since then, I've been able to do Macbeth itself in workshop settings.
The Deaf and Hearing Ensemble did a workshop at the Barbican a year back on Macbeth (I think they're working on it again now). Sophie Stone is a fantastic actor and watching her translate Shakespeare into her body and then performing with her was amazing. Textually it's fascinating: textual analysis immediately goes into the body in terms of signing. I learnt a lot.
And I was also lucky enough to go to China with Matthew Lenton, who runs Vanishing Point from Glasgow. We did a workshop on Macbeth with the Beijing Opera School, looking at what had been done in Mandarin and Cantonese and all these different translations. And we had the English translation on one side of the page and the Kanji on the other.
But what was amazing was watching the Peking Opera actors playing these set speeches and scenes from Macbeth completely in their own style and tradition, and then also performing them in a more Western style of acting. So that was interesting to see how the plays can be adapted and played with in terms of acting style.
Jude Christian's production is quite experimental, in terms of playing with text. Can you take us through the premise?
So when I first heard it was othellomacbeth, I assumed it was Othello and Macbeth in rep. And then I got the script and I was like, "Oh, this is literally othellomacbeth, all one word!" Those two worlds are linked, they talk to each other.
With Othello, we're dealing with who has the power and who has a voice and who can push the action forward. So Jude had a clear idea that she was going to take Othello and then have the three women who (to various degrees) all suffer from not having their voices heard, and make them the Witches.
And we don't change costume between the two shows. So those three women from Othello come into Macbeth with the stains of their injustices on their bodies. And in Macbeth, they then have the possibility to right the wrongs that they faced in Othello. Or at least avenge them.
So when Jude Christian was saying she wanted to take these two plays and sort of (for want of a better term) make it a feminist revenge tragedy, that sounded to me like a good way of dealing with these texts. To kind of f*** with them a bit!
To those who may wonder, do those texts need f***ing with?
Absolutely when it comes to gender. You know, it's really interesting, gender politics. I mean Shakespeare is pretty reactionary and that's not just comparing it to our time, but comparing it to the time back then.
If you look at the titles of Shakespeare's plays, the only woman in the titles comes once and as second billing: Anthony and Cleopatra. You look at the early plays, pre-Shakespeare including Marlowe's work, it's predominantly all names of women. So Dido Queen of Carthage, that sets a woman centre stage.
There's another writer called John Lyly who had two women dressed as boys, each sharing their attraction to the other with the audience. "I'm quite attracted to this boy, but he doesn't know that I'm a girl". All that sort of thing.
And then they both end up working out that that boy isn't a boy after all and walking off together, in a suggested lesbian relationship. And then Shakespeare takes that conceit in Twelfth Night and he makes them heterosexual and nobility.
So you look at this reactionary politics in Shakespeare which keeps on getting played out and played out. For all its glorious language, I'm not totally convinced that Shakespeare was politically forward looking in any way, shape or form.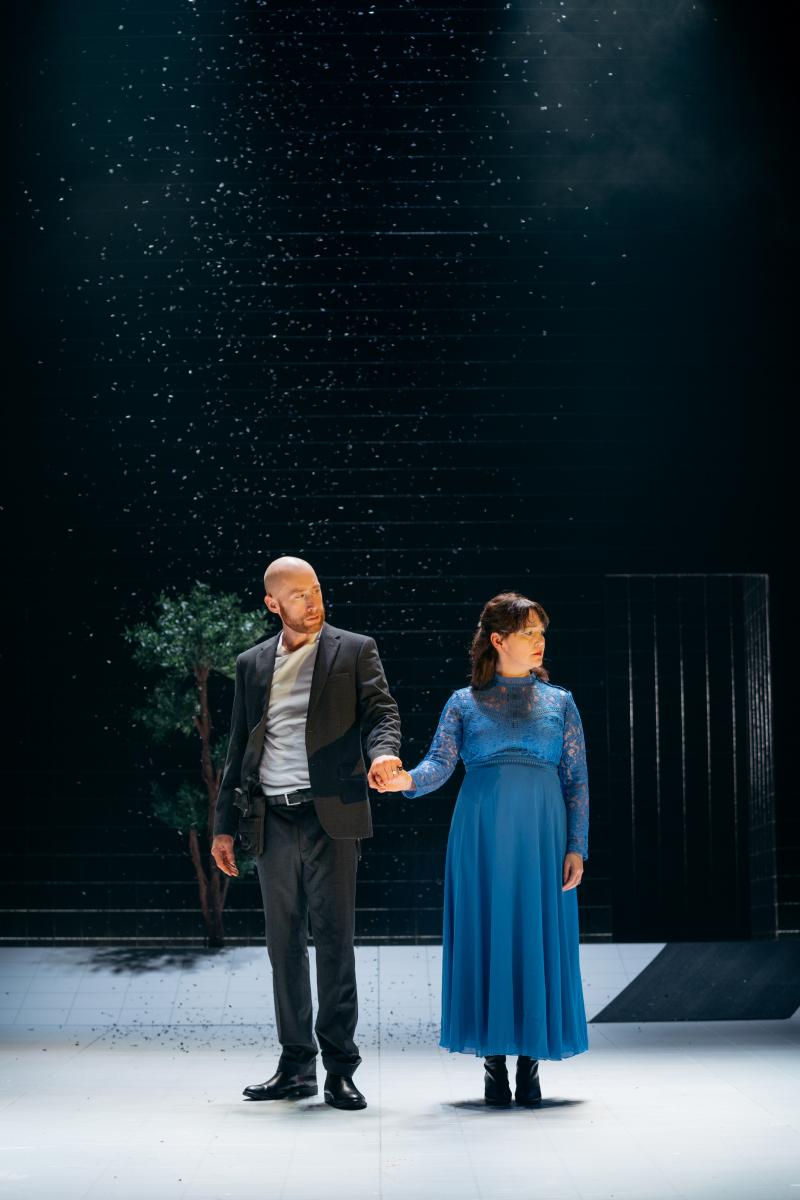 What was the process like, cutting those plays?
Jude came to rehearsals with a script taking the first half as Othello and the second half as Macbeth, both trimmed down. And lines have come and gone since then in rehearsals, all with the intention of charting that narrative to make it as clear as we possibly could.
She wanted to cut a lot of the text that the men have that ultimately contextualise domestic violence and murder. And by shaving away a lot of those larger speeches, which in a sense speak about women or for them, it gives the women their voices back and their language sings a bit more.
They have their moments with the audience and it does something interesting to the dynamics of that story. The nightmarishness of Desdemona's predicament.
And as we worked through, there definitely was a sense of devising with Shakespeare at times. Not as much making lines up, but cutting, pasting, lifting lines from each play. Sometimes, you're taking some of Macbeth's lines, some of Lady Macbeth's lines, and giving them to the Witches.
And there's this ongoing conversation about the overall arc of their revenge: whether or not it's working, or whether it's just perpetuating the same sort of patriarchal problems that were in Othello.
I imagine that patriarchal cycle is even more evident, with the doubling of characters and actors across the two shows.
Definitely. So the whole cast doubles across the two plays and I play Cassio / Macbeth.
I'd say none of us are shifting our characters that much. So the notion is that the Witches are reeking their revenge on those figures from the previous play. For me, it's about trying to not make them completely different. Let them be the same sort of character, but in a different social setting.
I mean they're both of high families, they're both soldiers, there are similarities to be found there. Cassio idolizes Othello, Macbeth feels threatened by Banquo's status.
They're both rising through the ranks, there is an ambition there...
Exactly. Then I think there's the events that transpire, that "vaulting ambition" that throws Macbeth forward, so by the end you see where that takes him. And if there's one thing that Cassio definitely isn't is a sociopathic tyrant! But who knows where events can take you?
You're aware that you are playing the same person, and the audience are looking at the same person, but probably just at a slightly different time or space or with different forces working on them that means that they've made different choices for better or worse.
You've just come to London after playing HOME in Manchester. How was that, bringing it before audiences for the first time?
I believe a show can change massively in previews in front of an audience.
Sometimes you can feel like you're in an absolute shocker, you don't know what you're doing from one minute to the next, the actors are moaning, "It's a total nightmare, it's going to be panned". And then you hit the first preview and the audience go crazy for it! And it's like you haven't seen what the thing was until the audience did.
Then again, it can go the other way round. So that moment when you first get an audience in is so important. I always think you can make a show better from the first preview to the press, I've never done a show where they are the same. But there's something that seals the deal when the audience comes in.
So with this show and taking it to Manchester first, it's been a nice response especially from the younger audiences. And it feels fresh, exciting and necessary.
othellomacbeth at the Lyric Hammersmith until 3 November
Photo credit: Helen Murray