BWW Interview: Derek Ahonen Talks CATHERINE AND ANITA at King's Head Theatre

After a successful debut at last year's Edinburgh Festival, Derek Ahonen's one-woman show opens on 9 February at the King's Head Theatre. Catherine and Anita is a dark comedy about heartbreak, mental illness and how those in need so often slip through the cracks. Ahonen is an internationally acclaimed playwright, director and founder of The Amoralist Theatre Company in New York.
Tell me about Catherine and Anita...
It's a show about... We don't like to say what type of mental illness it is specifically, but it's about a woman who has been abused throughout the course of her life, and somewhere along the way she's developed something where she's struggling to deal with her reality.
It's a nature versus nurture show, and this woman's nature and nurture are not the best. When talking about it, we're very protective about what we want to give away. There's an element of onion peeling that's exciting.
Is mental illness a tricky topic to tread through as you're creating the show?
Sure it is. With regards to mental illness, people have always known it's existed, and have always understood it, but it's swept under a rug. Every family deals with it, but until recently most of us have been like "Oh, that's Crazy Uncle Joe being Crazy Uncle Joe..." Well actually, Uncle Joe needs help.
And what's been the response to the show so far?
Audiences are walking out not knowing whether they should laugh or not, and I would say that's a really good response. It's funny, because you'll see your audience emerge afterwards, and you get to hear what they say. They know Sarah because they've watched her for an hour, but they won't know me, so I get to be a fly on the wall.
What have you heard as a "fly"?
"What the hell did we just see?" "What was that thing?" "We think it's about... but we also think it's about... but it's also a comedy, but it's not a comedy..."
So they're confused in a way that I want them to be. They're having a conversation afterwards and thinking what it's like to be that person, so they're identifying with the character.
How much of the piece has been inspired by people you've met, spoken to and/or your own experience?
Well... My ex-girlfriend; I loved her so much and was ready to give up everything. She was a childhood friend and she opened up to me more than any usual kind of dating. There were no games, she was just a 36-year-old mother who was very upfront about a lot of things. On her side of the spectrum, it was difficult psychological and emotional abuse, to the tenth degree.
When I started writing the show she had left me to go back to the abuser. I wasn't angry with her; she was just being a good mother and looking out for her kids. The grandparents were going to retract the college education funds and basically bleed her to death. She hadn't worked during her entire marriage, which started when she was 18, and I felt so terrible for her needing to back to that terrible situation.
Instead of getting angry and wanting to retaliate, I decided to channel it into something that might maybe, and this will sound so pretentious, but might maybe benefit other women or men. Abuse is abuse, and I wanted to do something that could help.
And when I say it's a comedy about abuse, trauma and mental illness, I mean it in the sense that we need levity. No one wants to see something for an hour that's just pain. There are certain theatre companies that like to do that, and they do it well, but it's just not my thing.
What made you want to bring Sarah on board?
Sarah had contacted me about doing a one-woman show. I was quite content with my career in the theatre, and I've done most of what I wanted to do; but the one thing I could never think of doing was a one-person show. Most people who write that type of thing want to be in it themselves, and I don't want to be an actor.
But anyway she asks what I think it'll look like, and I say that I really don't know what it'll look like in terms of themes or philosophical ideas; but what it won't look like is some type of 'Lily Tomlin from the Eighties' show. Now I love Lily Tomlin, but it's been done so many times where an actor shows off their range playing 18 different characters.
So I ask Sarah what she thinks it'll look like, and she's like "Fuck if I know". We thought about it for a bit, and I go, OK: a show in which we have 11 characters, but we only see one of them. I still don't know if this is an original idea, and I really don't care because I'm not in the market to invent a medium that's new.
But most importantly, I love Sarah and she's one of my favourite actresses. I've worked with her before and she came to me. If my dad had come to me, I would have been like you're not an actor, what do you know? But Sarah came to me with a great idea and passion, so we figured it out.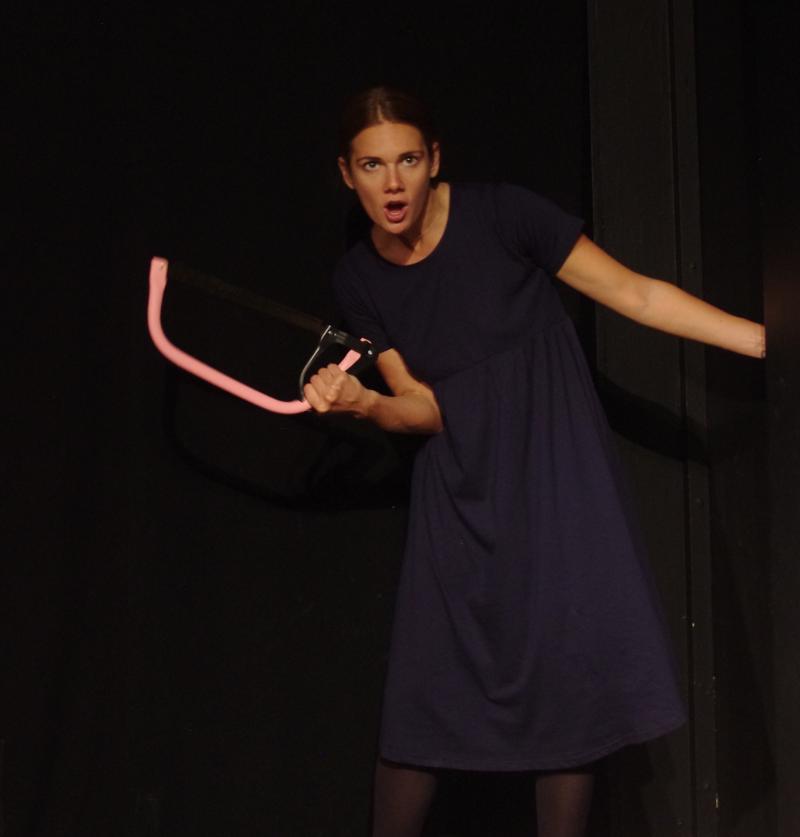 What has made you bring the show to the King's Head?
Frankly speaking, the artistic director's passion about the project excited me. As an artist, when someone's passionate about your project it's amazing. Also, the show is built to work on a thrust. I didn't know the King's Head too well, but then I did my research and it's the right venue for it.
What was your highlight of your time in Edinburgh?
Ha, I could name a bunch of lowlights. Actually, let me name them first and I'll eventually make my way to the highlights...
Terrible weather. I hate walking up hills. I hate doing plays for people that are drinking outside and being loud. I want to be in my own space. I hated that I couldn't find green vegetables, and everything is fried. Now, the highlight is that you can meet a shit ton of people there, who are looking to see theatre because they love it.
In the late Nineties and Noughties, New York was at the end of that territory, where there was theatre everywhere. New York is where I built my career around 2012/2013, but you started to feel that people weren't going to see downtown theatre, or they weren't looking to explore new work. But Edinburgh reminded me of the old NY culture where people wanted to constantly discover, and that was refreshing.
What first brought you into the theatre?
My mother was a community theatre director, and even though she thought she was making great art, it was more about having a good time with everyone from all walks of life. I think that from partaking in community theatre people grow up to be solid adults, which is why I'm a huge champion of it.
If I were to quit my professional career I think I'd be interested in creating a community theatre again, because it really is the basis of all walks of life getting together without judgement. Well, the only judgement is if you fuck up your lines.
Anyway, my mum ran that for the first 15 years of my life. I was an actor, and I liked being an actor, but I realised in the late Nineties, when I got out of acting school, that I was an average-looking guy. And I'd go to these auditions where there'd be better looking versions of me, all going up for this stupid alligator commercial. I was like, I've just finished at school doing Uncle Vanya and now I'm here.
I knew for me that acting kind of sucked, and I wanted to write a play, but how do you write a play? Anyway, I found myself at Duane Reade and I thought, if not now, then when? So I bought myself a notebook and went to Central Park to sit on a big rock. I remember I had no money to my name, but I bought myself a $30 pen, and in that park I wrote the first act of my first play all in one sitting. From there on, I was like, well I'm a writer now and I've never looked back.
What do you say to people who want to write a play, but don't know what do?
You see there's a stigma that actors want to write plays for themselves. I believe the first play you should write as an actor is for yourself. Write the part you've always wanted to play, and that's what I did. And that play will probably be terrible, or it might not. After you've written that, you then start to think about what interests you as a writer, socially and physically.
You need to learn how to express your feelings, but you also need to know about structure and how things flow. However, you can be an autodidactic and look it up yourself, like I did. I feel like actors are more in tune with creating honest characters, due to the training that they've undergone.
But hey, if you can make a penny from your art it's kind of awesome. People have to do shit they don't want to do, and slave away all their life. But it is possible to survive as a writer, and it's a great privilege.
Catherine and Anita runs at the King's Head until 24 February
Photo credits: Dave Walker

Related Articles View More UK / West End

Stories

Shows