We Happy Few to Present THE DOG IN THE MANGER This Fall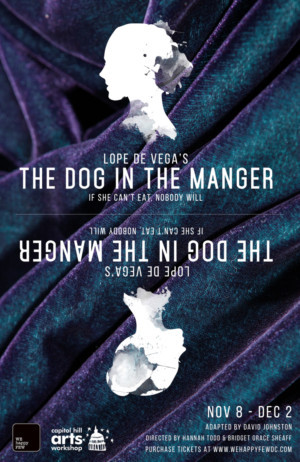 We Happy Few productions, named by the DCist as one of the Best Small Theatre Companies of 2015, will bring a masterpiece from the Spanish Golden Age to life this fall: Lope De Vega's THE DOG IN THE MANGER.
In classic We Happy Few style, the production will focus on actor-driven theatricality. A cast of seven will portray more than fifteen characters in our laser-focused 90-minute cut of the play, highlighting the battle between a countess and her lady-in-waiting as a mirror for the frustrated war that women find themselves fighting in matters of power and marriage.
THE DOG IN THE MANGER runs November 8 - December 2 at Capitol Hill Arts Workshop.
"If she can't eat, nobody will."
Diana, Countess of Belfor, has ignored all advances from suitors volleying for her hand in marriage. When her secretary, Teodoro, expresses his love for her lady-in-waiting, Marcela, Diana finds herself consumed with jealousy - and, to her surprise, in love with Teodoro. The two women launch into an intense battle of class, wealth, and the common disregard for the desires of others as they fight for Teodoro's affections. Lope De Vega's comedy enlightens much about the present era, as we watch the wage gap, gender, race, and affluence deepen the divides in the framework of the American people. A humorous but insightful examination of privilege, THE DOG IN THE MANGER leaves us asking, "If I raised my voice, would any of this change?"
Hannah Todd (HAMLET, ROMEO & JULIET, THE WINTER'S TALE) and Bridget Grace Sheaff (A MIDNIGHT DREARY) direct a cast of seven actors in THE DOG IN THE MANGER. The cast includes WHF Artistic Director Raven Bonniwell (HENRY V, CHALK, ROMEO & JULIET), Tori Boutin (SHE KILLS MONSTERS:
Rorschach Theatre), Debora Crabbe (WOMEN OF PLUMS: DCCAH), Natalie Cutcher (THE MERCHANT OF VENICE: Faction of Fools), Louis E. Davis (WORD BECOMES FLESH: Theater Alliance), Kiernan McGowan (HENRY V, THE WINTER'S TALE, ROMEO & JULIET), and Charlie Retzlaff (DON JUAN: Faction of Fools).
Founded in 2012 by Hannah Todd and Raven Bonniwell, We Happy Few is committed to presenting productions that offer a unique perspective on classic texts. We Happy Few has established itself as one of Washington D.C.'s best small theatre companies (the DCist, 2015) by nurturing a creative environment that thrives on ensemble collaborations with some of the nation's most promising emerging theatre artists.
WHF's flagship production of a six actor, 90-minute HAMLET premiered at the 2012 Capital Fringe Festival to great acclaim, exploring the idea that the entire play unfolded in the title character's mind. WHF's production of HENRY V last spring was hailed as "a fascinating, resonant, and important new take on a known work" (Broadway World). DC Metro Theater Arts declared that We Happy Few's work is "a new approach to Shakespeare you will not want to miss."
THE DOG IN THE MANGER is presented at the Capitol Hill Arts Workshop (545 7th St SE) located in the Eastern Market neighborhood, Washington, DC. Performances are November 8 - December 2: Wednesday through Saturday at 7:30, with two pay-what-you-can Saturday matinees on November 18 and 25 at 2pm and one industry night on Monday, November 13 at 7:30. Opening night is Friday, November 10 and Press Night is November 11. November 8 and 9 are pay-what-you-can previews. Tickets are available at whfdoginthemanger.bpt.me or linked through the We Happy Few website, www.wehappyfewdc.com.
Follow us on Facebook: www.facebook.com/WeHappyFewProductions and Twitter and Instagram: @WeHappyFewDC #DogintheManger for behind-the-scenes information about this show.