Your ACT Theatrical Co. presents: THE ROCKY HORROR SHOW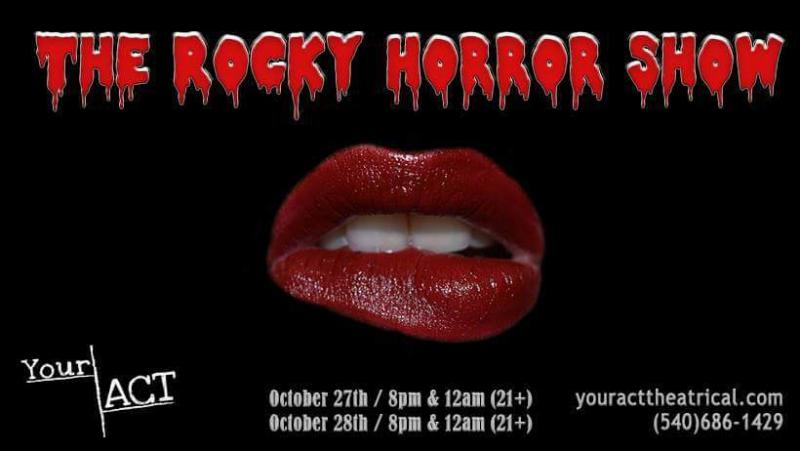 Your ACT Theatrical Co. will present THE ROCKY HORROR SHOW on October 27th and 28th at Brewbakers restaurant in Winchester, Virginia.
THE ROCKY HORROR SHOW is a musical with music, lyrics, and book written by
Richard O'Brien
. A humorous tribute to the science fiction and horror B movies written throughout the 1940's and early 1970's, this musical follows the story of a newly engaged couple, Brad Majors and Janet Weiss, getting caught in a rainstorm and happening upon the home of mad transvestite scientist, Frank N Furter, who is getting ready to unveil his new creation, a Frankenstein-style monster in the form of an artificially made, fully grown, physically perfect muscle man named Rocky Horror. THE ROCKY HORROR SHOW was one of the first musicals to depict fluid-sexuality in a time between different generations and an old-world lack of acceptance for sexuality outside of the norm. At the time of its release, it pushed boundaries and has since become a cultural icon which promotes empowerment of self-creation and all sexual orientations. Since the '70s, a societal evolution of sexuality and gender have created cultural and legal change, coming closer to realizing the musical's futuristic vision of an accepting sexual revolution.
The production is directed by Drew Becker, produced by Alex Boyd, with the cast being helmed by Larry Toyter (Frank n Furter), Brody Grant (Brad), Kelly Donah (Janet), Josh Cody (Rocky), Annanoa Kaufman (Riff Raff), Alexandra Fleshman (Magenta), Alexis Yard (Columbia), Ashley Knack (Eddie/Dr. Scott), Rick Leanord (Narrator), Phantoms: Drew Elhamalawy, Sam Cadieux, Jacob Cornelius, Coleman Campbell, Cait Kelley, Elena Doyno, Bailey Baker, Kaila Freidman, Adrienne Elion, Marissa Myers, Cara Thomas, Meg Willimont.
The production will feature a full bar, goodie bags to inspire audience participation, and showings at both 8pm and Midnight on October 27th and 28th. The artistic staff encourages audiences to attend the performance in costume and to experience this fully immersive production that will surely not disappoint. Tickets can be purchased online at
http://www.youracttheatrical.com/tickets-2
.