Shakespeare Theatre Company Offers Free Tickets To RICHARD THE THIRD To Government Employees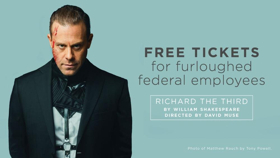 Shakespeare Theatre Company is offering a limited number of free tickets to Government employees affected by the Government shutdown for their production of RICHARD THE THIRD during preview week, February 5-10 with the promo code FEDERAL19.
Tickets may be ordered online, by phone, or at the box office.
Government employees must present a valid Federal ID when picking up tickets.
Limit of 4 tickets per ID.
After his hit production of King Charles III, David Muse returns to Shakespeare Theatre Company to direct Shakespeare's Richard the Third, a mesmerizing chronicle of the megalomaniac's rampage to the throne. The production will play at Sidney Harman Hall (610 F Street NW) from February 5-March 10, 2019.
Richard the Third is the ultimate story of villainy, charting the rise of a tyrant who will stop at nothing to gain power. As he climbs ever higher, Richard bends the world to his will until even his mother can't bear to own him. A study of both character and society, Richard the Third comments sharply on how a nation allows itself to fall into line.
"It's a great play for now," says Muse, currently Artistic Director of Studio Theatre. "It's about a heartless man, a con artist, a man obsessed with winning and power, a misogynist, a spinner of news and misinformation, a man who thrives by beating others, a man who uses and discards people. It's about how a country responds to a leader like this. We watch people negotiate with their own mortality, align themselves with power and resist secretly if at all."
Returning to STC in the titular role is Matthew Rauch, best known for his role on Cinemax's Banshee. Other familiar faces in the 28-person cast will include David Bishins (Twelfth Night) as King Edward IV/Ratcliffe, Cody Nickell (The School for Lies) as Duke of Clarence/Tyrrel, Todd Scofield (The Comedy of Errors) as Rivers and Harry A. Winter (Kiss Me, Kate) as the Bishop of Ely, and Robynn Rodriguez (Richard II) as Queen Elizabeth. Actors making their STC debut include Broadway, film and television veteran Lizan Mitchell (Electra, The Unbreakable Kimmy Schmidt) as Margaret, Broadway actress Sandra Shipley (Present Laughter) as the Duchess of York and Broadway's Cara Ricketts (Time and the Conways) as Lady Anne.
More information about this offer is available by following this link: http://www.shakespearetheatre.org/events/richard-third-shutdown-offer/?promo=FEDERAL19