Shakespeare Theatre Co Announces Casting For Adaptation VANITY FAIR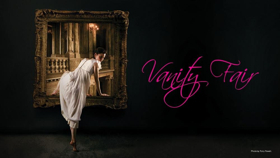 Following the success of her Sense and Sensibility at the Folger Theatre in 2016, Wall Street Journal's Playwright of the Year 2017 Kate Hamill, returns to D.C. with her adaptation of William Makepeace Thackeray's classic novel Vanity Fair. Hamill's vibrant and colorful tale about society's foibles is a co-production with San Francisco's American Conservatory Theater. Directed by Jessica Stone and featuring Rebekah Brockman as Becky Sharp, the production will run at the Lansburgh Theatre (450 7th Street, NW) from February 26 through March 31, 2019.
Making their STC debut is Rebekah Brockman (Mrs. Miller Does Her Thing) as Becky Sharp, and Maribel Martinez (Julius Caesar) as Amelia Sedley. Playing multiple roles in this unique ensemble production are Alyssa Wilmoth Keegan who won the Helen Hayes Award for Best Lead Actress in a play for her performance in Cat On a Hot Tin Roof at Roundhouse Theatre, Anthony Michael Lopez (Light Shining in Buckinghamshire) and Vincent Rendazzo (A Walk on the Moon). Returning to STC following his role in King Charles III in 2016 is Dan Hiatt.
Vanity Fair follows the lives of Becky Sharp, a woman of humble means, and her gentle friend Amelia Sedley, a woman from privilege, who forge a deep friendship as their fortunes intersect. Becky uses romantic entanglements and risky business deals as the rungs to climb from penniless beginnings to the upper crust of Victorian society. A bright dance hall pageant poking fun at all our pretenses, this new adaptation harnesses the frivolity of Thackeray's novel while recasting its (anti) heroines as complex, vibrant women.
"Vanity Fair is a story about hypocrisy - about the lies we tell to ourselves and to others, and about the many winding paths we take to get what we want," said Kate Hamill. "Female-centric stories are vitally necessary to tell; now, more than ever. We need to re-examine who drives our narratives. We need to hear stories about how women can come together to break the rules of a society that is often hostile to them - a society that punishes them both for conforming and for rebelling."
"Kate has produced a witty and distinctly unfussy retelling of a great work of literature and an opportune time to direct a female-centered story, powered by women" said Jessica Stone.
ABOUT THE CAST
Making her STC debut is Rebekah Brockman (Becky Sharp). Her NY theatre credits include A Taste of Honey (Pearl); The Burial at Thebes (Irish Rep). Regional: Mrs. Miller Does Her Thing (Signature Theatre); The Liar (Westport Country Playhouse); Arcadia (Yale Repertory Theater - Connecticut Critics Circle Award-Outstanding Featured Actress in a Play); Our Town (Actors Theater of Louisville); Arcadia, Dead Metaphor (world premiere), A Christmas Carol, Elektra (with Olympia Dukakis), Happy to Stand (American Conservatory Theater); Romeo and Juliet, Blithe Spirit (California Shakespeare Theater); The Children (The Gift Theatre); The Winter's Tale, The Comedy of Errors (Kingsmen Shakespeare Company) Film: Bridge of Spies with Tom Hanks, directed by Steven Spielberg and The Chaperone. Television: "Divorce" "The Knick," "The Mysteries of Laura," "The Slap," "Jessica Jones," Additional Credits: Rince na Tiarna School of Irish Dance, MFA American Conservatory Theater (Sadler Award). LU4TC! RebekahBrockman.com
Returning to STC following his role in King Charles III is Dan Hiatt (Manager, Miss Crawley, Lord Steyne, General Tufto) REGIONAL: STC: King Charles III; American Conservatory Theatre: The Birthday Party, Hamlet, Ah, Wilderness!, Rosencrantz and Guildenstern are Dead, The Cherry Orchard, The Rivals; Berkeley Repertory Theatre: Joe Turner's Come and Gone, Dinner With Friends; Yale Repertory Theatre: Father Comes Home from the Wars; The Huntington Theatre: The Way of the World, Mary Stuart; California Shakespeare Theatre: As You Like It, Romeo and Juliet, Hamlet, Man and Superman, Nicholas NicklebyI; Arizona Theatre Company: The Two Gentlemen of Verona, Dirty Blonde; San Jose Repertory Theatre: A Flea in Her Ear, This Wonderful Life; Marin Theatre Company: Othello, Anne Boleyn; TheatreWorks, Upright Grand, The Twentieth Century, The 39 Steps; Ford's Theatre: Picasso at the Lapin Agile, (Helen Hayes Award nomination).
Helen Hayes Award Winner Alyssa Wilmoth Keegan (ACTOR 4: George, Lesser Pitt, Miss Briggs, Lady Bareacres, Servant 1, Landlord, German Fairgoer 2, Gentleman 2, Sheriff), BROADWAY: Thomas The Tank Engine Live Onstage; OFF-BROADWAY: La Mama: Agamemnon; REGIONAL: Roundhouse Theatre: How I Learned To Drive, Cat On A Hot Tin Roof (Helen Hayes winner: Best Lead Actress in a play), Becky Shaw; Woolly Mammoth Theater Company: Gloria, Botticelli In The Fire; Kennedy Center: Digging Up Dessa; Mosaic Theater: The Return; Olney Theater Center: Fickle: A Fancy French Farce, Bad Dog (Helen Hayes Award nomination Outstanding Ensemble); Ford's Theater: Come From Away(Helen Hayes Award nomination, Best Supporting Actress in a Musical; Helen Hayes Award winner, Outstanding Ensemble), Imagination Stage: The Night Fairy, Folger Theater: Richard III, No Rules Theater Co.: Late: A Cowboy Song, Stop Kiss; Studio Theater: Contractions; Theater J: The History of Invulnerability, Baltimore Center Stage: The Container; American Shakespeare Center: more than 30 productions including 15 of Shakespeare's canon, FILM: Kringle Time (2019) TRAINING: M.F.A. Academy for Classical Acting, Shakespeare Theatre Company.
Anthony Michael Lopez (ACTOR 3: Dobbin, Miss Pinkerton, Rose Crawley, Gentleman 1, Servant 2, Servant 3) makes his STC debut. NEW YORK: Off-Broadway: Light Shining in Buckinghamshire (New York Theatre Workshop, dir. Rachel Chavkin), Othello (starring Daniel Craig & David Oyelowo, dir. Sam Gold), Dessert (dir. Whitney White), The Artificial Jungle, Agatha Christie's The Unexpected Guest(Theatre Row). NATIONAL TOURS: The 25th Annual Putnam County Spelling Bee (Doug Panch). REGIONAL: Henry V (Hartford Stage), Nike, or We Don't Need Another Hero (A.C.T. San Francisco), The Penalty (The Public), A Midsummer Night's Dream (Queens Theatre), All The Rats & Rags (Joe's Pub). FILM: Mapplethorpe (starring Matt Smith, Tribeca FF), Anomaly, Pop Meets The Void. TELEVISION: "Broad City," "Homeland," "The Knick," "Half Life" (Pilot).
Adam Magill ( ACTOR 2: Rawdon, Mr. Sedley, Fairgoer, Coachman, German Fairgoer 1) REGIONAL: Berkeley Rep: Macbeth; Marin Theatre Company: Shakespeare in Love, the Legend of Georgia McBride, Native Son, Miss Bennet: Christmas at Pemberly, The Whale; SF Playhouse: Stupid f-ing Bird; Shotgun Players: Dry Land; Cutting Ball: Uncle Vanya. TRAINING: Foothill Theatre Conservatory, Seydways Studios.
Maribel Martinez (Amelia Sedley) makes her STC Debut. NEW YORK: Off-Broadway: The Public Theater's Shakespeare in the Park: Julius Caesar. REGIONAL: Cincinnati Playhouse in the Park: Miss Bennet: Christmas at Pemberley; Hudson Valley Shakespeare Festival: Rip Van Winkle or Cut the Old Moon into Stars; Santa Cruz Shakespeare: The Merry Wives of Windsor, As You Like It, The Beard of Avon; New Swan Shakespeare Festival: Hamlet, As You Like It. TELEVISION: AmEx Commercial, Ikea Commercial. OTHER: Workshops: JAGFest: the journey between by Korde Arrington Tuttle; Sol Project's SolFest: Bees and Honey by Guadalís Del Carmen; LAByrinth Barn Series; New Plays Now at Northern Stages: Citrus. TRAINING: University of California, Irvine: MFA in Acting. WEB: www.Maribel-Martinez.com; IG: @instamarbles.
Vincent Randazzo (ACTOR 5: Jos, Sir Pitt, Mr. Osborne, Miss Jemima, Lady Chesterton, Auctioneer, King ) REGIONAL: American Conservatory Theater: A Walk on the Moon (Irv/Ensemble), Hamlet (Guildenstern), A Christmas Carol (Thomas); San Francisco Playhouse: Washed up on the Potomac (Mark). TRAINING: American Conservatory Theater: MFA in Acting; Le Moyne College: BA in Theatre. OTHER: Orson Welles/Shylock-A Docu-Fantasy Radio Play (Orson Welles) with The Shylock Project in Venice, Italy; Montreal Fringe Fest, Toronto Fringe Fest, and Franklin Stage Company.