Review Roundup: THE SCOTTSBORO BOYS at Signature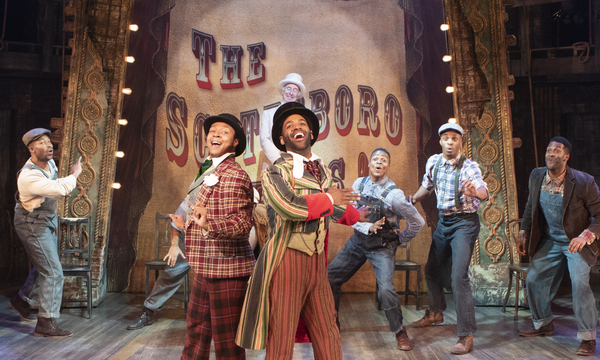 Signature Theatre presents the DC premiere of The Scottsboro Boys directed by Signature Theatre's Director of New Works Joe Calarco and choreographed by Jared Grimes.
John Kander and Fred Ebb's final musical collaboration premiered on Broadway in 2010 and was heralded as "an absolute marvel" by The Associated Press. The Scottsboro Boys is centered around nine young African-American teenagers who were ripped off a train in 1931, falsely accused of a crime, hastily tried and sentenced to death in an outrageous disregard of due process. The Scottsboro Boys runs from May 22 - July 1 in Signature Theatre's intimate MAX Theatre.
The production's ensemble cast includes Jonathan Adriel (Signature's Dreamgirls) as Andy Wright, Malik Akil (Broadway's Holiday Inn) as Charles Weems/Victoria Price, Christopher Bloch (Signature's Titanic) as The Interlocutor, Chaz Alexander Coffin (Arizona Broadway Theatre's HAIR) as Mr. Tambo, Felicia Curry (Signature's Les Misérables) as The Lady, C.K. Edwards (Broadway's Shuffle Along) as Roy Wright, DeWitt Fleming, Jr. (Signature's Jelly's Last Jam) as Ozie Powell/Ruby Bates, Andre Hinds (Signature's Crazy for You) as Willie Roberson, Darrell Wayne Purcell as Clarence Norris, Aramie Payton (Flashdance The Musical National Tour) as Eugene Williams, Lamont Walker II (Pittsburgh CLO's Aida) as Haywood Paterson, Joseph Monroe Webb (Signature's Jelly's Last Jam) as Olen Montgomery, and Stephen Scott Wormley (Signature's Jelly's Last Jam) as Mr. Bones.
The creative team includes Musical Direction by Brian P. Whitted (Broadway's Shuffle Along), Dramaturgy by Sybil R. Williams (Signature's U.G.L.Y.), Scenic Design by Daniel Conway (Signature's Jelly's Last Jam), Lighting Design by Sherice Mojgani (Arena Stage's Two Trains Running), Costume Design by Tony nominee Emilio Sosa (Broadway's The Gershwin's Porgy and Bess), Sound Design by Ryan Hickey (Signature's Titanic), Fight Choreography by Casey Kaleba (Signature's Jesus Christ Superstar), Dialect Coach Kim James Bey (Woolly Mammoth's An Octoroon), Production Stage Manager Kerry Epstein, Assistant Stage Manager Allie Roy, Production Assistant Joey Blakely.
Let's see what the critics have to say!
Peter Marks, Washington Post: But for an evening of this length - two hours plus, without intermission - there is a surprising gap, and that is in the portraits of the Scottsboro Boys themselves. The emphasis in song after song on the terrible treatment of the men by a circuslike criminal-justice system that tried them in one ghastly proceeding after another leaves Little Room for what might have been a poignant counterpoint to the abundant theatricality - the stories of who these nine men were. An opaque curtain is drawn much of the time over any sense of their individuality. The point may be that in the virulent racism of the time, the wrongly accused could have been any nine African American men. In a musical, though, we ideally seek more than well-orchestrated platitudes. We feel for these men, for sure, but we also want to see them as men beyond their victimhood.
Andre Hereford, Metro Weekly: And in terms of sizzle and urgency, the production's provocative imagery and powerful performances more than compensate. The second act's "You Can't Do Me" shares a dark twinkle with Chicago's "Mr. Cellophane," but this plea to be seen and to matter seems to plunge the knife in deeper. Sung by one of the boys, Haywood Patterson (Lamont Walker II), on behalf of himself and, indirectly, jailed and lynched black innocents throughout the South, it's a plea that Emmett Till and many others never got to sing.
Susan Galbraith, DC Theatre Scene: Felicia Curry is an actress of extraordinary range and talent and here she steps into the shoes of [The Lady] who from the moment she enters the stage breathes dignity iinto her most powerful and emblematic character. At times she appears to be Haywood's mother, at other times perhaps she symbolizes all the mothers who lose their sons every day in this country. Forced to sit and witness the goings-on, we feel her pain and humiliation, but we also feel her pouring her support into these victims of injustice. In the middle of our 'busting out laughing,' she will stand and silence us with a look. We later come to learn she is also the quiet moral voice of a hero, the woman with a backbone of steel.
David Siegel, DC Metro Theatre Arts: If you are seeking a soft focus, gauzy fabric evening, or something to carry you back to some mythical age, then look elsewhere; The Scottsboro Boys is not for you. No, not every scene is powerful. Not every song is daring. Not all the comic antics, including eye-rolling routines from minstrel characters like Mr. Bones (Stephen Scott Wormley) and Mr. Tambo (Chaz Alexander Coffin) will do more than bring groans. But, for me, so what. In the current time, softness to combat coarseness does nothing for me.
Elliot Lanes,
BroadwayWorld
: Fight choreography is often overlooked and it shouldn't be - especially in this show where there is a lot of it.
Casey Kaleba
's work is stunning which isn't shocking considering he, in my opinion, is the best fight director in the area.
Daniel Conway
's backstage set gives the feel of an old-time minstrel show complete with period backdrops and a moving proscenium.
Sherrice Mojgani
's lighting enhances Conway's set. It ranges from being big and bright for the production numbers to shadowy when depicting the prison. In other words, the lighting serves this production extremely well.