Click Here for More Articles on REGIONAL - DC Metro Area Virginia
BWW Review: THE SCOTTSBORO BOYS at Signature Theatre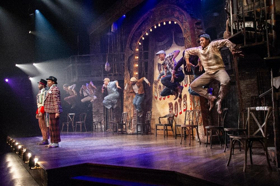 The topics of the distinguished Broadway writing team of John Kander and Fred Ebb's musicals have never been light and frothy. Their first musical Flora the Red Menace deals with the red scare. Cabaret uses Nazi Germany as a backdrop. The Rink deals with family dysfunction in a dilapidated roller rink and, of course, there's Chicago with the shadiness of 1920s Chicago murderesses and the media that fueled them.
The final complete collaboration of Kander and Ebb is no less edgy in subject matter. The Scottsboro Boys had an all too short run on Broadway for a few reasons. One of which was the space. The Longacre Theatre had two balconies and the show is more intimate than some others in the team's catalogue. It also suffered from a production concept that made me, at least, come out of the theatre with a cold feeling. If you were anything like me, you didn't care about the nine African American men falsely accused of raping two Caucasian women like you should have.
Signature Theatre is currently presenting The Scottsboro Boys in the Max Theatre space and dare I say Director Joe Calarco has actually improved upon and fixed many of the conceptual problems that plagued the original staging by Susan Stroman. Yes, Mr. Calarco has outdone a Tony Award-winning choreographer and director with his work on this production.
David Thompson's book is set against the backdrop of a minstrel show in the 1930s. The Interlocutor (Christopher Bloch) is the white suited master overseeing everything.
The Scottsboro Boys are yanked from a train car and accused of raping two Caucasian women named Victoria Price and Ruby Bates (Malik Akil and DeWitt Fleming, Jr.). You actually hear the two ladies cook up the scheme. The boys are given a trial, which is basically a joke. Their lawyer is a drunkard. They, of course, are found guilty and are sent to jail to await execution in the electric chair. The boys would have six more trials with a different lawyer all with the same outcome. Even though Ruby Bates admits to lying about the incident, the legal powers refuse to admit they made a gross mistake.
Eventually many of the boys are freed by admitting to something they didn't do. The only holdout is Haywood Patterson (Lamont Walker II) who would spend 21 years and die in jail. Ozie Powell (DeWitt Fleming, Jr) was beat into a vegetable-like state while in prison. I won't reveal what happened to most of the guys after they were freed, but I will say their outcomes pack an emotional wallop.
On Broadway, the minstrel show elements overshadowed the actual story of the guys. Here, Director Joe Calarco and Choreographer Jared Grimes have found a better balance. Production numbers like "Commencing in Chattanooga" and "Make Friend with the Truth" shine while letting the books scenes do their job in painting a disgusting portrait of injustice in the South.
This is an ensemble show to be sure and the guys very successfully work as a full unit. Having said that, there are a few performances I would like to call out.
First off, Lamont Walker II as Haywood Patterson gives a heart-wrenching performance of a young man refusing to go against his principles. His rendition of "Go Back Home" is as good a vocal performance as you'll hear anywhere.
Stephen Scott Wormley and Chaz Alexander Coffin, as Mr. Bones and Mr. Tambo respectively, knock it out of the plantation playing multiple characters ranging from lawyers, sheriffs, and deputies and more.
Christopher Bloch as the Interlocutor epitomizes everything that was wrong with the South back in the early part of the last century. Prejudice, injustice...hmmm guess not much has changed since then.
Felicia Curry plays The Women, the most mysterious character in the show, but by the end you'll understand why she is there. Curry hardly utters a word, but sometimes silence speaks volumes.
I also enjoyed many of the production elements.
Fight choreography is often overlooked and it shouldn't be - especially in this show where there is a lot of it. Casey Kaleba's work is stunning which isn't shocking considering he, in my opinion, is the best fight director in the area.
Daniel Conway's backstage set gives the feel of an old-time minstrel show complete with period backdrops and a moving proscenium.
Sherrice Mojgani's lighting enhances Conway's set. It ranges from being big and bright for the production numbers to shadowy when depicting the prison. In other words, the lighting serves this production extremely well.
Emilio Sosa's costumes evoke the period of the minstrel show in grand fashion.
In a day where theaters think using two kazoos and a washboard is appropriate, Signature wisely is using Larry Hochman's full eight-piece orchestration. It sounds considerably bigger than that though as Hochman is a master of his craft.
The orchestra is under the direction of Brian P. Whitted who also did a great job of implementing David Loud's sterling original vocal arrangements. He also plays keyboard in the orchestra.
The Scottsboro Boys represents a time in our history that many don't want to think about. It is for this reason and many others that you NEED to get to Signature Theatre's production of The Scottsboro Boys. It will leave you uncomfortable as all get out, which is the intent. Sadly, what happened to The Scottsboro Boys is still relevant today.
I applaud Signature Theatre for bringing this potent and important musical to our area. It's one everyone should encounter and discuss after you "Go Back Home." This one is the real deal. Calarco and company have created something truly important.
Running Time: Two hours with no intermission.
The Scottsboro Boys runs through July 1, 2018 at Signature Theatre, which is located at 4200 Campbell Ave in Arlington VA. For tickets, click here.