Photo Flash: Signature Theatre Honors Bernadette Peters with Sondheim Award
There was a packed house at the Embassy of Italy on Monday night, April 11 as close to 400 Signature Theatre enthusiasts paid $650 and upwards per person for the theatre's annual Gala. And when the evening was over, no one was disappointed.
After a cocktail reception and dinner (sun-dried tomato crusted sea bass on wilted spinach with lemon beurre blanc, risotto with spring peas and asparagus), Artistic Director Eric Schaeffer took the podium to announce the second Sondheim Award was going to be given to Bernadette Peters.
But first, he introduced Peter Lerman who received the "Young Artist Citation Award". Lerman went right to the piano to sing "How to Write a Song". His music can currently be heard during the Signature  production of Art and even on the hit television show "Modern Family". He also was the recipient of the 2010 Jonathan Larson Award.
There was a lovely video tribute to Peters narrated by Harry A. Winter which only featured photographs, no performances. It was revealed that Peters began her career at the age of 3 on the television show "Juvenile Jury" and by the age of 13 was in the second national tour of Gypsy.
In the Sixties, she was in Johnny No- Trump, George M, Dames at Sea, On the Town, and Mack and Mabel.
Then it was off to Hollywood where she did 17 films including "Silent Movie", "Pennies from Heaven" and "Annie".  Her television credits included "Ally McBeal" and "The Muppet Show".
Broadway then beckoned with Sunday in the Park with George opposite Mandy Patinkin. This was followed by Song and Dance (1st Tony Award), Into the Woods, and the concert version of Anyone Can Whistle. Her second Tony came via Annie Get Your Gun.
More recently, she played Mamma Rose in Gypsy and in 2009 took over the lead in A Little Night Music .
She is currently in rehearsal for the role of Sally in Follies(running May 7 to June 19, 2011) directed by Schaeffer at the Kennedy Center with an all-star cast many of whom came for the event including Elaine Paige, Linda Lavin, and Jan Maxwell.
Then the evening's musical performances began.
First up was Eleisha Gamble (soon to reprise her wonderful performance in Oklahoma at the Arena Stage) and Euan Morton (who informed me he will be playing the role of Leo Frank in the Ford's Theatre new production of Jason Robert Brown's Parade in September).  They sang the duet "Children Will Listen" from Into the Woods and "Beautiful" from Sunday in the Park with George.
Morton then sang a Noel Coward number (one of Sondheim's favorites) followed by a spectacular version of "Finishing the Hat" from Sunday in the Park with George.
Peters' co-star from A Little Night Music playing Frederick, Stephen Buntrock then took the stage with Erin Driscoll. They did the duet "Now" from A Little Night Music.  Buntrock told the story that there were rumors the show would be closing when Sondheim called Peters to come on board...a brilliant move. Buntrock then sang "Marry Me a Little" from Company.
Jon Kalbfleisch (Signature's Musical Director) was outstanding on the piano.
Three time Tony nominee Rebecca Luker (with Joseph Thalken on the piano) then sang "The Glamorous Life from A Little Night Music. I was able to observe Sondheim tapping away with his fingers on the table.  Luker then performed "The Way You Look Tonight" by Jerome Kern and Dorothy Fields.
Sondheim then took the stage and called Peters "...the first lady of American theater." It was evident he was fighting back the tears when he said "Bernadette, come get your award." The sold-out crowd gave her a standing ovation.  She seemed timid. "This is a little overwhelming, accepting the award given by Stephen Sondheim." She added, "I know I'm a very fortunate person to explore his characters and learn his music. He has so much to say about life. I'm so very grateful."
It was a night no one in attendance will ever forget.
The Signature Theatre will be presenting Side by Side by Sondheim!  from  April 26 to June 11 and next season will present Sondheim's earliest musical Saturday Night in a four-performance-only concert.  For tickets, call 703-820-9771.
Also next year,  Baltimore's Center Stage will be presenting Into the Woods.
Not a day goes by that I don't hum a Sondheim song.
For comments, write to cgshubow@broadwayworld.com.
Photo Credit: Charles Shubow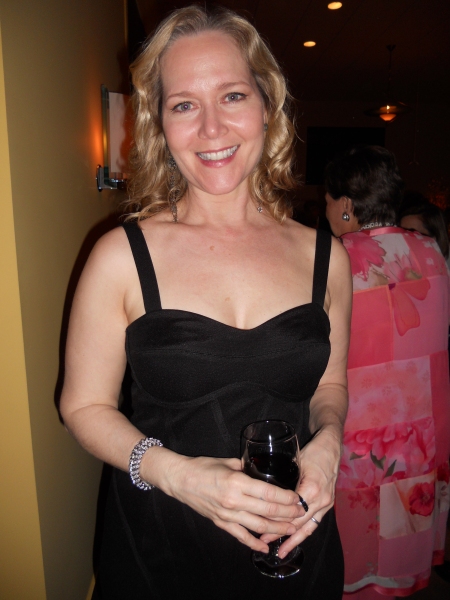 Rebecca Luker

Linda Lavin and husband Steve Bakunas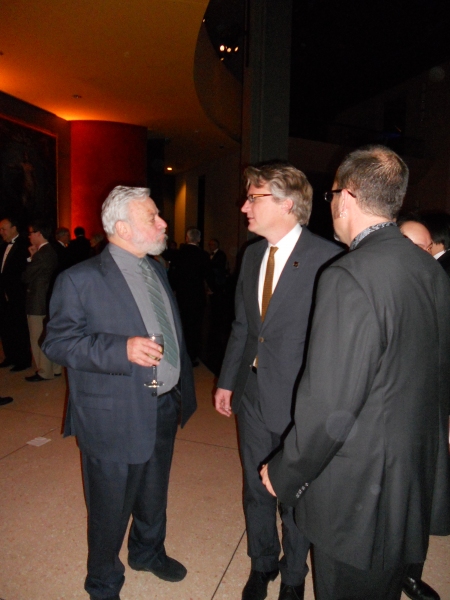 Stephen Sondheim and Eric Schaeffer

Bernadette Peters