Photo Flash: Folger Theatre Presents East Coast Premiere of NELL GWYNN
Behold the year of the woman: 1665. Folger Theatrecontinues its 2018/19 season of characters who "shake the world" with Nell Gwynn, the Olivier Award-winning 2016 comedy from London about one of the first women to perform on the English stage. Written by British playwright Jessica Swale (Blue Stockings), Nell Gwynn was commissioned by Shakespeare's Globe where it premiered, followed by a celebrated 2016 run on the West End that earned an Olivier Award for Best New Comedy. Robert Richmond (Macbeth, Timon of Athens, Henry V at the Folger) will direct the East Coast premiere of the play at Folger Theatre in Washington, D.C.
Nell Gwynn is on stage from January 29 through March 10, 2019. Tickets are available online at www.folger.edu/theatre or by calling the Folger Box Office at (202) 544-7077.
Nell Gwynn tells the story of a remarkable historical figure-an orange seller from the London streets of Drury Lane who employs her charm and wits to become the darling of the Restoration theater. Nell discovers that one of her biggest fans is none other than King Charles II, who brings her to his court as a favorite mistress. Swale's sparkling portrait of the most unlikely of heroines shines a spotlight on the power of an amazing woman of her-or any-age.
"The rags-to-riches story of Nell Gwynn is an important and timely one" says Robert Richmond. "Her tenacity, wit, and honesty changed the theatrical landscape forever and won her a place in history. The production at the Folger aims to explore the core of her humanity along with captivating the audience with a heartfelt and entertaining story."
Photo Flash: Brittany Diliberto

Nell Gwynn (Alison Luff) entertains a new fanâ€"King Charles II (R.J. Foster)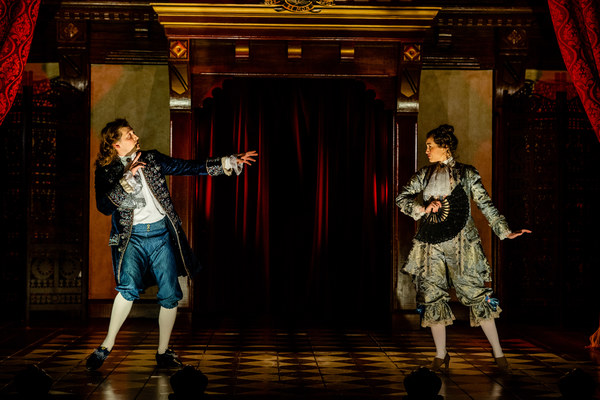 Actor Charles Hart (Quinn Franzen) teaches Nell (Alison Luff) how to communicate the language of the fan

King Charles II (R.J. Foster, left) consults with Lord Arlington (Jeff Keogh)

The King's Company in performance (l to r: Caitlin Cisco, Quinn Franzen, Christopher Dinolfo)

Actor Charles Hart (Quinn Franzen) takes center stage, as the rest of the Company looks on (l to r: Catherine Flye, Alex Michell, Caitlin Cisco, Christopher Dinolfo, Nigel Gore, Zoe Speas)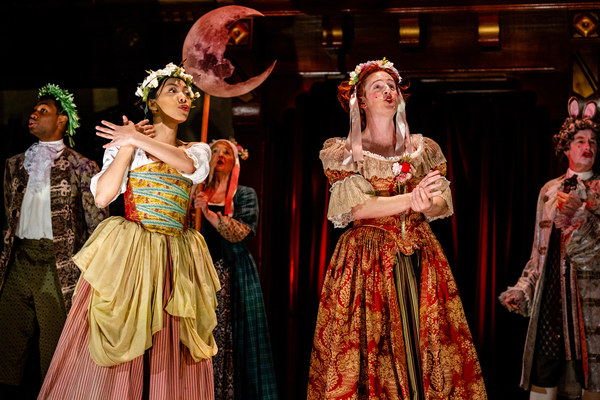 The King's Company in performance in the Restoration-era comedy Nell Gwynn

Nell Gwynn (Alison Luff) becomes a stage sensation in England.

King Charles II (R.J. Foster) shares a private moment with his mistress, Lady Castlemaine (Regina Aquino)

Orange seller Nell Gwynn (Alison Luff, center) addresses the King's Acting Company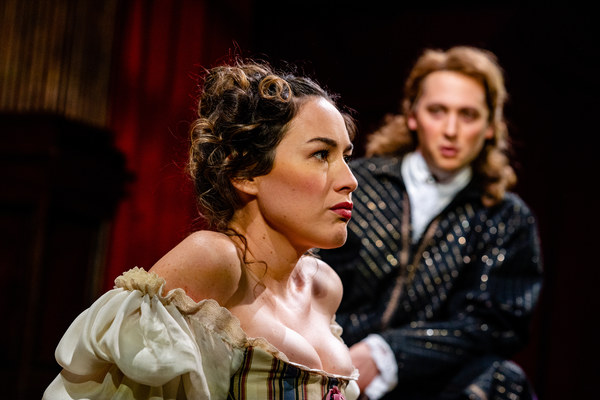 Leading actor Charles Hart (Quinn Franzen) gives Nell Gwynn (Alison Luff) acting lessons