La Ti Do Productions Presents First All Asian American Concert at Keegan Theatre on May 30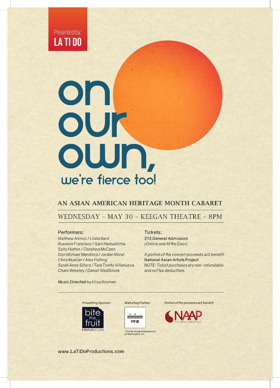 La Ti Do Productions celebrates Asian American Heritage Month with the city's first all Asian American cabaret to support The National Asian Artists Project, and is pleased to announce the featured artists and partner organizations.
Featured Performers
Matthew Aninzo is a performer and instructor of Philippine folk dances, performing with the Migrant Heritage Commission's Filipino-American Dance Ensemble. His stage experience includes Noli Me Tangere the Opera at the Kennedy Center in 2014 and Spoliarium, an opera inspired by Philippine National Artist Juan Luna at the Tribeca Performing Arts Center in 2015. Matthew serves as Assistant Choir Director and cantor for Misang Pilipino, a monthly Filipino mass service for the St. Rose of Lima Filipino Ministry in Gaithersburg, Maryland. Currently, he is a grant accountant for Montgomery College in Rockville, Maryland.
Linda Bard is very excited to be part of this cabaret! Previous credits include Rorschach Theatre: 410[GONE], A Bid to Save the World; Adventure Theatre: Alexander and the Terrible, Horrible, No Good, Very Bad Day; The Welders: Hello, my name is...; Workhouse Arts Center: The 39 Steps; WSC Avant Bard: A Midsummer Night's Dream. Linda is a graduate of American University's Musical Theatre program and a proud Rorschach Theatre company member.
Sam Hamashima is thrilled to be making his La Ti Do debut! Recent credits include Studio Theatre's Vietgone (Nhan u/s), Music Theatre Wichita'sThoroughly Modern Millie (Ching Ho), and University of Michigan's Edith Can Shoot Things... (Kenny). Apart from performing, Hamashima is an accomplished writer; his show American Spies and Other Homegrown Fables is currently workshopping as part of the Kennedy Center's Undergraduate Playwrights' Workshop. Hamashima is the founder of Asian College Theatre Ensemble, a digital community for AAPIA in theatre programs across the world.
Sally Horton: After performing in Sydney, Edinburgh, Cardiff, London, and the Baltic Sea, Sally returned to DC, and has performed at Adventure Theatre, the Kennedy Center, and the Capitol Fringe. Next up: Cinderella (Imagination Stage). Her DC Credits include: (ATMTC) Judy Moody and Stink: the Mad, Mad, Mad, Mad Treasure Hunt; Alexander and the Terrible, Horrible, No Good, Very Bad Day; Frosty the Snowman; and (The Conciliation Project) Prison Industrial Complex.
Christina McCann is pursuing a Bachelor of Music in Musical Theatre at Catholic University. She is a current teaching artist at Imagination Stage in Bethesda, MD. In addition to singing, Christina enjoys creating music on the ukulele. Recent credits include Carly in Reasons To Be Pretty (Catholic University) and Mrs. Sander in Seven Brides for Seven Brothers (Montgomery College Summer Dinner Theatre).
Jordan D. Moral was last seen at Imagination Stage's Princess and the Pauper. He will be next appearing as Chino in the Montgomery College Summer Dinner Theatre's production of West Side Story. National Tour credits include South Pacific - Jerome (Troika Entertainment); Kids Bop Live - Ensemble (Razor and Tye Entertainment). D.C. area productions include Babes in Toyland - Little Boy Blue (Washington Savoyards); The Happy Time - Francoise (Signature Theatre); Mame - Ito (Riverside Center); Peter Pan - Tootles (Toby's Dinner Theatre); Into The Woods - Jack (Way Off Broadway); Frosty The Snowman - Joey (ATMTC).
Christopher Mueller has performed onstage in Washington, DC at The Kennedy Center, Signature Theatre, Ford's Theatre, Arena Stage, Olney Theatre Center, Keegan Theatre, and many others in shows, workshops, cabarets, and concerts. He is excited to be collaborating with producer DonMike Mendoza on another LaTiDo production, having worked with him many times over the years on various projects.
Alex Palting is a singer, actor and optimist who is thrilled to be making her LTD debut! She was last on the Keegan stage in Top Girls as Lady Nijo and Win. Other recent credits include Alice in Wonderland (Alice) at the Chesapeake Shakespeare Co., The Princess and the Pauper (the Pauper) at Imagination Stage, Assassins (Squeaky Fromme) at the Pallas Theatre Collective, and Coriolanus (Lead Roman Soldier) in Philadelphia's Shakespeare in Clark Park. She is a graduate of the University of Delaware and the Royal Academy of Dramatic Art.
Sarah Anne Sillers
has been a featured singer at La Ti Do since 2013. Select local credits include
Studio Theatre
: Vietgone; NextStop Theatre Company: 45 Plays for 45 Presidents, A Grand Night for Singing; Keegan Theatre: American Idiot, Dogfight; Imagination Stage: Disney's Beauty and the Beast; Adventure Theatre MTC: How I Became a Pirate; Constellation Theatre Company: Urinetown; Monumental Theatre Company: Infinite Future: Bernstein's Lasting Impact, Urinetown, Girl Versus Corinth; WSC Avant Bard/Gallaudet University: Visible Language(
Helen Hayes
Award Nomination - Outstanding Supporting Actress); The In Series: The
Cole Porter
Project. UPCOMING: Olney Theatre Center: Elf the Musical.

Tara Trinity Villanueva is an award-winning singer-songwriter, Polynesian dancer, and classically trained multi-instrumentalist. Originally from New Jersey, Tara developed her versatile talents at a young age - winning numerous classical piano competitions, hosting the Emmy-awarded TV show "Images/Imágenes", and singing in Paul Simon's Broadway musical The Capeman, all before turning 18. Tara has performed with La Ti Do, on the radio, and even DC's prestigious Howard Theatre and NYC's 54 Below. When her music is on pause, Tara is the Arts and Cultural Programs Manager for an award-winning charter school and single mother to her motivation and drive--Kai.
Chani Wereley is excited to be returning to La Ti Do! Representation is important. DC AREA: Olney Theatre Center: Water by the Spoonful (Pulitzer Prize Festival); Keegan Theatre: American Idiot (Helen Hayes Nomination, Best Production, Best Ensemble), Dogfight; NextStop Theatre: Godspell;Monumental Theatre Company: Bonnie and Clyde; Strathmore: The Circle of Life: The Songs of Tim Rice, Miss Saigon/Madama Butterfly; Red Branch Theatre Company: The Bridges of Madison County. Upcoming: Pippin.
Daniel Westbrook is happy to make his first appearance at La Ti Do! Dan is a DC actor, and has appeared with Solas Nua (The Frederick Douglass Project), Adventure Theatre MTC (Alexander and the Terrible Horrible No Good Very Bad Day), and NextStop Theatre (Assassins). Dan is a graduate of James Madison University's Theatre and Dance program, and an Actor-Combatant with the Society of American Fight Directors.
Presenting Sponsor and Partner Organization
Russwin Francisco: Philippine-born, Washington DC resident for 36 years, Russwin Francisco is an honorary founder of La-Ti-Do. He is the owner of presenting sponsor business Bite the Fruit, a popular boutique in Dupont Circle. He co-owned Black Fox Lounge, La-Ti-Do's original home, a jazz venue which received excellent industry reviews during its five-year run. Francisco began singing at an early age, when his great aunt, who founded the Philippine Concert Choir, taught him his first solo. He received formal instruction in classical voice. He was a featured soloist of the Lesbian and Gay Chorus of Washington. Francisco shares a home with his spouse, Bill, and rescued Chihuahua, Abigail.
Young Filipino Professionals of Washington, DC: The Filipino Young Professionals of the Metropolitan Washington, DC area (FYP-DC) was founded in 1998 as an announcement board. It was a forum to get together voluntarily to create a strong network of Filipino and Filipino-American professionals. The original members of FYP discussed the competing ideas of making it a formal group and keeping it a non-formal, non-committal bulletin board for community announcements. Eventually, the notion of having a formal group was shelved in favor of leaving FYP-DC as a listserv.
Creative Team
Don Michael Mendoza (MC, Producer, and Director): Over the last six years, he created and produced LA TI DO: the critically acclaimed music and spoken word series turned Production Company in DC, New York City, and Los Angeles. Currently he serves as its Executive Artistic Director. He performed and produced at New York's Feinstein's/54 Below and The Duplex, and DC's Arena Stage and Shakespeare Theatre Company. Memorable projects include two concerts in partnership with The Sound of Music and The King and I national tours.
Elisa Rosman (Music Director): Recent music directing credits include Godspell, A Grand Night for Singing, Urinetown, Catch Me If You Can, City of Angels & Into the Woods (NextStop), Visible Language (WSC Avant Bard), Aida, Sunset Boulevard (Reston Community Players), Caroline, or Change (Elden Street Players) Broadway Christmas Carol (MetroStage) and The 25th Annual Putnam County Spelling Bee (Keegan Theatre). She has music directed extensively in the DC area. Her favorites include: Next to Normal, Sweeney Todd, Little Women, I Love You, You're Perfect, Now Change, Passion, Falsettos, Urinetown, Side Show, Joseph...Dreamcoat, Honk! and Forum. Upcoming: Bridges of Madison County (Keegan), [title of show] (NextStop). Elisa also frequently accompanies cabarets & classes around town.
About LA TI DO
Curated and hosted by Don Michael Mendoza and Regie Cabico, La Ti Do made its debut to a full house in Washington, DC on January 23, 2012 at The Black Fox Lounge in Dupont Circle. Since then, La Ti Do became DC's premiere musical theatre cabaret and spoken word series to serve the artistic community on a bi-weekly basis. On June 9, 2013, the show then opened a touring chapter in New York City, made a special appearance at Feinstein's/54 Below in 2015, and continues to present cabarets on a bi-monthly basis at The Duplex Cabaret and Piano Bar. In 2018, La Ti Do incorporated to become La Ti Do Productions, LLC. On March 12, 2018, La Ti Do made its west coast premiere at The Three Clubs in Los Angeles, California.
Past musical performers range from Broadway veterans, Helen Hayes Award honorees to internationally recognized spoken word artists. Some notable alumni include Apollo Link, Jose Llana, Nova Y. Payton, Nicholas Rodriguez, Dorea Schmidt, Emily Zickler, Sonya Renee Taylor, Adele Hampton, Vijai Nathan, Sophia Walker, along with the national touring casts of The Sound of Music and The King and I.
TICKETS
Tickets are now available for $15 via THIS LINK or at the door beginning at 7:45 pm at Keegan Theatre located at 1742 Church Street, NW.